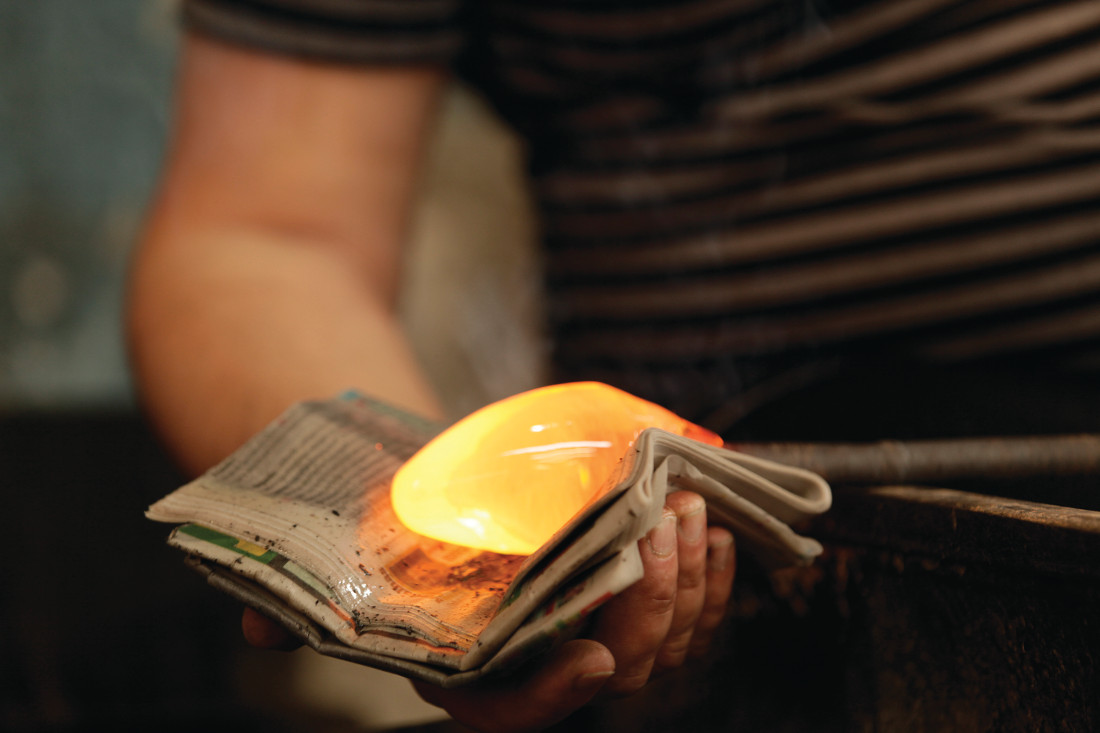 The Art of Glass-Blowing
The glass-blowing art still survives to this day. In one of the last remaining traditional factories in Portugal, glass is still crafted the way it was 600 years ago.
With their face and hands covered in dirt, a group of men perform a series of movements in front of half a dozen machines grimy from the passage of time. These men know what they are doing and they do it like no other. In this factory there are no robots, mechanical arms, assembly lines, sub-assembly lines or mass production techniques, nothing so incessant and thorough. The glass, once it has been removed from the great furnace with its four openings, emerging like a small glowing ball of fire, is blown manually and selected, cut, sanded and polished by hand.
Ifavidro, one of the last remaining handcrafted glass factories in Marinha Grande, is frozen in time. And rightly so. It is one of the very few factories in the country that continue to produce glassware using the century-old art of glass-blowing.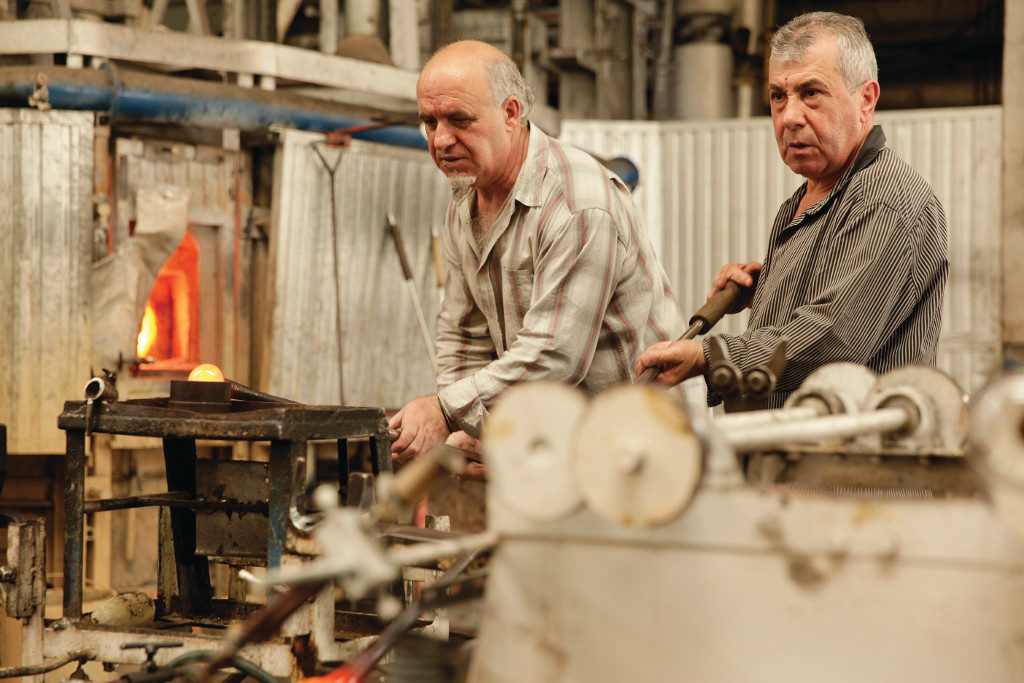 Essentially composed of sand, soda ash, limestone and potash, the glass is removed from the furnace that is burning at a temperature of over 1000 ºC. Then it is blown until it reaches the appropriate size for being shaped.
Although there is no consensus among historians, it is believed that this technique dates back to the 1st century B.C. and that it was invented by Syrian artisans in the regions of Aleppo, Hama and Palmira in Syria, and Sidon in Lebanon. Designed for daily use as well as for decorative purposes, in more luxurious and refined environments, the first glass vessels were traded and exported throughout the Roman Empire.
In Portugal, glassmaking dates back to the 15th Century, when a small factory called the Fábrica do Vidro do Côvo (Côvo Glass Factory) was set up in the ancient parish of São Pedro de Vila-Chã in Oliveira de Azeméis. In 1769, King José I summoned the Englishman Guilherme Stephens to the Portuguese court to run the old John Beare factory in Marinha Grande, which had been in operation since 1747. Enjoying, for this purpose, the support and protection of the Marquês de Pombal in the form of subsidies, exemptions and the free use of wood from the Pinhal de Leiria (Leiria Pine Forest), Guilherme Stephens set up what was then called the Real Fábrica de Vidros da Marinha Grande (Royal Glass Factory of Marinha Grande), thereby initiating the industrialization of the region.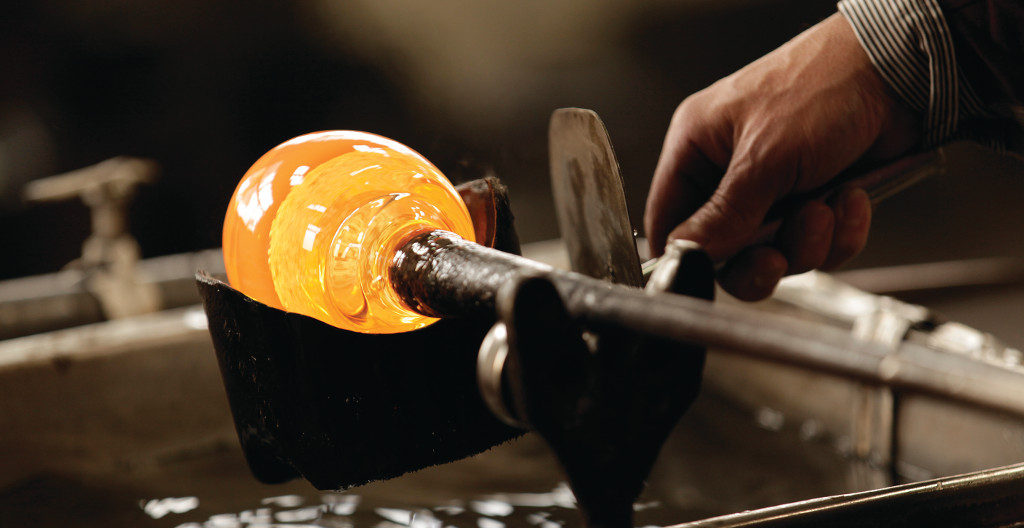 A DYING ART
It is amazing how a technique as ancient as manual glass-blowing remains virtually unaltered today. We could end the story here and it would be a lovely story. However, this is, unfortunately, not the case. Vanda Louro, aged 37, who is responsible for quality control at Ifavidro, explains feed that the glass-blowing sector in Portugal currently faces a shortage of qualified workers. The older workers "are leaving now," in many cases due to occupational diseases and injuries, while the younger ones "are not very interested, because it's a tough job". Those young people that still want to work in this area are either from families connected to the glass sector or they have already been working in this industry for a number of years.
There is still another possibility: they may simply have started learning and enjoying it, states Vanda, who believes this third scenario to be much more unlikely, given that training in the area of manual glassmaking, in Marinha Grande, is rare or even non-existent. The shortage of workers is so severe that the company is considering going in search of glassmakers in other countries.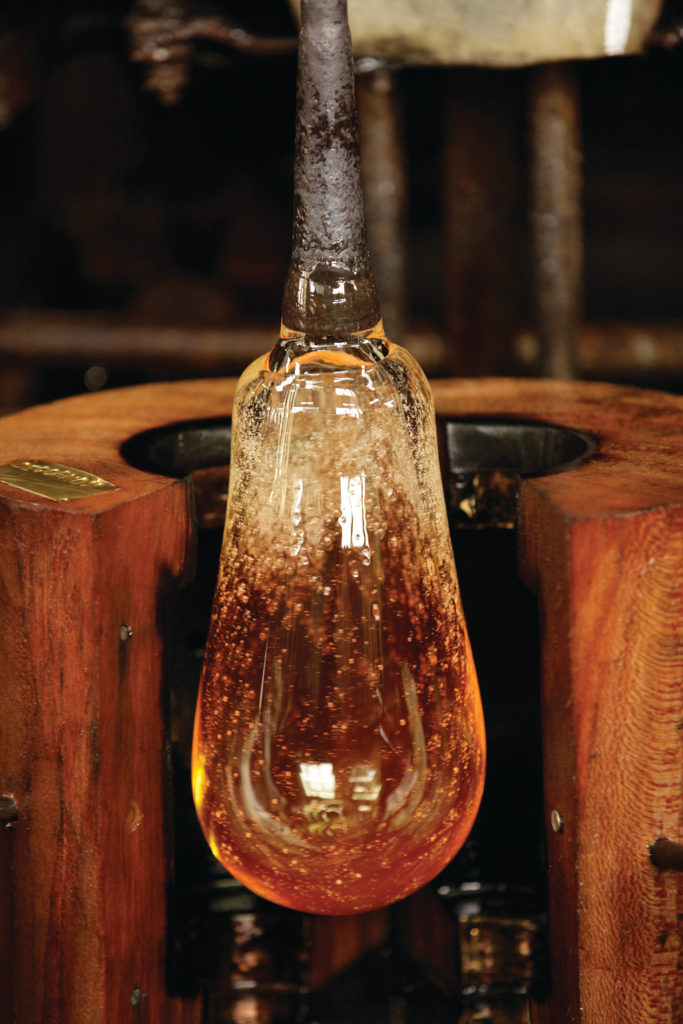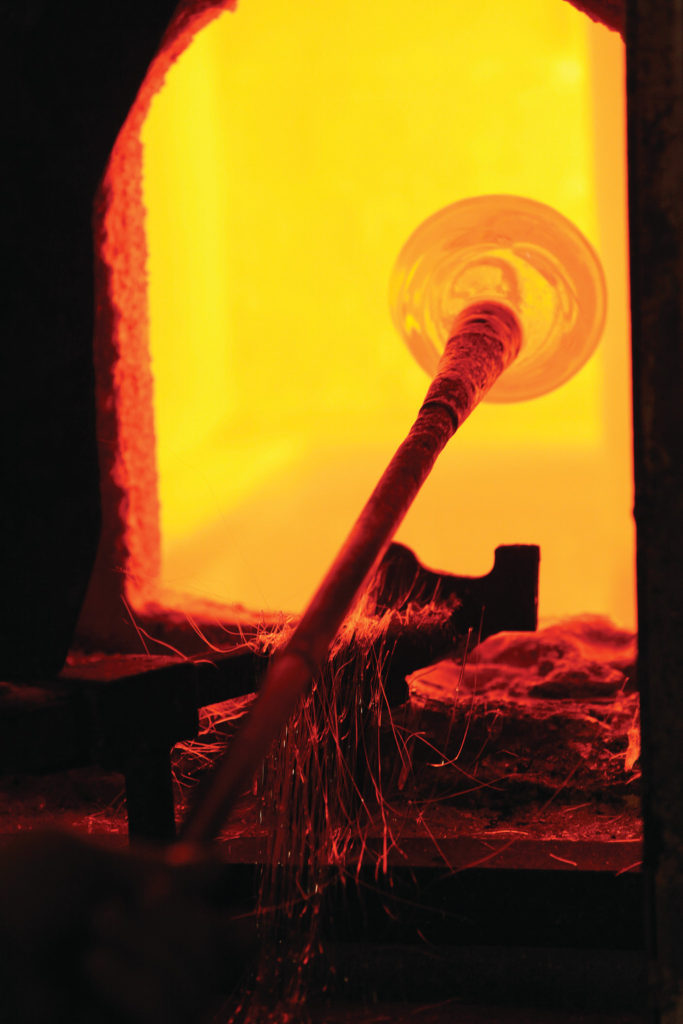 Ricardo Vieira is one of those that is here due to family influence. His father was a glassmaker – who left the job some years back for health reasons – and his aunt also has a glass production factory. Ricardo is only 23, but he has worked in the sector since he was 16. He acknowledges that most young people his age do not want to do what he does, "whether due to the shifts , or to the heat inside the factory". Ricardo eventually got used to it and now he cannot imagine doing anything else: "I like working here. Both for the art itself and for the fact that the glassware we make differs each day".
In the view of Marta Lobo, product manager for the company and its brand Depósito da Marinha Grande for more than 18 years, the sector is really "in danger of extinction" and its survival depends on what the parents – glassmakers, ex-glassmakers or people who are simply passionate about the art – are able to pass on to their children. "Unless there is this passing-on of knowledge through the generations, manual glass-blowing production will eventually disappear", she says.
On this journey of highs and lows where labour shortage is just one of the challenges faced, the commitment to the quality and excellence of the products is crucial to the sector's survival. "Throughout all these decades, we have never stopped working glass according to how it was worked over 2,000 years ago. In that respect, and despite all these challenges, nothing has changed", Marta Lobo says.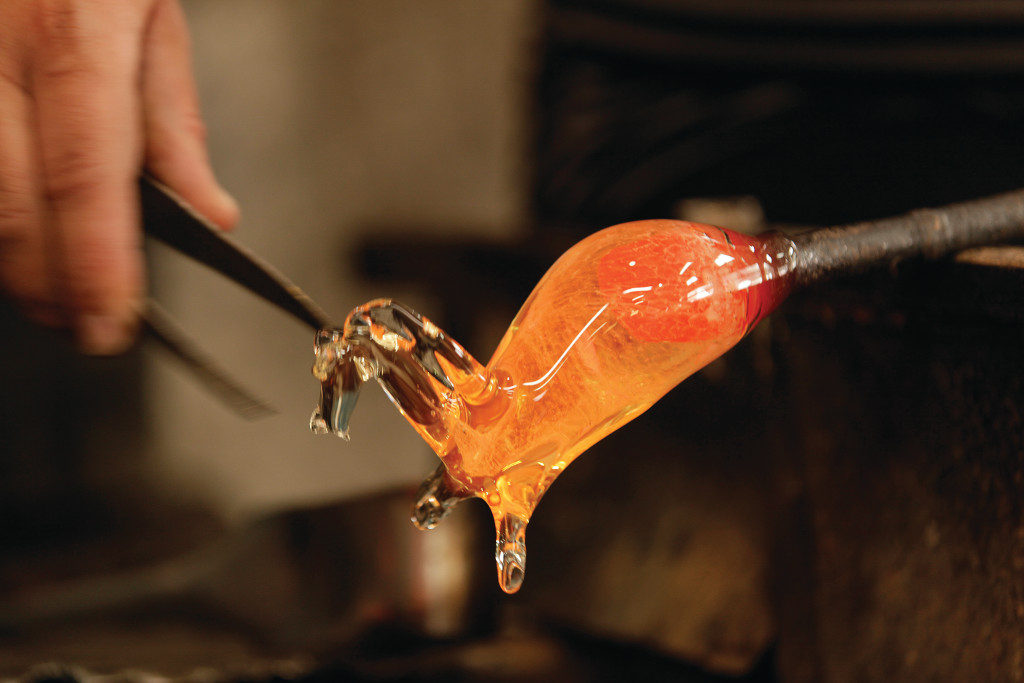 "Unless there is this passing-on of knowledge through the generations, manual glass-blowing production will eventually disappear"

MARTA LOBO