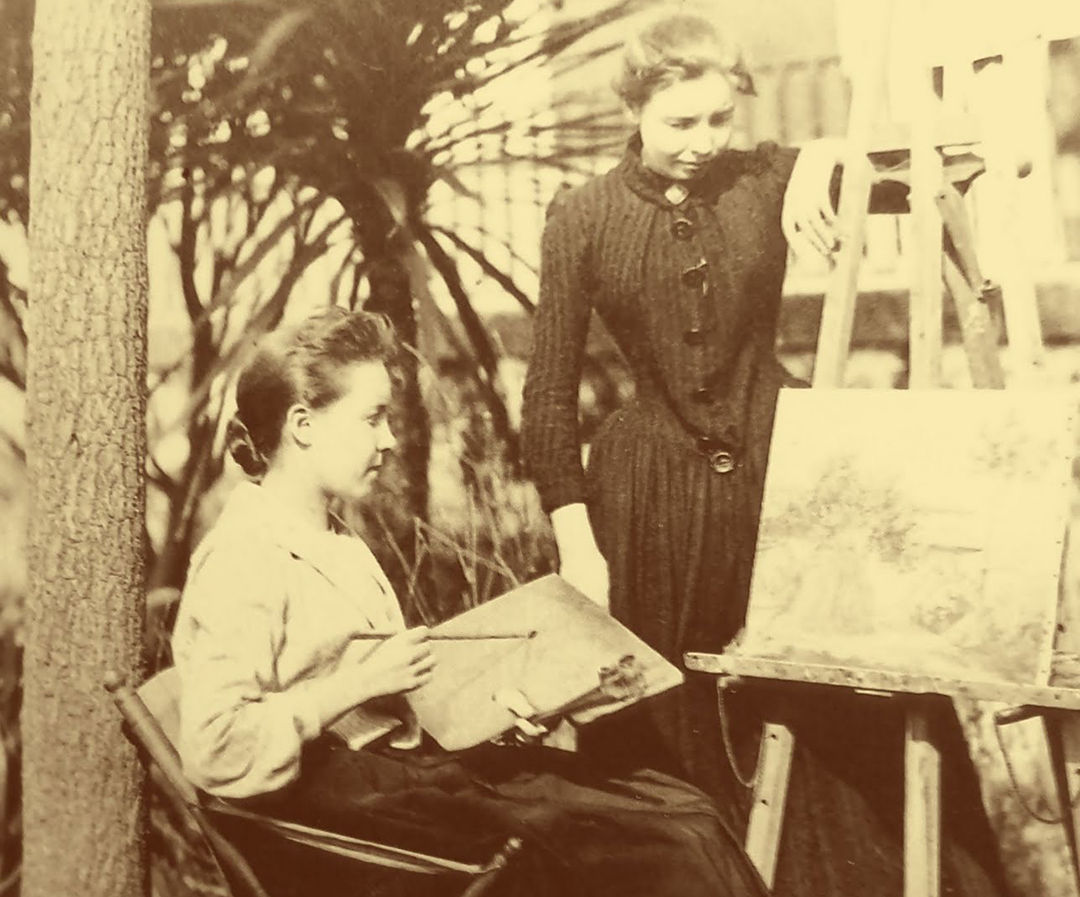 Aurélia de Sousa, between Willingness and Possibility
Aurélia de Sousa was a renowned painter and and a woman a will who lived through the passage from the 19th to the 20th century. Historian Filipa Lowndes Vicente tells how her ambition took her to Paris and raised her to success.
Aurélia de Sousa was born in Chile, South America, in 1866. She was raised in Porto, where she studied drawing and painting. She later moved to Paris, to further her studies beyond national frontiers. Will was something she was not short of. Willingness to enrol at the Fine Arts school in Porto, instead of continuing with her private lessons at home.
Willingness to leave the second main Portuguese city and proceed to the French capital to study at the most best-known Parisian art school with special courses for women; willingness to become a professional painter on her return to Portugal, with all this implied in terms of public exposition and commercial transactions, instead of settling for the restricted domestic circle where women of a certain class were expected to pursue their creativity.
A strong will was not enough, however. Much more so for women than for men. It was determinant but not sufficient. As the British writer Virginia Woolf portrayed so well in her brilliant 1928 essay, A Room of One's Own, women had to have adequate material conditions in order to create. And for a woman within her historical and social context, that could be as prosaic as it was inaccessible. Education, money, time and space, both physical and mental, were the norm for men of her status. Not so for women.
FILIPA LOWNDES VICENTE
FILIPA LOWNDES VICENTE, HISTORIAN, IS A RESEARCHER AT THE INSTITUTE OF SOCIAL SCIENCES OF THE UNIVERSITY OF LISBON. IN 2000 SHE COMPLETED HER PhD AT THE UNIVERSITY OF LONDON AND SINCE THEN HAS PUBLISHED ON DIFFERENT SUBJECTS RELATED TO 19TH AND 20TH CENTURY HISTORY, BOTH IN PORTUGUESE AND ENGLISH.
Along with her strong will, Aurélia de Sousa had the necessary material conditions to strive for her art. The family villa and surrounding gardens on the outskirts of Porto, where she had space both for a studio and a photographic laboratory; and time not consumed by being a wife, a mother, or having domestic responsibilities. And money, not unlimited but sufficient, from her father while he was alive and from her brother-in-law when she needed to study abroad. Aurélia also had an education.
She was given the expected home lessons that revealed that her talent for drawing and painting went beyond the usual standards. This led to the family hiring a proper professor, one that taught historical painting at the School of Fine Arts. For reasons that are not entirely clear, Aurélia was already 27 – in 1893 – when she enrolled at the school itself, thus taking a decisive step from the realm of domesticity to the public space of a formal school.
Why so late? Was it due to her mother's scepticism at seeing her daughter, one of the six, wanting more? Was it the fact that it was only at that age that the time for marriage or childbearing was considered over (by option or circumstance) and she could, therefore, fully embrace her artistic interests and professional ambitions? Private life, with its subjective intricate web of chance and will, was a much more decisive factor in women's lives than in men's.
FROM PORTO TO PARIS: THE DESTINY OF MANY WOMEN WITH ARTISTIC AMBITIONS
Formal education in Portugal seemed not to be enough for Aurélia de Sousa because, in 1899, she went to Paris to enrol at Académie Julian, the art school that had become well-known for treating its female students (almost) the same as its male ones. On the one hand she could study at a school that seemed especially favorable to women. On the other hand, however, as a woman of a certain class she could not enjoy the liberty, independence and choice available to her male counterparts.
Of spending afternoons in museums copying the great masters without company or simply wandering the streets, the parks, the art supplies shops. Of coming and going at will. Of being a flâneur. Despite Rudolphe Julian, the owner of the Academy, considering "his female students as good as his male ones", Aurélia revealed her disbelief in the possibilities of students being judged without a gender bias: "I am going to enter a competition, but I do not have much hope, a lot of men are participating and when they enter, the women get left out", she wrote to one of her sisters in Porto.
PORTRAITS OF HERSELF
Sousa left us some of the strongest self-portraits of the Portuguese art history canon, a canon where she still does not fully belong, as happens with women artists of that period who have only recently began to gain the recognition of a history that, in recent decades, is also becoming herstory. The return from Paris to Porto meant her entering into the public spaces of art – exhibiting publicly, selling and receiving private commissions. The World War One limited her European grand tours, but her art remained at the centre of her life. No children, no husband, as well as physical and mental space for work, assured her the time and concentration necessary to create.
When in 1936, Sousa's first retrospective was held, more than a decade after her death in 1922, the critic Júlio Brandão wrote how she had been almost forgotten. He then praised her talent by saying that if an observer looked at her paintings, he would never guess they were done by a woman, instead considering them to be the work of an "extraordinary painter". In the 1930s, the reviewer reproduced the gender lens with which art criticism had evaluated women's art throughout the 19th century and the early 20th century – if the art was considered bad this was attributed to the artist's sex; if it was good, she was a rare exception to the norm, as she possessed masculine qualities. Women all over were pushing boundaries and many were leaving their mark in the public space. Yet, subsequent history making tended to give them much less attention when compared to their male counterparts.
They were many more than our education, formal and informal, would have suggested us. Their passage from ignored names to historical characters also depended greatly on another will, one that had nothing to do with them. The willingness of those researchers, writers, curators, collectors, journalists, mostly women, who in the last decades have been, going back to the archives and museums, searching for those visual and written documents produced by women of will.