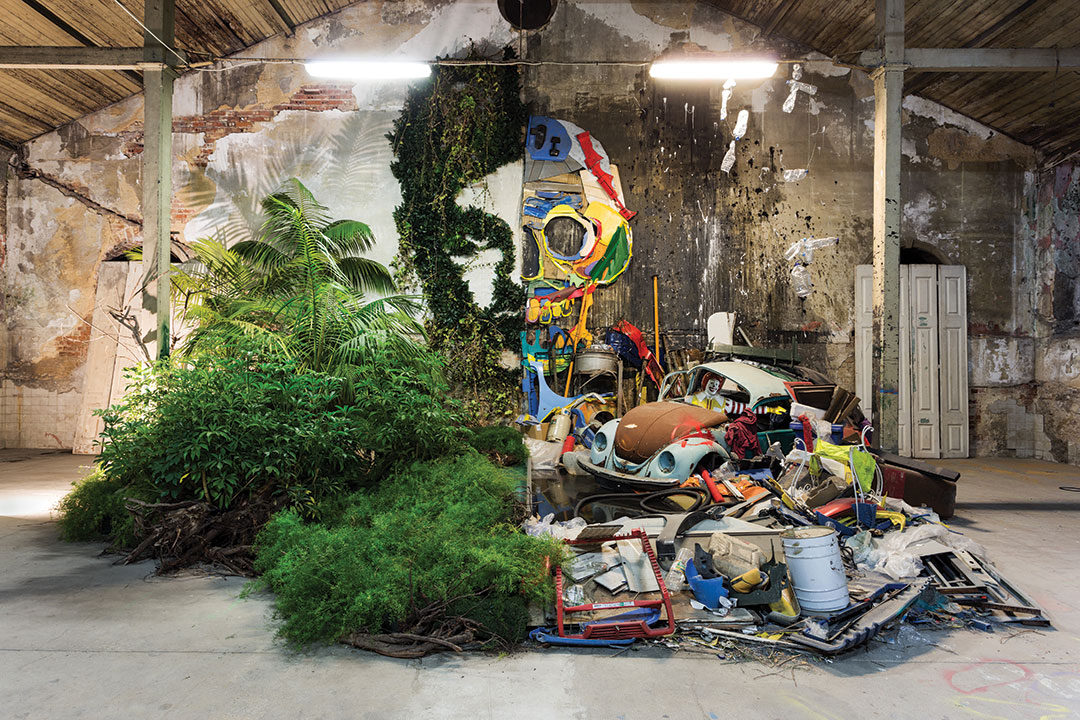 THE "A" IN WASTE
"'WASTE' is quoted because of its abstract definition: 'one man's trash is another man's treasure'. I create, recreate, assemble and develop ideas with end-of-life material and try to relate it to sustainability, ecological and social awareness" – the few lines with which Bordalo II describes himself on his website. This might have said it all, but the aesthetical side in the street art by this Portuguese 31-year-old artist and activist, and the powerful message he delivers, are hardly captured in this definition. Bordalo II's artistic footprint might stem from waste, but it has a perennial effect.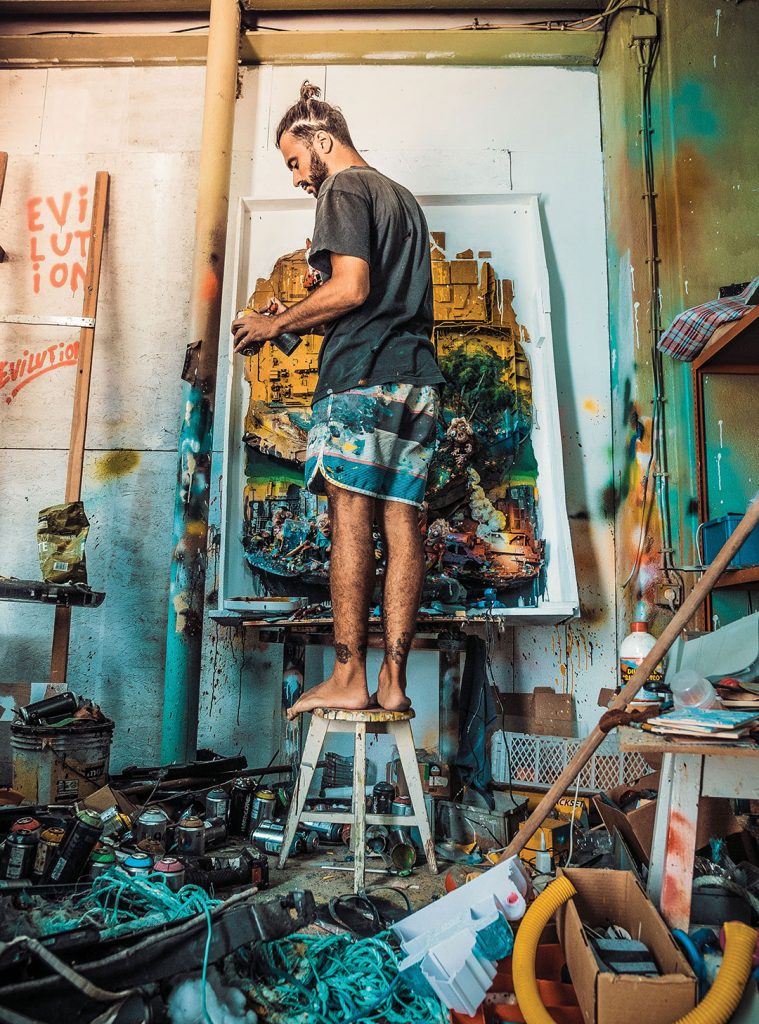 The huge scale is the aspect that captures one's attention in his three-dimensional pieces. They are mostly made of plastic and all kinds of waste, and created using a mixed technique. They are usually brightly coloured, decontextualizing the original purposes of the waste used as a basis, as if every contact point which the artist welds, screws in or glues together in his structures – depending on their nature and size – was a practical and thorough exercise of citizenship. Ultimately, they are a manifest through which Bordalo II shouts to the world the need to head towards a sustainable world.
Today, the success he has achieved with his art born from waste can be confirmed all over the world. There are around 88 pieces across three continents and 18 countries, such as Azerbaijan, United Kingdom, Germany, Brazil, Norway, United States, Switzerland, Italy or Poland, spreading the artist's environmental statement. 20% of his art is exhibited in Portugal, in various locations throughout Lisbon, where he was born, but it is also present in other Portuguese cities such as Ponta Delgada, Covilhã, Estarreja, Bragança, Loures or Águeda.
He is regularly invited to take part in international street art festivals and he splits his time between travelling and his studio, a warehouse in Xabregas, Lisbon, the place where he conceptualises all of his art. Last year, this was where he held his first retrospective solo exhibition, Attero ("waste", in Latin), which was visited by a great number of schools. An investment in the educational role art can play in engaging future adults – which, he believes, will be much more sustainable.
This year, as a result of an invitation from National Geographic, Bordalo II created an installation using plastic and waste collected over three days by fishermen from the Cascais Council (in the Lis­bon district) and surrounding areas, to be used in One Strange Rock, a new series on the history of planet Earth told by astronauts. The result was exhibited in the nearby Carcavelos beach as a way to call attention for the need to protect our oceans: a piece approximately four-metres wide, eight-metres long and two-and-a-half-metres high, made of around 300 kg of waste. Using smaller-scale pieces, the artist created the series "World Gone Crazy", a satire of our everyday life. "Animals appear as embodiments of human beings within different settings. The comical element turns into some 'shameful event', and there is a clear critical aspect about some social stereotypes", Bordalo II admits in an interview with Feed.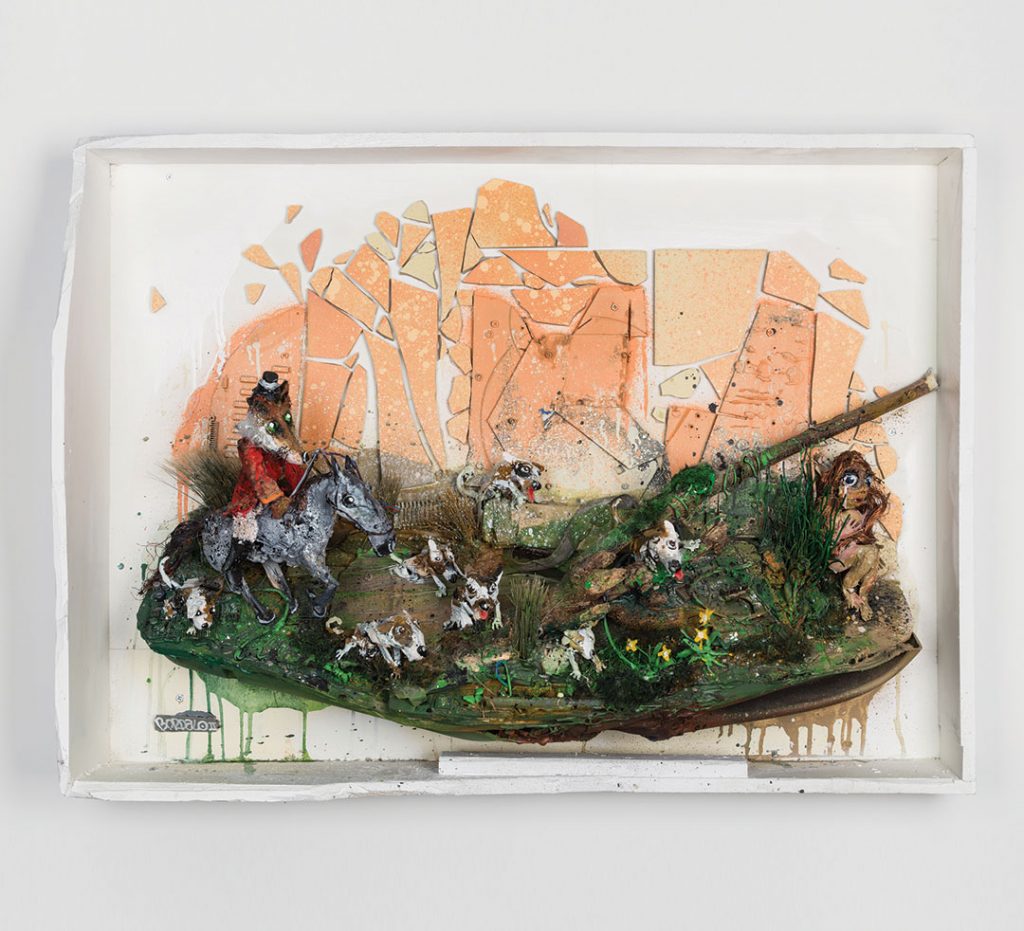 BIG TRASH ANIMALS
Tyres, waste bins or car bumpers, most of which are found accidentally in dumpsters, abandoned factories or through companies which are being renovated, are just some of the materials used in Big Trash Animals. In this series of large-scale pieces, Bordalo II recreates with scientific rigour depictions of nature, animals, in this case, built with "that which destroys them – trash, pollution, waste and contamination", he emphasises.
His goal? Appealing to a greater environmental and social conscience and raising awareness to the current problem involving waste production, non-reusable materials, pollution and its effects on the planet.His largest creation can be seen in Lodz, Poland. It's a swallow nestled on a building façade. Within this collection, there is a giant bear living on a street in Turin, Italy and, in Portugal, we can see a crab in Ericeira, a fox on Avenida 24 de Julho, a frog on Rua da Manutenção, among others.
One of the most recent and most expressive intervention works by Bordalo II is Wild Wild Waste, the installation which took a whale trapped in fishing nets, a lion crouched down at the back of a truck and four penguins surrounded by trash to an abandoned motel in Las Vegas, in the United States, commissioned by creative house Just Kids and during the festival Life is Beautiful. The inscription "Prizoon, too warm for winter, too cold for summer" successfully contextualises the artist's goal of portraying and denouncing wild animals in captivity, as well as the massive use of plastic.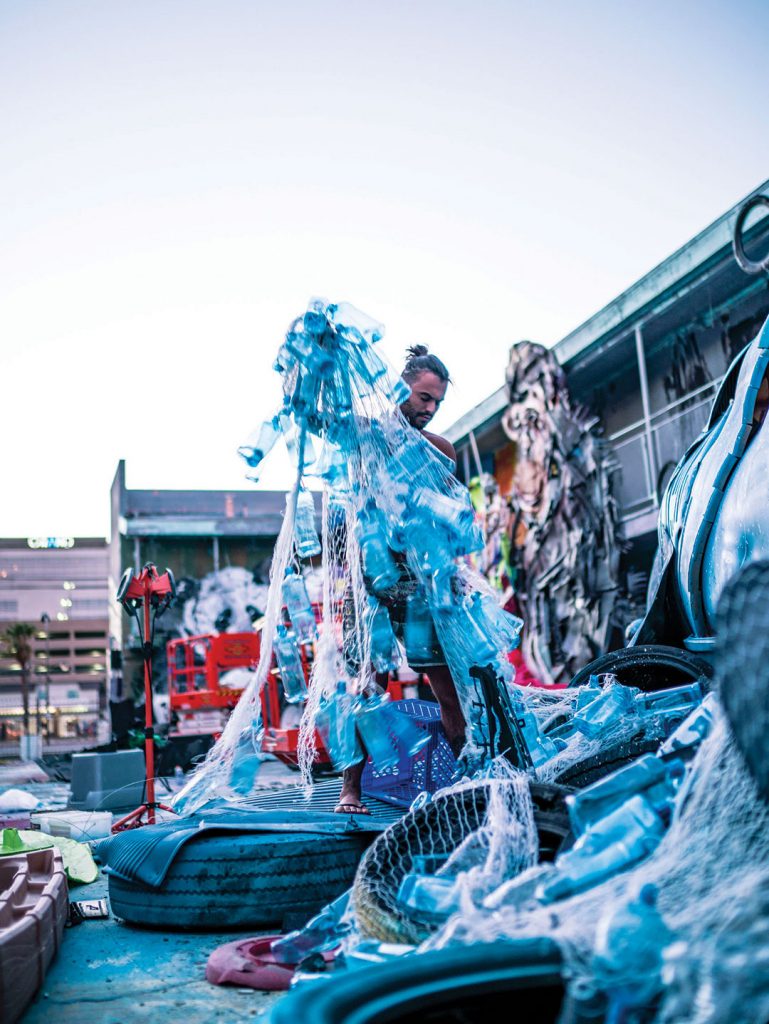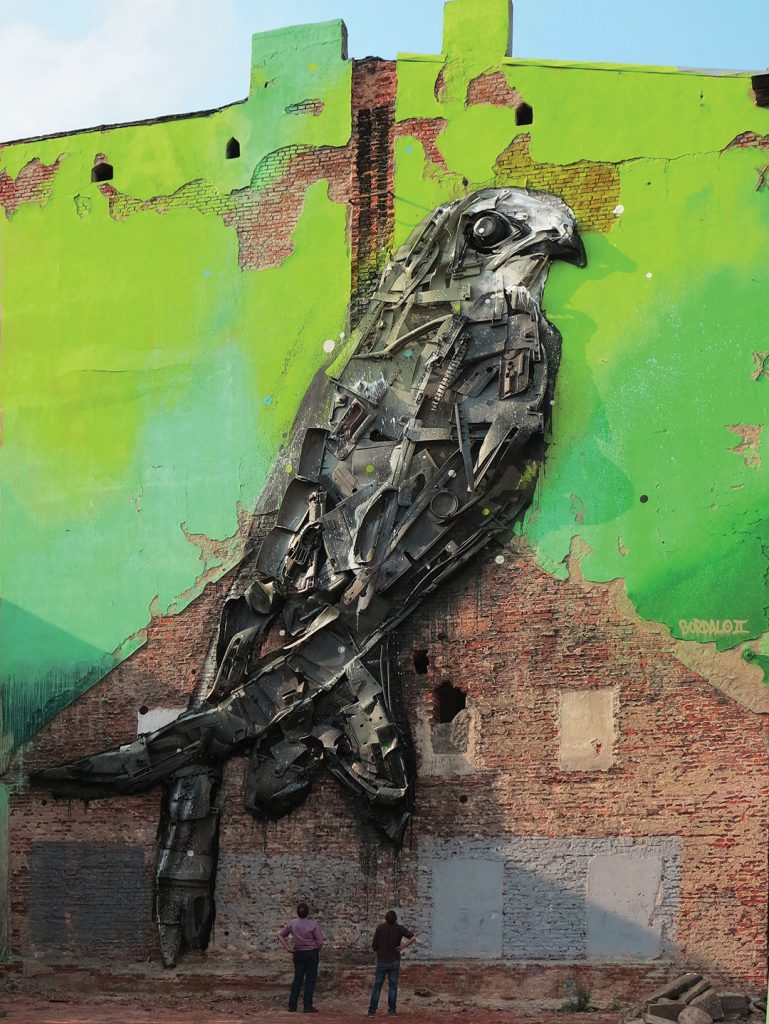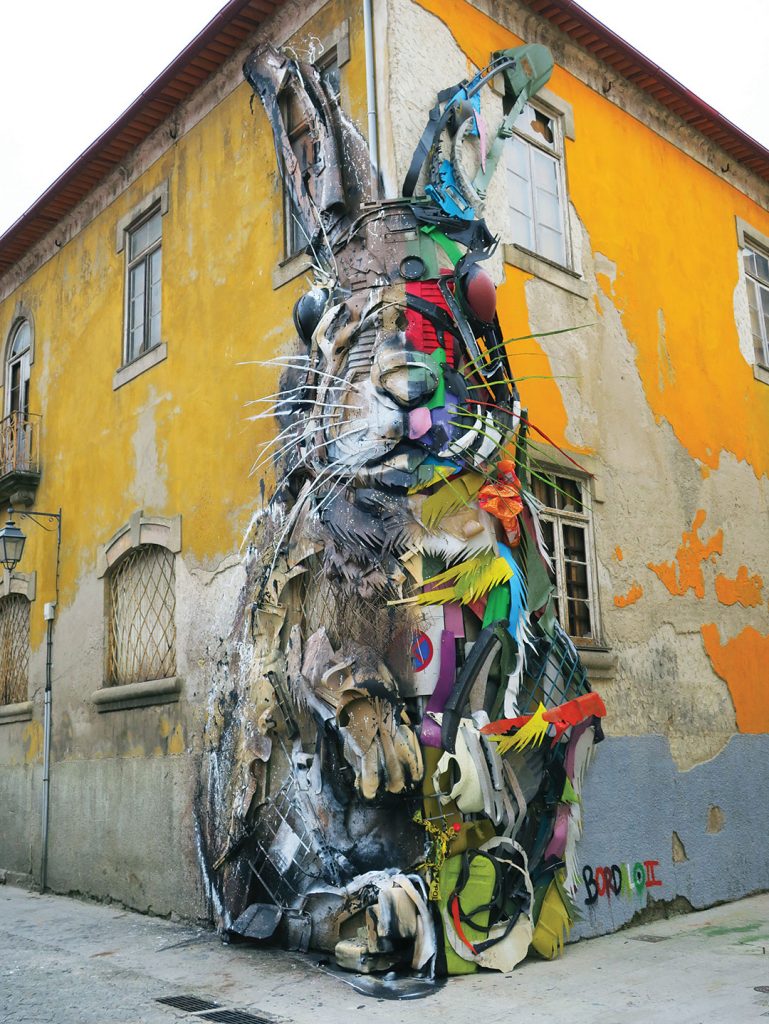 FROM THE CANVAS TO THEME IN A TRIBUTE TO HIS GRANDFATHER
It might be said that Bordalo II's artistic trajectory began with graffiti, a type of urban art which he was already exploring at the age of 11. This put him in touch with the streets and developed his practice with tools and intrusive techniques – which have become extremely useful to his current work – but, in reality, says the artist, "I have been drawing and painting ever since I can remember". He was influenced by his grandfather, Real Bordalo, with whom he shares his Christian name, and who was the person at the starting point of young Artur's professional choices.
In fact, the artistic name Bordalo II was chosen as a tribute to the Portuguese painter, who passed away last year at the age of 91 and who gained notoriety for the realistic quality of his watercolours and oil paintings of Lisbon landscapes. Despite having taken different artistic paths, there is a connection in the way of creating, in the way colour is used, in the depth of the works and, above all, in the theme running through both the grandfather and grandson's work, even if they use inverted perspectives: "Rather than bringing my grandfather's theme onto the canvas, I take the canvas out to the theme", says Bordalo II.
During the three years of his Painting degree at the Faculty of Fine Arts, Bordalo II discovered sculpture and, through it, he began experimenting with various materials, moving away from painting, the reason which had led him to study at Lisbon University. "I had already begun experimenting with waste, exploring different themes and compositions, but it was a natural path, materialised by a piece I created in 2013 for Walk&Talk in the Azores", he explains to Feed.
"IT'S A WASTE WORKING SOMEWHERE WITH VISIBILITY AND NOT HAVING ANYTHING RELEVANT TO SAY."
DO YOU FEEL THAT THOSE WHO FOLLOW YOUR ART WILL ALWAYS EXPECT IT TO BE AN EXERCISE OF CITIZENSHIP AND ENVIRONMENTAL AWARENESS?
Yes, without a doubt. My responsibility as an artist with visibility is to send all possible messages so that people can think about what really matters. I must approach sensitive, relevant and awareness issues and, in this way, be a part of changing the World for the better. To me, it's crucial to have something to say. It's a waste working somewhere with visibility and not having anything relevant to say.
HOW MUCH HAVE YOU SAVED IN RAW MATERIALS BY TAKING THIS APPROACH?
The most relevant part of "saving" is not the financial aspect, but the environmental one. Today, we hear a lot about Circular Economy and I ask whether there are laws to benefit companies which reuse materials instead of using new ones. In reality, there aren't any. We do this because it's something we believe in.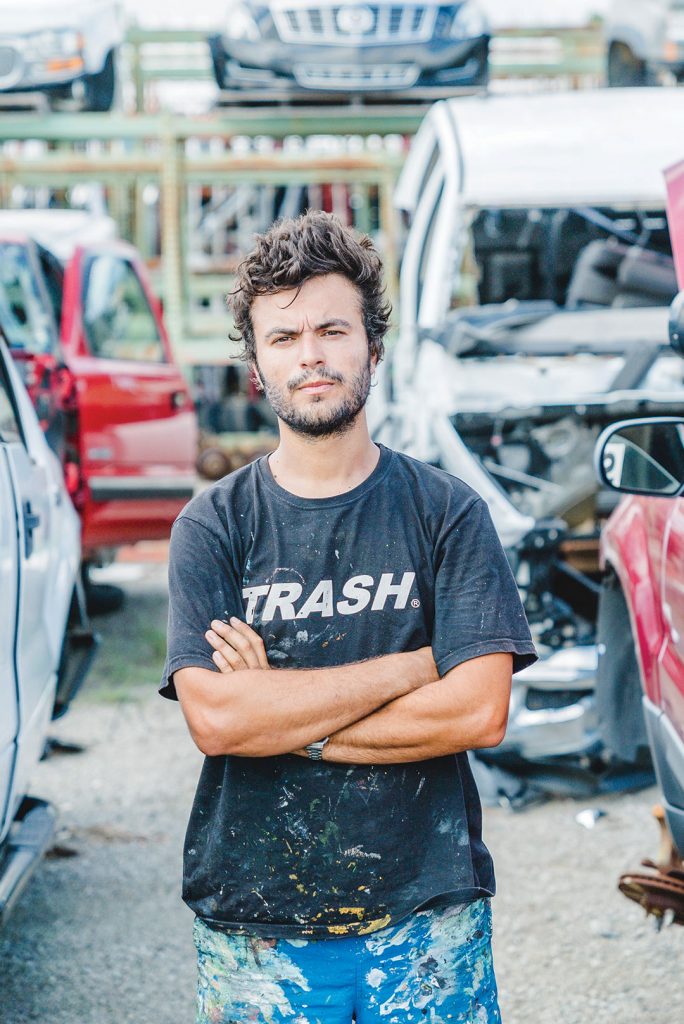 BESIDES ART, WHAT OTHER PRACTICES IN YOUR EVERYDAY LIFE REFLECT YOUR ENVIRONMENTAL CONCERNS?
Right now, we're already producing more waste than what is recycled. At the very least, we should reduce our water consumption, recycle, seek more environmental solutions and say NO! to single-use plastic. We must stay vigilant in an active way.
YOU WERE INSPIRED BY THE SAYING "ONE MAN'S TRASH IS ANOTHER MAN'S TREASURE": BESIDES TRASH, WHAT OTHER OBJECTS DOES BORDALO II, AS A MAN AND AN ARTIST, FIND SPECIAL VALUE IN WHERE MOST DON'T RECOGNISE ANY?
As with everything in life, with creativity we can find second lives, second roles, second opportunities, be they material or ideas. We must remain open to find them!