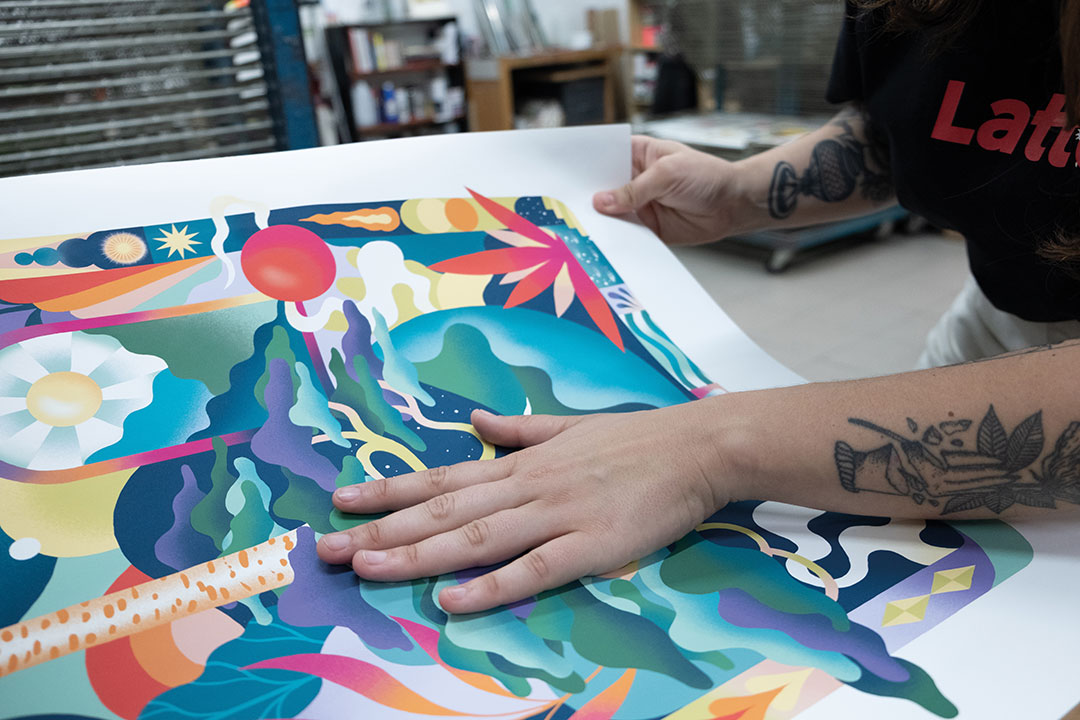 The year 2022 was marked by the 230 years of Jerónimo Martins and, to celebrate it, the Group challenged three artists to create a piece that reflected the relationship between nature, climate and food. The result are three silk-screens signed by Kruella D'Enfer (Portugal), Magda Ćwik (Poland) and Ledania (Colombia), in representation of the countries served by our operations, expressing with art the need to value sustainability and respect for the planet.
NATURE. CLIMATE. FOOD.
Three concepts so seemingly unrelated but which, at a deeper look, reveal to be highly interconnected. In a world where the climate emergency is the focus of global concerns, it is impossible not to think about the importance of sustainability. There is nothing more valuable than life. And life depends intrinsically on nature. It is urgent to preserve it for the sake of the future of the next generations. It was with these premises that the Jerónimo Martins Group launched a challenge to three prominent urban artists: to create a graphic work for our times that pays tribute to nature, on which our business is so dependent. A work which would project a future of sustainable food, in balance with the planet. As Goethe said, "There is no surer way to escape from the world than art, and no surer way to join it than art".
It's been a long road since the foundation of the first commercial establishment by a young Galician called Jerónimo Martins in Lisbon, in 1792. Fastforward to 2022, Jerónimo Martins is present in three countries and two continents. This tribute is therefore, a celebration of who we are: a food group with more than 5,000 street stores in Portugal, Poland and Colombia, mainly operated by women, and whose doors are open to all. Proximity stores, many established in neighbourhoods and communities, where fresh produce is always in the spotlight. In the hope of creating a valuable and profound reflection on the greatest challenges faced, each work had a limited edition of 230 copies, silk-screened at CPS.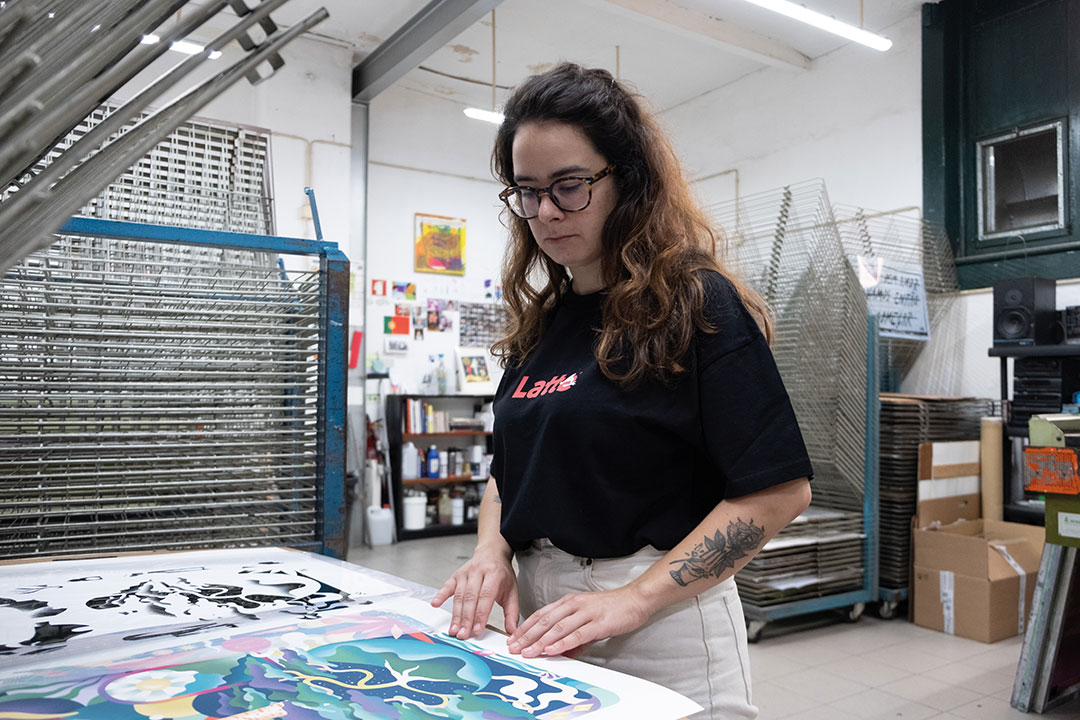 THIS BONSAI-PLANET ASKS FOR DEDICATION
KRUELLA D'ENFER
The four vital elements (water, earth, air and fire), without which life is not possible, frame and unify the work that the Portuguese artist and illustrator has created to celebrate 230 years of Jerónimo Martins. Invited to create a piece that would look forward to a future of sustainable food, in harmony with the planet, Kruella d'Enfer had no hesitation: "These are issues I normally address in my work" and very easy to harmonise with her creative universe.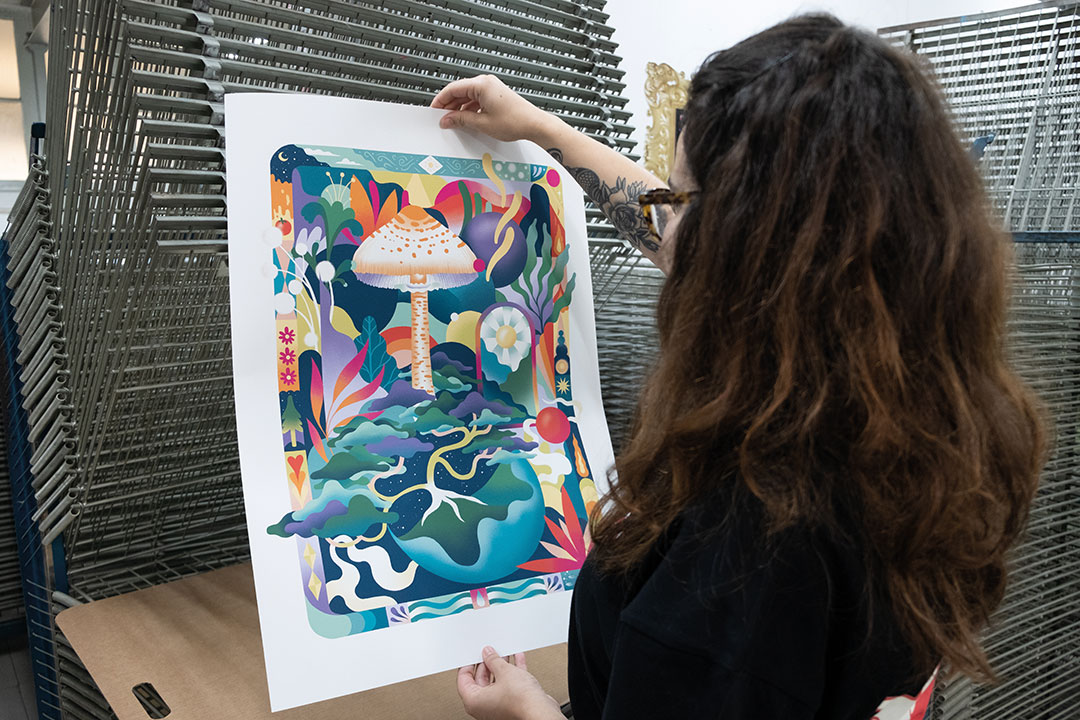 The idea is centred on a representation of a bonsai which "symbolises the balance between man and nature. (…) In Eastern culture, it is connected to Zen and Buddhism. Caring for a bonsai takes a great deal of patience and dedication. Great peace. In my illustration, it ends up merging with the planet Earth and the rest of the composition in the piece I've made". The bonsai is not the only element in the piece drawn from nature. Growing out of it is a giant mushroom, "one of my favourite foods which can be used in a thousand different ways in cooking; it is also highly symbolic and seen in some cultures as a mystic element. What's more, it has a very strong connection with the earth, growing from the decomposition of other organic matter". Kruella says that, taken together, the pieces have created something of great value. "It's a very interesting object, a collector's piece, a special box, with three works of art, from three different countries and very individual styles, representative of what's being done in contemporary art with a connection to urban art."
NATURE IS HOME TO THE PULSE OF LIFE
LEDANIA
When she was invited by the Jerónimo Martins Group to create a graphic artwork that reflected on nature, climate and food, Ledania buried herself in books. After reading widely, she decided that, for this piece, she should place the focus on nature. Because that's where everything starts. It's the origin of everything. And everything depends on it. Nature is of enormous value, offering an endless store of images: "Nature contains an abundance of forms that can be combined, resulting in a beautiful illustration, an image that is in no way simple, but something that leads us to imagine other things." A piece that abounds in meaning and storylines.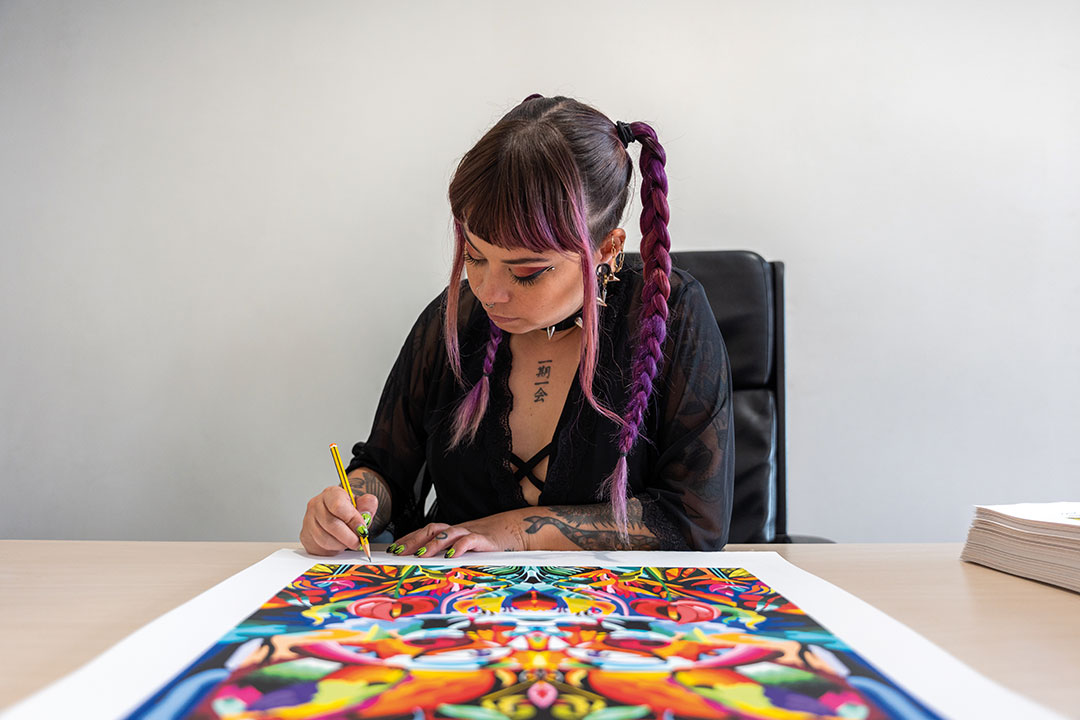 Coming from a region rich in biodiversity, she had no lack of material to work with. "I travelled around Latin America, I went to several countries, I looked at nature. All the colours and patterns in nature give me a sense of calm. I wanted this illustration to transmit a slight sense of euphoria, combined with tranquillity. Because that's what I feel in nature."
Ledania has always regarded art and culture as having great intrinsic value as well as vast potential for change: "It makes us aware, allows us to be creative. Culture, and art, can change how people see society, the world. Art is a language shared by all human beings." As an artist, she was happy to take part in this project: "When I read the story of the Jerónimo Martins Group I felt grateful that I would be part of it. I know there is a long story behind me, and probably it will continue to be a long story for generations to come. Jerónimo Martins is not just a business. It can be culture, it can be art."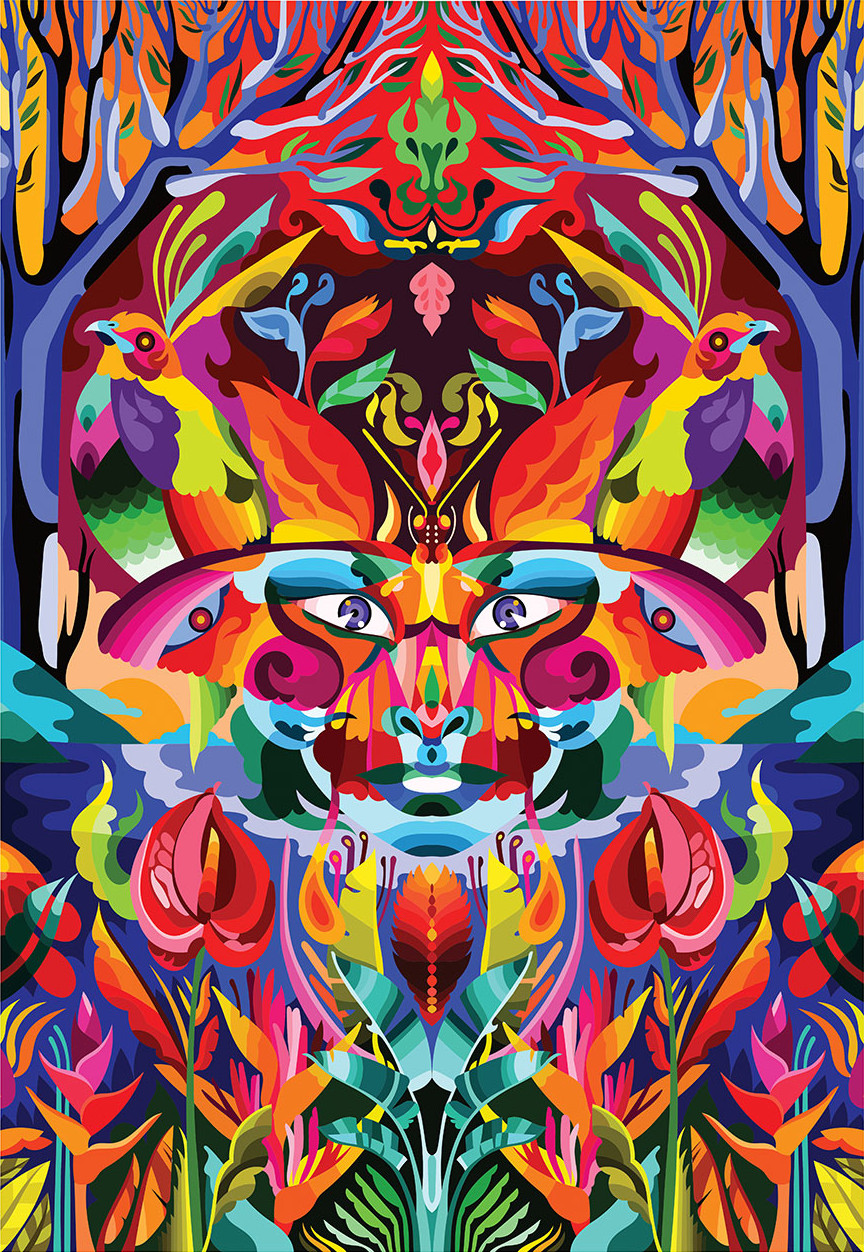 CONNECTED BY WATER
MAGDA ĆWIK
"I like to find inspiration in scientific research and to mix scientific knowledge with esoteric wisdom, creating artworks that deal with important issues." Magda Ćwik likes her work to have a purpose and when she learned that the proposed theme was a reflection on nature, climate and food, she responded very enthusiastically: "I was really pleased to create a piece focused on nature. I'm very passionate about finding solutions, the idea of helping to create a future that can inspire the generations to come."
In view of the climate emergency, nature is at the epicentre of that future. And that was what she wanted to convey in her work. "It was a wonderful process, creating the hands of nature, which are open to receive an unending flow of water, surrounded by flowers, in patterns characteristic of Polish folklore."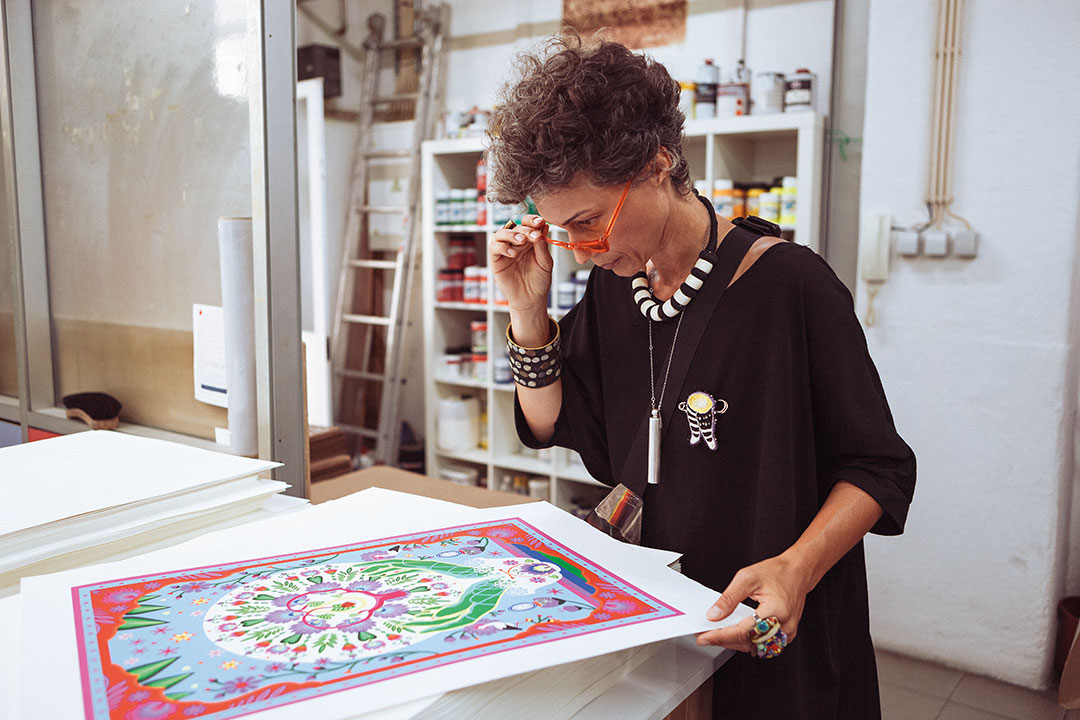 Indeed, Magda Ćwik points out that the elements found in the piece speak not only for Poland, but also for Portugal, there being a strong connection between the two countries. But none of these elements is as compelling as water, the link between them all. "Water connects us. All people, all animals, all living beings, are made of water. Water is a mirror, the reflection of everyone. It reacts to any emotion, to all vibration."