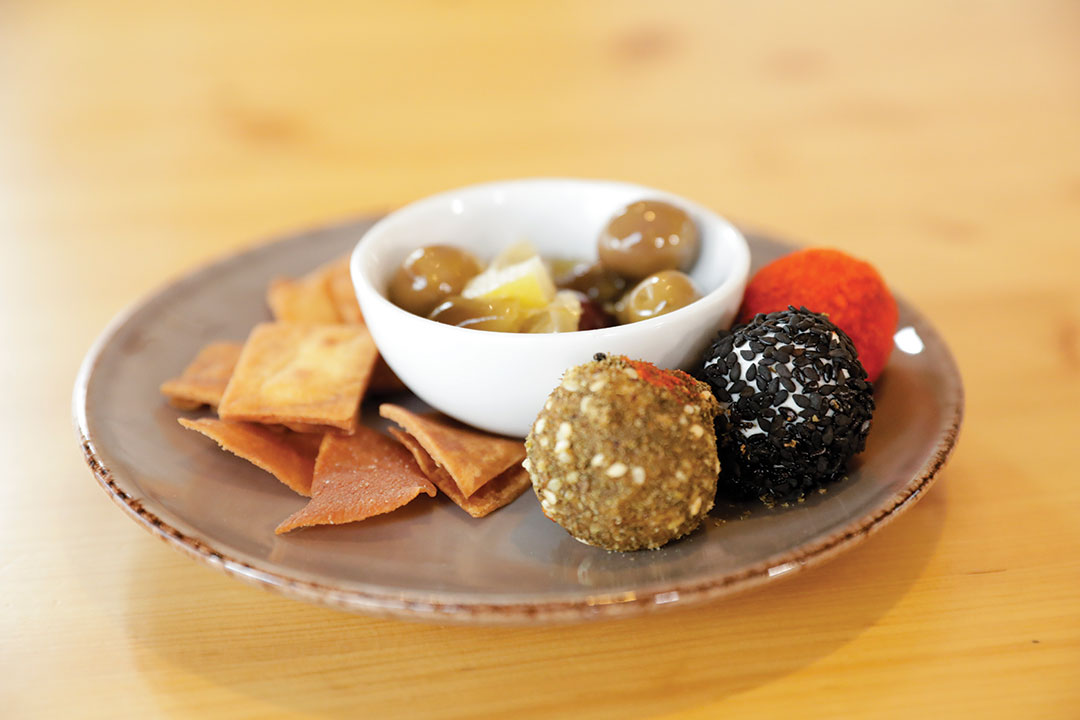 "The last time I ate Baba Ganoush was in Syria, because to make it you need a barbecue and, in a small apartment you can't have one," says a smiling Abdul Anis, before digging in to the exotic roast aubergine, apple sauce and spices puree, accompanied with slices of khubz (Syrian flat bread). Bread, a staple in both the Arab and Portuguese diets, is the starting point of the conversation, and a subject that Safa Mubaied was more than happy to talk about.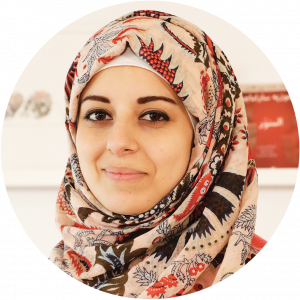 Safa was born in Idlib, in Northwestern Syria, in 1994. Before having arrived in Portugal, with her husband and son, she was studying Arabian Language at Tshren University, in the city of Tartos, with the ambition of pursuing a career in teaching. She is a Bakery Technician at Pingo Doce of Massamá.
Abdul, 48, was born in Damascus, the capital of Syria. He studied Civil Engineering at the University of Damascus, but his passion has always been Marketing and Sales. In 2014, he came to Portugal with his wife and son. He works at Recheio's Export Department.
After all, this age-old sustenance is at the heart of her job, and her bread and butter. She now knows how to tell the difference between the various Portuguese pastries and is a self-confessed fan of the traditional pastel de nata (custard tart), but she still recalls how confused she felt when she first started working in the Pingo Doce bakery in Massamá, nearby Lisbon: "When customers said: 'I'd like a mil-folhas ', I didn't know what it was. But the department head and my co-workers helped me a lot", says the young woman.
Safa came to Lisbon nearly three years ago. She fled from Syria on foot, through Turkey, and then Greece, where she caught a plane with her husband and child to Portugal, as part of the European refugee relocation programme. Abdul is curious to know why she chose the land of sun, beaches and football as her home.
"Syria is my mother and Portugal is my lover, my wife. The one I chose, I gave my heart to."

ABDUL ANIS
Safa today knows that a stable country, with a pleasant climate, opportunities for all and a good education system is the ideal place to start a new life. At the time, all she knew was that it was a host country, with "nice people". "But you only found that out when you got here, right? How did you know it was like that?", asks Abdul.
Apparently, all the young woman needed was an iconic example: "Ah, Cristiano Ronaldo is Portuguese!", she exclaims, filling the restaurant with the sound of her laughter. The lively exchange continued at a table at the Mezze (an Arabic word meaning "snack" or "entrée"), a restaurant located in the heart of eastern Lisbon. The restaurant is managed by a group of 10 Syrian refugees, under the guidance of Associação Pão a Pão, an association founded in 2016 to promote the integration of these populations with Portuguese society.
A LIFE SWEETENER CALLED MAGIC
For Abdul, things couldn't have gone better. He came over with his wife, son and mother-in-law and, unlike his countrywoman, he didn't choose Portugal. Portugal chose him, as if by magic. "My story is different. I didn't choose Portugal, I was on my way to my family in Germany. But we decided to take a holiday in Portugal and we fell in love with Lisbon. You have the river, you have the ocean, you have mountains, all in the same city. So, it's very unique, very unique. I loved the country, I loved the temperature, I loved the people, I loved the food. So, I decided to stay. It's like when someone falls in love with somebody and he doesn't know why.
It's something like magic." In awe of what he encountered, Abdul can't believe how lucky he is to be able to carry on doing what he loves: working in management. His 17-year experience in the African market, fluency in English and astuteness didn't go unnoticed by Recheio's exports department, who encouraged him to submit his CV. "It was like paradise for me", he recalls. Just like Safa, he is part of the "Capacitation4Job" programme which, since 2014, has brought the Jesuit Refugee Service and Jerónimo Martins together to empower and insert young vulnerable migrants into the labour market. A year and a half after joining the Group, the expansion of sales of agricultural products to the Arab world – Saudi Arabia, Kuwait, Qatar, Oman, among other countries -, Ghana and Nigeria today is a reality, in part thanks to Abdul's talent and know-how. "Doing what I love is a gift from the heavens", he acknowledges.
"Portugal is my second country."

SAFA MUBAIED
In Abdul and Safa's lives, happiness wasted no time in finding them and helping the day they started taking Portuguese classes as part of the Programme, and managing an awkward "Olá, tudo bem?" , seem like a distant memory. At the time, all Abdul knew how to say (and understand) was "Espera" . "I think people thought I was always in a rush", he explains.
"Yes, yes, here , they have a habit of saying 'espera, calma' , both because of how it sounds and what it means, although weekly rest periods are different in Syria. Their days of rest are Fridays and Saturdays, with Friday (al-jumu'ah, which means congregation) being akin to Sunday in Portugal: traditionally, it is about spending the day with family and, after lunch, everyone makes their way to the Mosque.
On her days off, Safa goes for walks to recharge her batteries after a busy week. On top of work, motherhood and looking after the house, she is also taking driving lessons: "I take my son with me because my husband works at night. He helps with other things, like paying the bills." Abdul remarks that this is usually something the Portuguese woman does, comparing it with reality in Syria, where it's mostly the men who are the breadwinners and where the few women in the labour market occupy positions such as doctors, teachers and other occupations that require higher education.
The difference is because of the money issue: "When a Syrian family comes to Portugal, they quickly realise that one person alone cannot ensure their subsistence", reminds Abdul. "Yes, only one breadwinner is not enough to afford a home", agrees his countrywoman.
However, she doesn't mind; quite the opposite. In fact, she was studying Arab at university to follow a career in teaching. She did not abandon her dream when she had to leave , but Safa likes what she does and never wastes an opportunity to learn and grow professionally. The language of the country that took her in is still one of her greatest challenges and she takes advantage of the fact that her job involves "talking a lot", to practise. Aside from that, she says: "I live just as I did in Syria. Portugal is my second home". Abdul asks her if she ever felt or if anyone ever made her feel like an outsider or different, or if anyone has ever complained about her using a burka.
"Doing what I love (at Jerónimo Martins) is a gift from the heavens."

ABDUL ANIS
She says no and adds, happily: "Every day, my boss says to me: 'Safa, that's such a lovely scarf you have on today!' and I say 'Muito obrigada!' ". In love with what he also considers to be his second home, Abdul confides that, for him, comparing Syria to Portugal is like comparing your mother to your wife: "Do you love your mother or wife more? You didn't choose your mother, but she gave you life.
You choose your wife and gave her your heart. Syria is my mother and Portugal is my lover, my wife. The one I chose, I gave her my heart too. The one that gave me peace, security and work and the food I'm eating now. It comes from the heart, you can't control it."
SLOW FOOD MENU