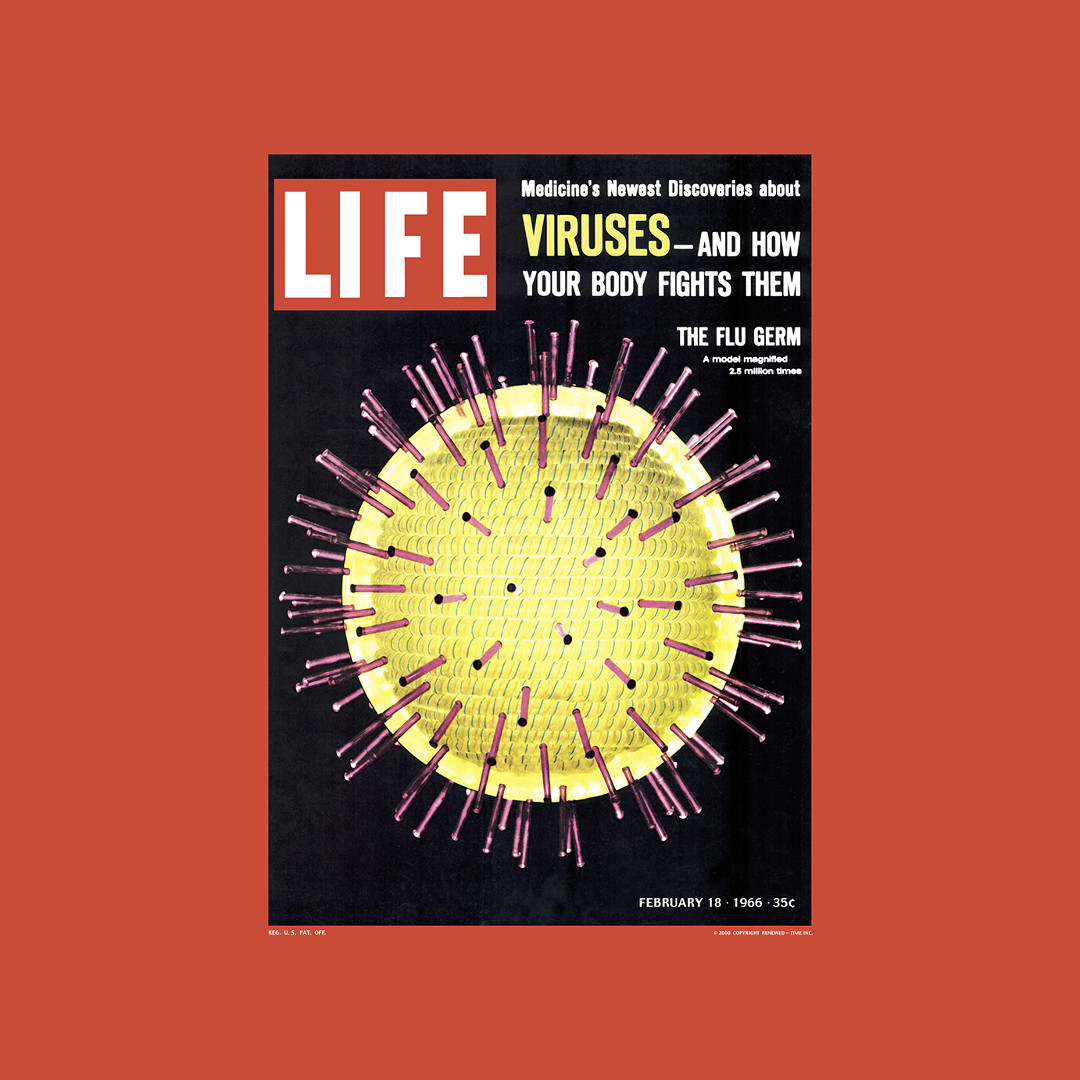 A Pandemic Explained – The first human global reaction
Viruses transmit between species, a phenomenon increasingly frequent due to human invasion of many habitats. That is the case of SARS-CoV-2, explains Pedro Simas, virologist, which adapted extremely well to a host whose population is of nearly 8 billion people.
The only way to stop a pandemic is to reduce the number of susceptible hosts either through vaccination or natural infection – towards herd immunity – which could turn SARSCoV-2 itself into the solution. Pedro Simas, head of the viral pathogenesis lab at iMM – Instituto de Medicina Molecular (Molecular Medicine Institute) – in Lisbon, believes that once the pandemic ends and the virus becomes endemic, "societies will embrace their typical social behaviour again". And if eradication might be unlikely, knowledge is surely the right weapon to fight both the virus and our fear of it.
IS A VIRUS, IN ITSELF, A FORM OF LIFE?
It depends on how life is defined. If one defines cells as the fundamental units of life, then viruses are not alive. I prefer the definition that life is a sustained chemical system capable of undergoing Darwinian evolution. Viruses have genes that are competent to replicate. Alive or not-alive, viruses impact our life.
THERE ARE MANY DIFFERENT VIRUSES, AND THEIR FORMS OF TRANSMISSION VARY TOO. HOW DO SCIENTISTS CLASSIFY AND STUDY VIRUSES?
A virus is not a single identity! Viruses are organized in taxa from order, family, subfamily, genus, and species. This classification is part of the standard biological classification, which identifies groups of biological organisms on the basis of shared characteristics. But as a virologist, from a simplistic point of view, viruses can be organized anatomically as naked viruses or enveloped viruses, or by genome content as DNA viruses or RNA viruses. Both can have single or double stranded genomes. RNA viruses can have either single stranded positive-sense RNA (e.g. SARS-CoV-2; COVID-19) or negative sense (e.g. Influenza) genomes. Viral genomes can also be circular or segmented or diploid (two copies like human beings). So, diversity is the common feature in viruses, which impacts the diseases caused by these agents. Hence, comparisons between different viruses need to take into consideration this complex diversity.
"This virus will most likely become endemic, a natural course for many viruses including other coronaviruses."
AS A VIROLOGIST, WHAT DO YOU FIND MOST INTERESTING IN THIS SARS COV-2 THAT WAS PREVIOUSLY UNKNOWN?
I would say the realization that SARS-CoV-2 can disseminate so efficiently amongst the human population with minimal virulence. Based upon the fact that 98% of current active infections cause mild upper respiratory disease, and that there is an estimate of at least 10-fold more undetected clinically silent infections. From an evolutionary point of view, SARS-CoV-2 is extremely well adapted to its human host. Jumping the species barrier into humans, probably from an endangered of extinction species, SARSCoV-2 reached a host whose population size is of almost 8 billion individuals. Staggering.
WHAT MAKES CORONAVIRUS DIFFERENT FROM, FOR EXAMPLE, EBOLA?
Ebola and SARS-CoV-2 are very different viruses belonging to distinct families named Filoviridae and Coronaviridae, respectively. Infection of SARS-CoV-2 is mostly invisible. This means that apparently healthy people (asymptomatic) spread infection without knowing, which results in fast virus dissemination. Ebola infection results almost always in severe clinical disease – hemorrhagic fever – killing 25-90% of those infected. Hence, easy to identify and limited mobility of infected people to promote virus transmission.
A WILD SPECIES, NAMELY BATS, IS SUSPECT OF HAVING TRANSMITTED THE NEW CORONAVIRUS TO HUMANS. IS IT NORMAL TO HAVE TRANSMISSION OF VIRUSES BETWEEN SPECIES?
We do not know if bats were the source of contamination to humans, as yet. What we know is that bats are reservoir hosts for many coronaviruses and could have been the source. An intermediate animal is also a possibility. Viruses transmit between species, a phenomenon designated species-jump. However, there is a species barrier, so this phenomenon is rare between species that have evolved together. Species-jumps are becoming more frequent due to human invasion of many habitats, which brings animals and humans into closer contact.
WAS IT INEVITABLE THAT SO MANY PEOPLE SHOULD DIE?
Yes. The world was caught by surprise. This was due to the fact that a vast majority of SARS-CoV-2 infections is clinically invisible (asymptomatic). Therefore, when the first cases of severe respiratory disease were reported, there were already many infections in the community. But now it is a different time. We know more and more about the virus every day and we have scientific tools – virus detection tests and serological tests – to protect the high-risk groups and minimize deaths. This is our challenge as a society in the upcoming months.
I am hopeful that an effective vaccine for SARS-CoV-2 may be developed
CAN THIS VIRUS BE ERADICATED? OR ARE WE GOING TO HAVE TO LIVE WITH IT, JUST AS WE LIVE WITH OTHER VIRUSES?
It is extremely unlikely that this virus will be eradicated. Even the most severe measures of lockdown have not stopped transmission because it is impossible to totally inhibit human-to-human contact and most infections are invisible. Hence, this virus will most likely become endemic, a natural course for many viruses including other coronaviruses.
ARE THERE RATIONAL GROUNDS FOR THE WIDESPREAD FEAR, IF NOT ACTUAL PANIC, WHICH PEOPLE HAVE FELT?
Fear is a normal alarm response when something unknown and potentially deadly comes to us. It is essential for survival. However, fear is deleterious if prolonged. Knowledge ends fear. We now know through science how we can control virus dissemination, how we can protect high risk groups, and how we can solve the current pandemic. We know how to proceed and, if we do so, we know what to expect. Therefore, room for fear is shorter now. Once the pandemic ends and virus becomes endemic, we will embrace again our normal social behaviour.
ARE MUTATIONS EXPECTED TO HAPPEN?
Coronaviruses accommodate natural genetic mutations in their genomes as they replicate and disseminate. This is a normal process. Several hundred mutations have been identified for SARS-CoV-2. However, each virus can only accommodate 4-8 mutations. This genetic stability is afforded by a mechanism that coronaviruses have to correct mutations as they replicate their genomes. An important point for SARS-CoV-2 is that the genetic mutations identified so far do not result in significant altered biological properties such as virulence or antigenic variance. This is good news!
IS IT WORTH WAITING FOR A VACCINE THAT CAN PROTECT THE WORLD'S POPULATION?
In my opinion we cannot wait in isolation for a vaccine that is not guaranteed to work, i.e. be protective. Also, we know how we should proceed, even in the absence of a vaccine.
Viruses transmit between species, a phenomenon designated species-jump.
AND WHEN CAN WE EXPECT A VACCINE, PROPERLY TESTED, APPROVED AND AVAILABLE ON A LARGE SCALE?
Vaccine developers predict at least between 12-18 months for having a vaccine available for production. The fastest vaccine ever developed was for mumps and it took 4 years. A vaccine against rotavirus gastroenteritis took 26 years to develop. Vaccines to hepatitis C virus or HIV were not accomplished yet. I am hopeful that an effective vaccine for SARS-CoV-2 may be developed because our immune system efficiently eliminates this virus, hence so can a vaccine; and because there are currently many ongoing projects covering virtually all known vaccine technologies. "This virus will most likely become endemic, a natural course for many viruses including other coronaviruses."
IS IT POSSIBLE THAT THIS VIRUS WILL MUTATE EVEN BEFORE THERE IS A VACCINE?
Everything is possible but given the genetic stability for SARSCoV-2 so far, and what we know for other coronaviruses, it is unlikely that a mutation will arise that will significantly affect the protective effect of a vaccine. If such situation arises, it is not dramatic to contemplate such antigenic variation in subsequent vaccine production.
DO WE HAVE TO ALLOW PEOPLE (NOT BELONGING TO RISK GROUPS) TO BE INFECTED AND ACQUIRE NATURAL DEFENCES?
Herd immunity. It is a smart strategy when a vaccine is not available and the virulence of the virus allows. By definition, the only way to stop a pandemic is to reduce the number of susceptible hosts to a number that significantly reduces virus dissemination. This is achieved either through vaccination or natural infection towards herd immunity. Many vaccines used today, such as for mumps, measles, rubeola and varicella, are nothing more than infection by attenuated viruses. It is predicted that protective herd immunity for coronaviruses may be achieved with 60-70% immune population. The virus can be in itself a solution.
THERE ARE COUNTRIES THAT HAVE OPTED FOR A LOCKDOWN, OTHERS DECIDED TO PROMOTE CONTAGION (TO ACCELERATE HERD IMMUNITY), AND YET OTHERS HAVE SWITCHED STRATEGY. FROM YOUR POINT OF VIEW, WHICH OF THESE OPTIONS WAS THE MOST APPROPRIATE?
The different strategies adopted were the best for each country. Now we can learn with each other. The best way forward now is to promote the controlled construction of herd immunity with maximal protection of human life. We have the knowledge and tools to do it.
IN YOUR OPINION, AT THE STAGE WHERE WE ARE NOW, WHAT IS MOST IMPORTANT, IN TERMS OF THE STRATEGY FOR FIGHTING THE PANDEMIC?
testing to identify infected individuals, monitoring virus dissemination and construction of herd immunity; 2. isolation of infected cases; 3. quarantine of contacts; 4. protection of high-risk groups; 5. adopting the three Cs rule, i.e avoiding (i) closed spaces, (ii) crowded areas, and (iii) close contact.
HOW DO YOU THINK THAT SCIENCE HISTORIANS IN FUTURE WILL REFER TO SARS-COV-2 AND TO COVID-19?
As the first human global reaction.