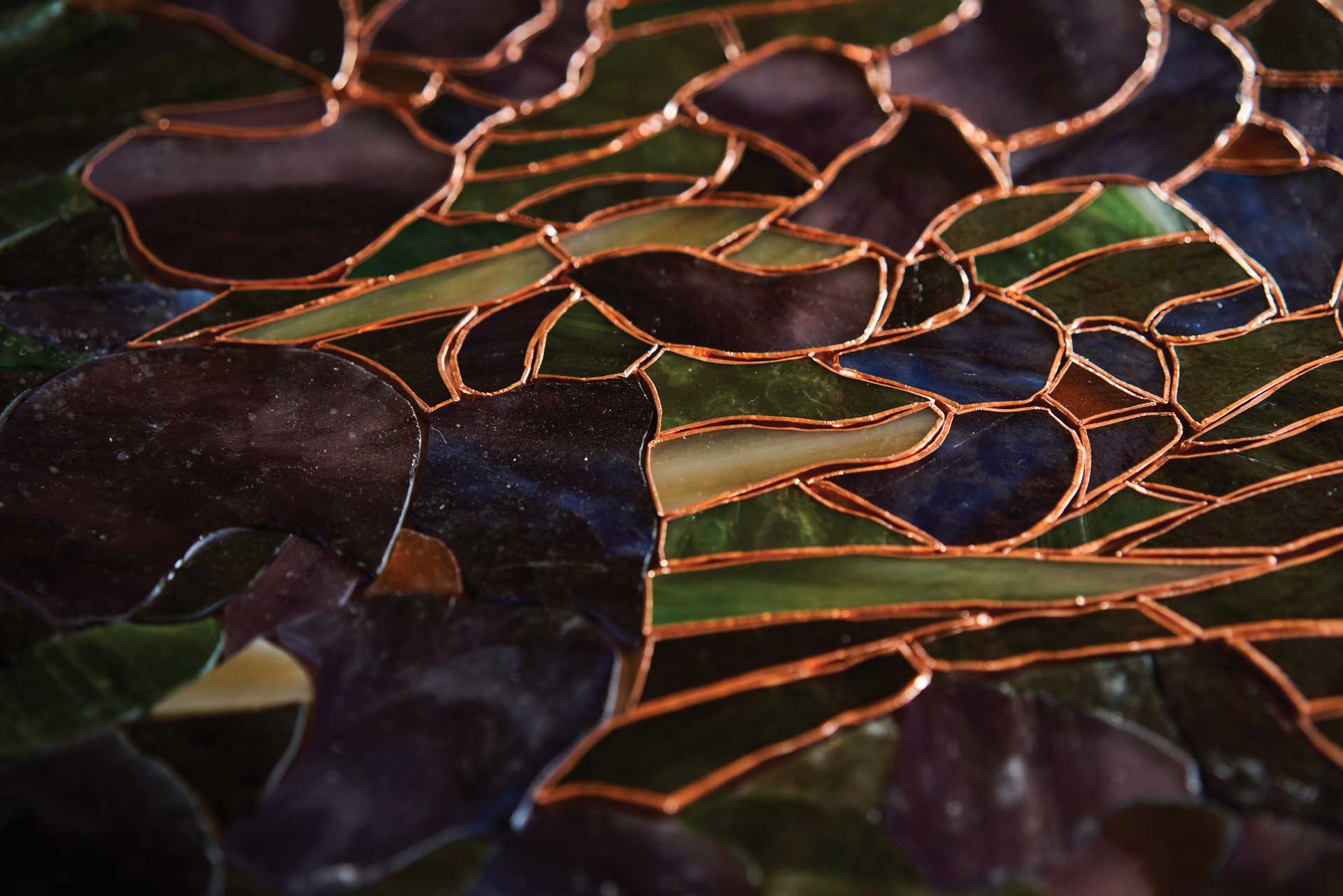 Dancing with the Light
Stained Glass Art is the Middle Ages' finest glory. Get to discover the science and magic behind the vibrant light of its pieces in a visit to WITRAŻE, a small workshop in the suburbs of Warsaw.
Through the Stained Glass
What is the essence of stained glass? What makes stained glass art unique? Popular belief has it that stained glass is the colourful figurative or ornamental compositions placed in window apertures – the colourful mosaics made of pieces of glass joined together by black leading. Indeed, this is what stained glass is. However, what makes it unique, what brings it to life is light. Stained glass comes to life at the break of day, its colours dazzle at full brightness at midday and slowly fade away as twilight falls. The interior of a church is completely transformed when the light filtered through stained-glass windows paints sharp patches of colour which dance across the walls and floor as the sun changes position during the day. And the interior is transformed yet again on a cloudy day, when it is filled with a soft, colourful glow.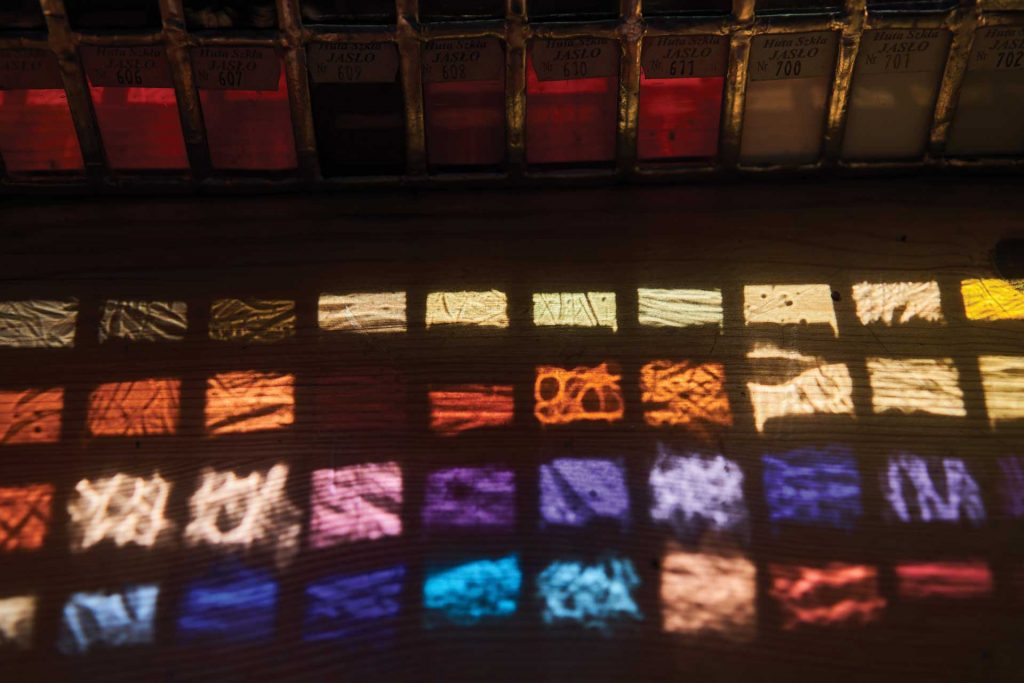 The hue and intensity of light change during the day and the stained glass changes with them. Some of its colours light up and some fade away – the yellows and reds that shine brightly at midday, die away at dusk, whilst the blues remain to provide light until night falls. A true stained glass artist is one who – apart from the necessary art skills – masters the art of a conscious use of light. There is no doubt that the founder of WITRAŻE workshop, Teresa Maria Reklewska, is such an artist.
She was a young girl born to a family of landowners when the idyllic world of her childhood, spent in a manor at the foot of the Świętokrzyskie Mountains, was wiped away when World War II broke out. Young Teresa Maria witnessed the death and suffering of those closest to her. After the war, like many other survivors, she went to Warsaw which, at the time, was a sea of ruins. Living in rented rooms and taking on any kind of work she could find, she managed to fulfil her dream, by enrolling at the Warsaw Academy of Fine Arts.
Art was like a ray of light for her, helping her find her way through the post-war gloom and breaking through the thickening clouds of Communism, the system imposed on Poland following the war. By a twist of fate or a whim of the authorities, she was granted permission to travel to France to study stained glass. When, in 1960, a Wrocław cardinal Bolesław Kominek announced a competition for stained-glass windows for the enormous Gothic church of St Mary's on the Sand, she submitted her design and won the competition.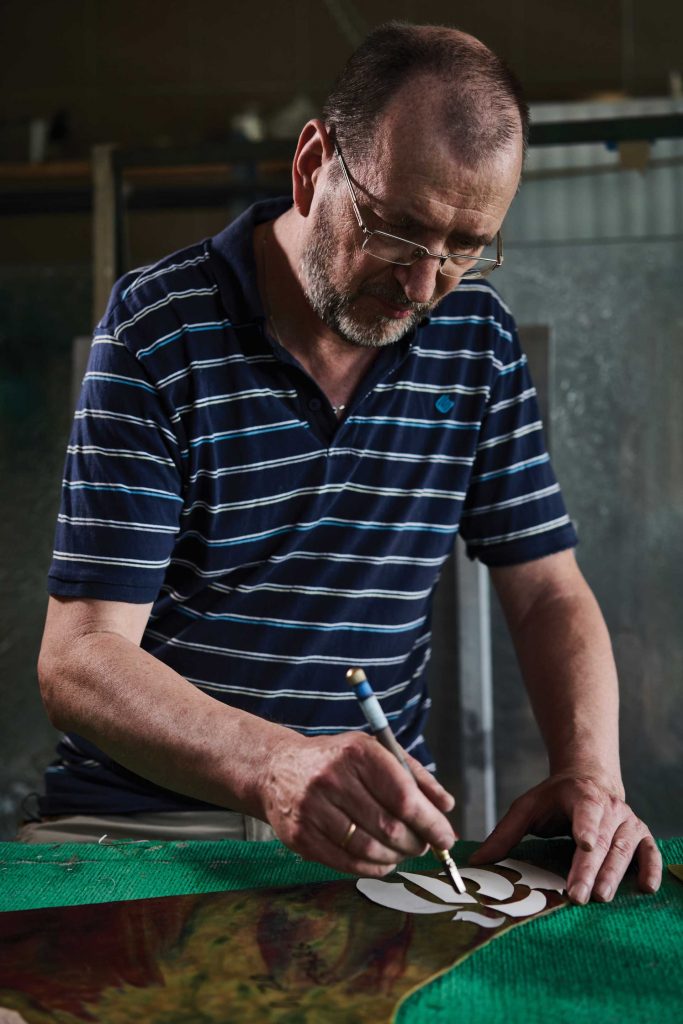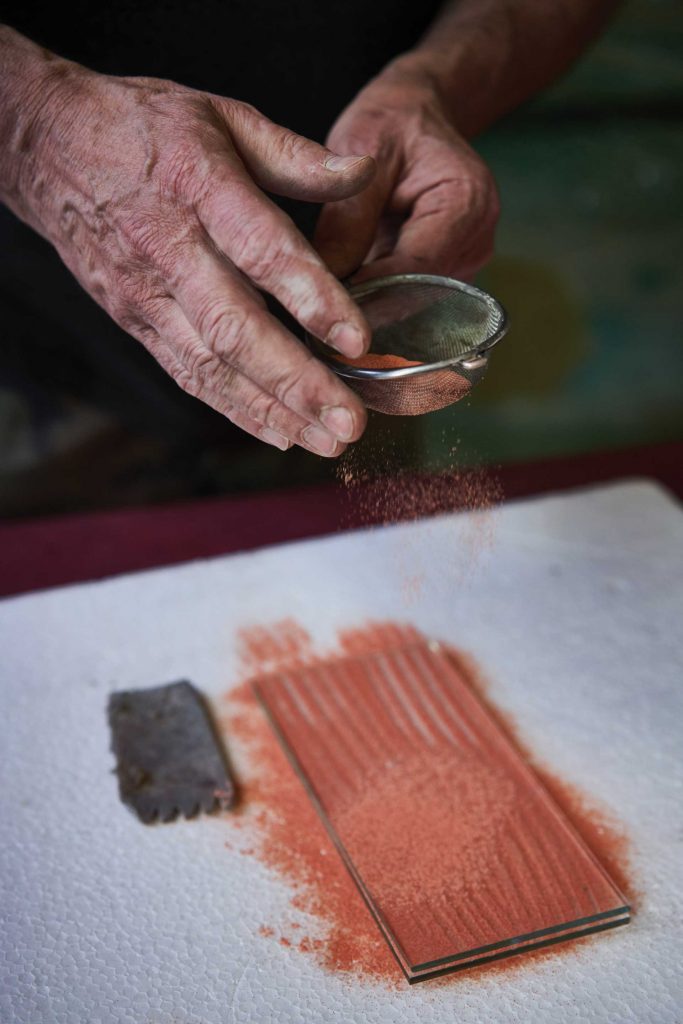 It turned out that in Poland, at the time, there was no stained-glass workshop which would be able to carry out the author's artistic vision. Yes, there were a few workshops, but these were craftsman's workshops – unable to let the artist take direct control over each of the many stages of the process of stained glass creation. As a result, the magnificent stained-glass windows for the chancel of the Wrocław church were made in Paris, in Jacques Le Chevallier's workshop. However, Teresa Reklewska's dream was to continue her artistic career in her home country.
So, she returned to Poland to open a stained-glass workshop based on her own concept. After many struggles and overcoming various obstacles, she managed to obtain permission from the authorities. In 1975, she started putting the workshop team together. A university degree was not a requirement – what was important for her was talent, an open mind and the ability to reach a compromise as far as art was concerned. Thus, a unique team was born. And whose key members were an historian of philosophy, a surveying engineer and a technical college graduate.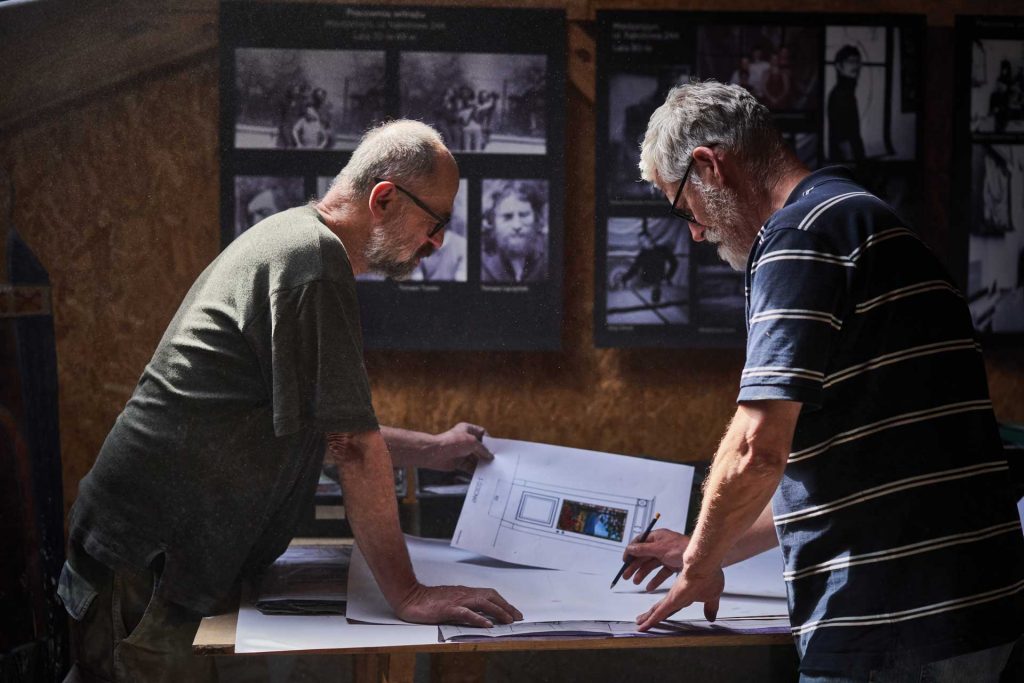 Under the guidance of their Master, this odd team produced stained glass designed by Teresa Maria Reklewska for many churches in Poland, including many of the major historical buildings. Thanks to Teresa's iron will, and despite many adversities, this small, modest workshop in the suburbs of Warsaw created stained-glass windows of ten – and sometimes even a hundred – square metres in size. They created a set of stained-glass windows for the oldest catholic church in Tokyo and many other compositions for churches in Poland. It was here that the gigantic stained-glass windows for the St. Andrew Bobola Sanctuary in Warsaw were made – with their breath-taking power of vision, grand scale and richness of colours.
The stained-glass technique consists of scaling a painted design up to 1:1. Next, a carbon copy of the enlarged design is made, in which all the lines separating each piece of glass are marked (in the finished window these will form the leading joints between the glass pieces). This drawing is then transferred onto a piece of cardboard which is then cut along the marked lines. The cut-out pieces become a template to be used for cutting the glass shapes. The cut glass is painted with ceramic paint and fired in a kiln. During the framing stage, the glass pieces are fastened together by strips of leading (H-shaped in crosssection), soldered with tin at the joints. The leaded window is then sealed with putty, which makes it rigid and leak-proof.
The final stage is assembling the stained-glass panels into a prepared frame. As years passed, the workshop team members mastered their skills and became independent. They began producing stained glass of their own design. During this period, their Master, Teresa Maria Reklewska, was available for them, providing invaluable advice and discretely supervising the process of stained glass creation. Time passed and new challenges and opportunities emerged. As part of the process of expanding their offering, the workshop became interested in a new technique known as fusing glass – at the time a complete novelty.
The light filtered through stained-glass windows paints sharp patches of colour which dance across the walls.
This technique consists of fusing sheet glass (window panes or glass produced especially for this purpose) in special kilns. Sheets of glass are placed onto a mould in the kiln and heated up to around 800ºC. As a result, the glass softens, filling up the mould. During the process, glass can be stained with colour, bent or sculpted. It can be used to create single-unit glass elements – decorative and functional at the same time: fillings for window apertures, partition walls, skylights and more. Although this is by no means a strict rule and although there are, of course, some exceptions, stained glass blends more harmoniously within traditional architecture, while fused glass panels are more at home in modern architectural settings.
In both cases, however, light plays the key role in shaping the artwork. Depending on their texture, panels made of fused glass can spread light to a higher or lesser degree. The degree of sheet transparency can vary. It is not uncommon for the decorative elements made of fused glass to be backlit with artificial light, using state-of-the-art technology that enables precise control of light, colour and intensity. While we are not always aware of it, light and colour don't just affect us physically. They can also shake the very foundations of our artistic sensitivity. Just like a ray of sun can shine through a WITRAZE stained glass window – a work of art that is testament of Teresa Maria Reklewska's legacy.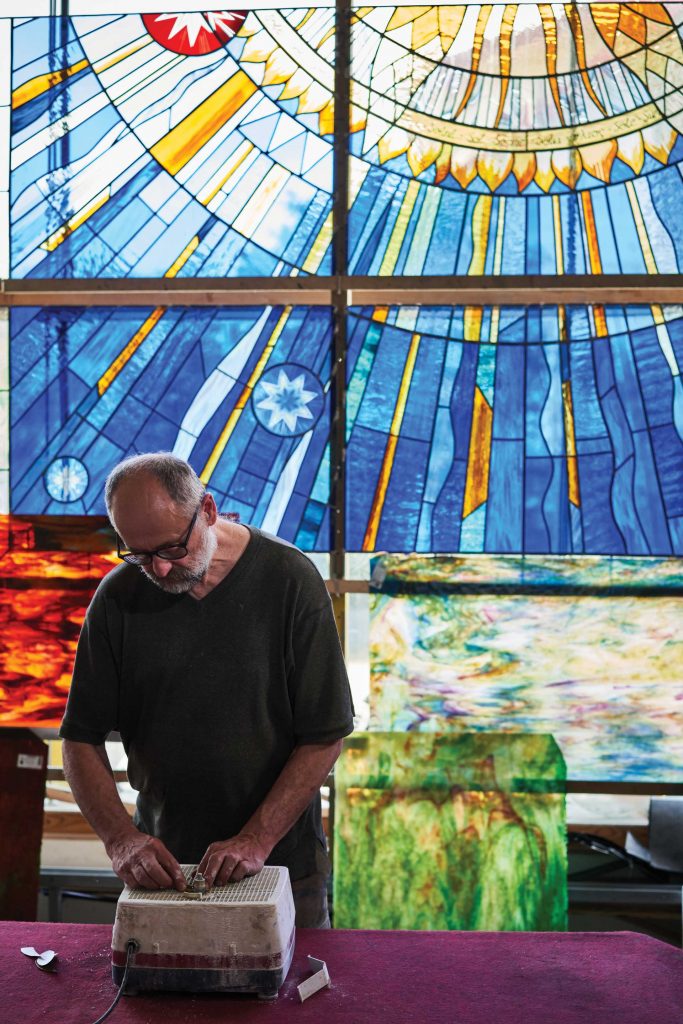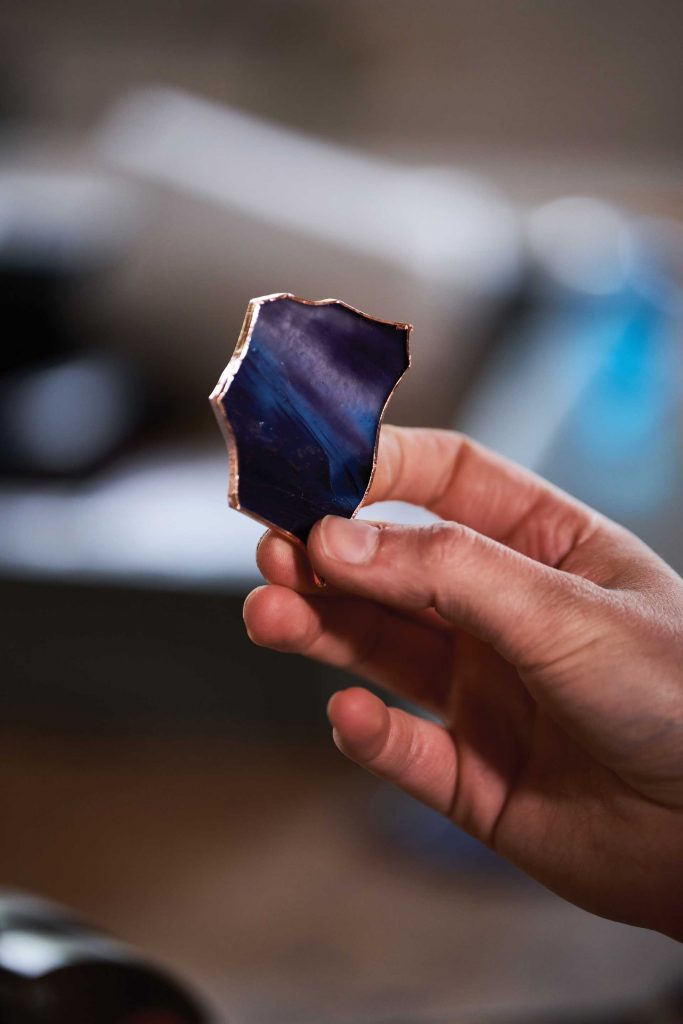 DID YOU KNOW?
The windows of Gothic cathedrals make a tremendous impression on modern viewers. Let us think, however, about the way they were perceived by their contemporaries, when there wasn't such a sharp distinction between a piece of coloured glass and a precious stone. To those people, these windows appeared to be made of jewels!
Twice a year, on the summer and winter solstice, hundreds of tourists gather in Strasbourg Cathedral. At midday, a green ray of light shines through one of the segments in the stainedglass window depicting Judas onto the figure of crucified Christ. Of course, this can only be seen on a cloudless day.
The origins of modern stained glass are unknown. Eleventhcentury remnants discovered by archaeologists in Germany are technically perfect – even by today's standards. What came before that? No one knows.
Artists working in stained glass as well as painting techniques were Henri Matisse (to Pablo Picasso's dismay) and Marc Chagall. The work of the great Polish painter Jerzy Nowosielski also includes stained glass projects.
What makes stained glass unique is light. Stained glass comes to life at the break of day, its colours dazzle at full brightness at midday and slowly fade away as twilight falls.
We often associate – quite rightly – the art of stained glass with church interiors. There are, however, extraordinary stained-glass pieces in secular spaces, too – the impressive Plafond des Galeries Lafayette in Paris, the Peace Window by Marc Chagall in the United Nations buildings or the stainedglass work by Brian Clarke at Stansted Airport.
Archaeological research indicates that window apertures of Roman thermae were glazed with thick, greenish glass.
In Southern Europe, where the sun is particularly intense, a common architectural feature are alabaster screens. One theory is that pieces of coloured glass set into the stonework was the beginning of stained glass art as we know it today.
The "Space Window" at the Washington National Cathedral contains a small piece of stone brought back from the Moon by American astronauts.