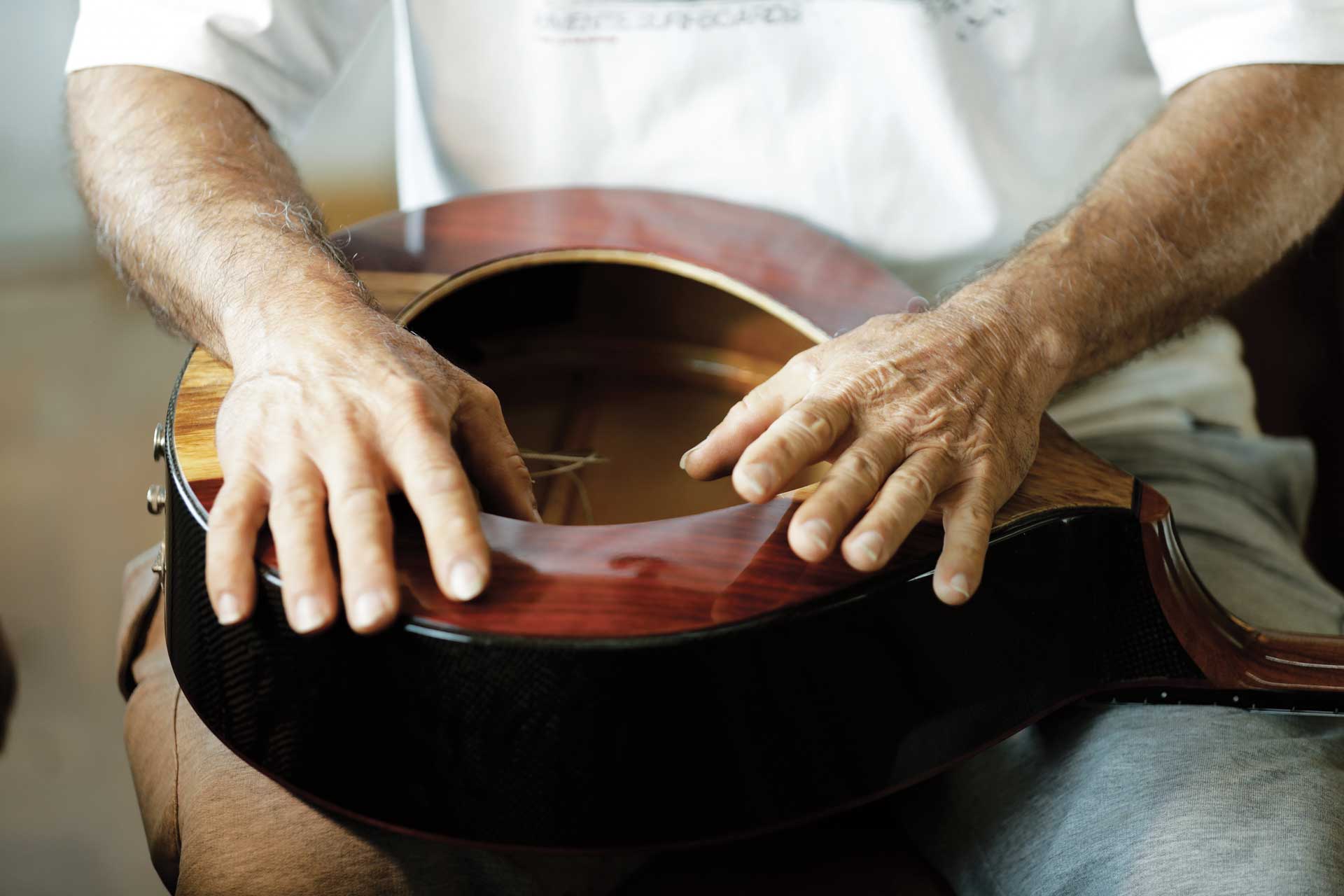 Sound of Lightness
The search for a unique, nature-inspired sound, and the seed of his father's passion  for guitar-making, got Óscar Cardoso striving to create the perfect instrument. This alchemic search resulted in a backless guitar.
He learned how to make guitars with his father. He still hasn't found the perfect sound, but he has built a model with a unique one: by combining materials used in surfboards with an open soundboard, he created the backless Portuguese guitar. The secret? It's light. If a tiny sparrow can be heard from 100 metres away, we'll most likely hear it perfectly. Physics and acoustics could explain this phenomenon, but Óscar Cardoso, pioneer in the construction of backless Portuguese guitars, wanted to delve into this phenomenon more deeply. Son of an artisan, he started tinkering in his father's workshop at an early age, torn between his studies and his passion for wood. He studied in Italy and then returned home to dedicate himself to his two great loves: the ocean and guitars.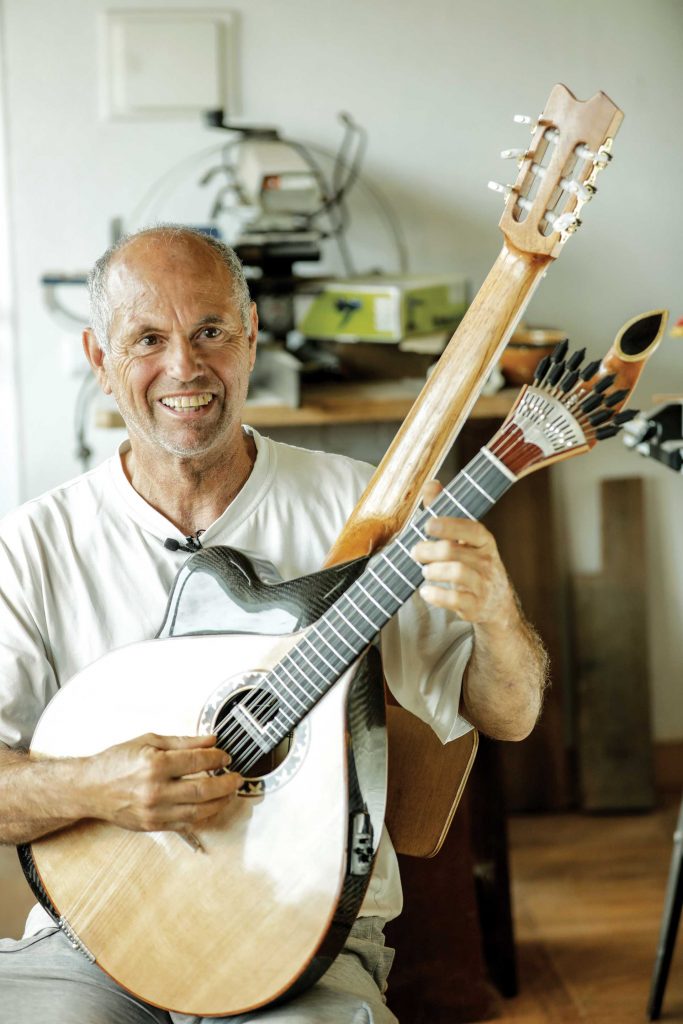 Óscar Cardoso
The weight of a guitar sound
WHEN DID YOU START LEARNING THE CRAFT?
I've always had a passion for wood, the smell, and I was always at my father's side. I loved watching him work. We had our disagreements. I would steal his tools, and he didn't really encourage me to learn the craft. He wanted me to study. He saw that I had a knack for it, but felt that if I stuck with it, I wouldn't want to study. That was the problem. I was ten and he would say: "Óscar, see if you can saw that wood. I'm getting to old to do it." And I would get all excited. I would spend the day sawing away, always heeding the advice my father gave me: "Tilt it this way, try smoothing it." That's how I started, with the basics, sawing, smoothing, sharpening the tools. I did it for years.
BUT DID YOU STUDY THE ART OF BUILDING GUITARS?
I got a scholarship to a very well-known school in Carmona, in Italy. My father never told me, so I was very surprised when I realised that the technique and process were identical to what we did at home. I called him and said: "We do things here exactly as you taught me." Master maker Álvaro da Silveira, the great revolutionary and a driving force behind the Portuguese guitar, was my father's mentor. Given that he had attended the school, he passed on the method, all the technology and way of working. But I learned a lot, more theory than practice.
AT THE TIME, DID YOU ALREADY HAVE DIFFERENT IDEAS FOR THE GUITARS?
I was always a bit of a daydreamer, always out of the house. My mother would tell me to buy sugar and I would forget. We joked around about it. People would tell my father that I had a big imagination, that my head was always in the clouds. Sometimes he would test me, saying: "My mentor would put some strings inside the guitar to hear the sound." My father also liked to experiment. Not as much as he would have liked though, because he had to make a living. I would hear things like that and my head would spin. I build instruments, but I like inventing, challenging the norm. I don't imitate anyone. I like to make my own things and create emotions. Making things, inventing and sparking reactions.
Son of an artisan, he started tinkering in his father's workshop at an early age, torn between his studies and his passion for wood.
WHAT EMOTIONS DO YOU HOPE TO CREATE WITH THE SOUND OF YOUR GUITARS?
Sound lives within me, in my imagination and it's what drives me to look for a bunch of different acoustic processes and ways to create that sound. It's an inner struggle. I never like the instruments I make. I feel disappointed after a few months, if one comes back to the workshop for some reason. I'm even surprised by the sound.
AND WHAT IS THE SOUND YOU ARE SEARCHING FOR?
I don't know. It's a sound that identifies with the atoms, with the universe, with space. Do you hear the birds? A tiny bird can make a perfect, clear sound, with no interference. It's in perfect harmony with the space around it. The sound waves propagate, there's no need for an amplifier. That's what I'm looking for, an instrument that projects a pure, defined sound.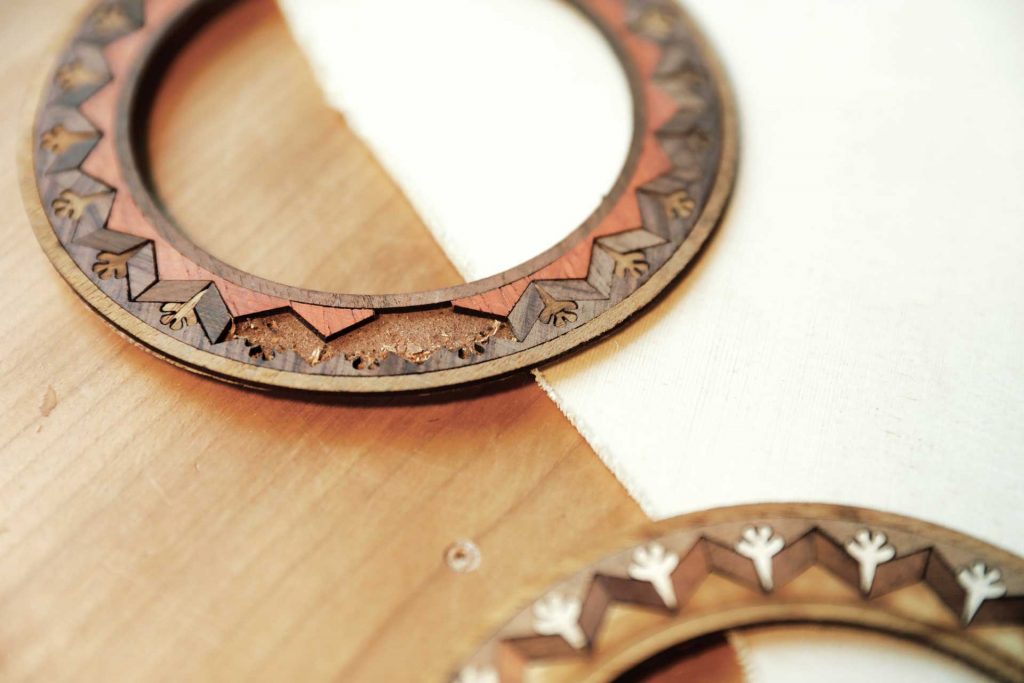 HOW DID YOU COME UP WITH THE IDEA FOR A BACKLESS GUITAR?
In instruments that are totally enclosed, the bass completely overpowers the treble. Sound waves cancel each other out. And the resulting sound isn't very defined. Without even realising it, I found myself thinking about it subconsciously when I decided to make a backless instrument. I spoke with people in acoustics who told me: that won't work, it's all been studied. But I'm stubborn. The first was a guitar for Mário Pacheco, who plays at a Fado club in Alfama.
AND THE SOUND?
Some fabulous well-defined treble. These instruments use the space as acoustics. I somehow managed to find the sound I was looking for. If you play a backless guitar on a riverbank, you'll hear it on the other side.
SURFING IS ANOTHER PASSION OF YOURS. YOU ENDED UP USING SURFBOARD MATERIALS FOR THE GUITAR. WHY?
Because I discovered that surfboard material used with wood has an interesting effect on sound. There's a musician, José Manuel Neto, who accompanies Fado singers Mariza and Camané and has a backless guitar with the sides and back made of styrofoam and fibreglass resin. And he plays it every day.
"I search for a sound that identifies with the atoms, with the universe, with space."
HOW LONG DOES IT TAKE (TO MAKE A GUITAR)?
It depends. I don't like working, I like creating. And to create, I have to want to. Sometimes I grab five or six instruments and I work on them for three months. And then I get tired of it. I spend some time just doing repairs. I want to enjoy life. Man does not live by bread alone.
SO, YOU HAVE TIME TO EXPLORE OTHER THINGS.
It's important not lose our roots, but we need to evolve. I now make hollowed out guitars because their sound has always been heard from afar, it's recognisable. But the raw material was used differently. Because it is difficult to work with, alternatives were sought and the roots were lost. I realised that it's all in the roots, so I went back to fine tune them. The hollowed out guitars I make are my favourite as far as sound goes.
WHERE DO YOU GET YOUR WOOD FROM?
I used to take great care with the wood, Palo Santo (Bursera Graveolens), Brazilian Rosewood (Dalbergia nigra). Today, I just use any wood to make a guitar. It's all about the thickness and width, how it's applied. The rest is just noise. Stradivarius made perfect violins, but they've only become better with age.