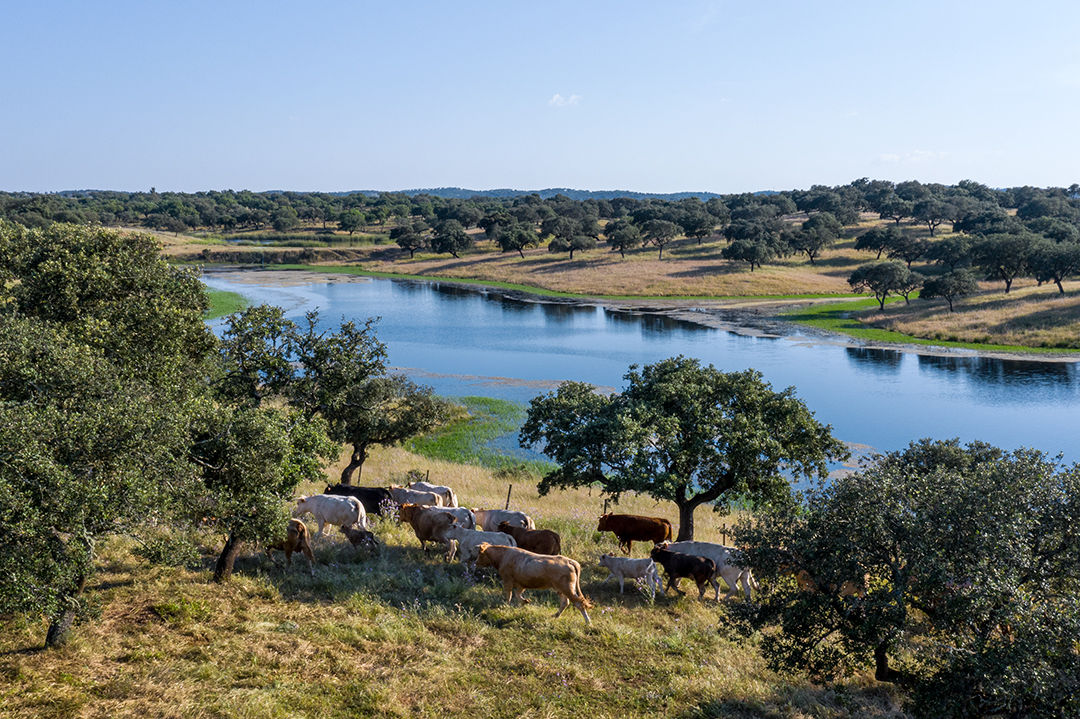 Less but Better
Eat beef and still care for the environment. Yes, it is possible. Using state-of-the-art technology, Jerónimo Martins Agro-Alimentar is investing in the production of Angus beef with a lower carbon footprint.
WHO IS HAVING THE BIGGER BITE?
The global consumption of beef in 2021 is now more than 60 million tonnes, largely due to the ongoing westernisation of consumer patterns in Eastern Asian nations. China is the second largest consumer in the world and the country that has most contributed to growth in that figure – in the Chinese market alone, consumption has risen by 40% over the last four years. Responding to this growing demand becomes a challenge of near Dantean proportions, given that mass beef production has a significant impact on the environment, both directly and indirectly.
The international meat market is one of the main driving forces behind deforestation in the tropics, particularly in Africa and South America. Each year, thousands of hectares in the Amazon rainforest are converted into livestock pasture. At the turn of the 21st century, it was estimated that 65% to 70% of all deforestation in Brazil was caused by the beef industry. In Europe, the story is different. Whilst there is no deforestation for beef production, environmental concerns do remain. To begin with, the release of greenhouse gases involved in meat production – such as methane and nitrous oxide. Likewise, the need for high levels of water and progressive soil degradation seem to be unavoidable consequences.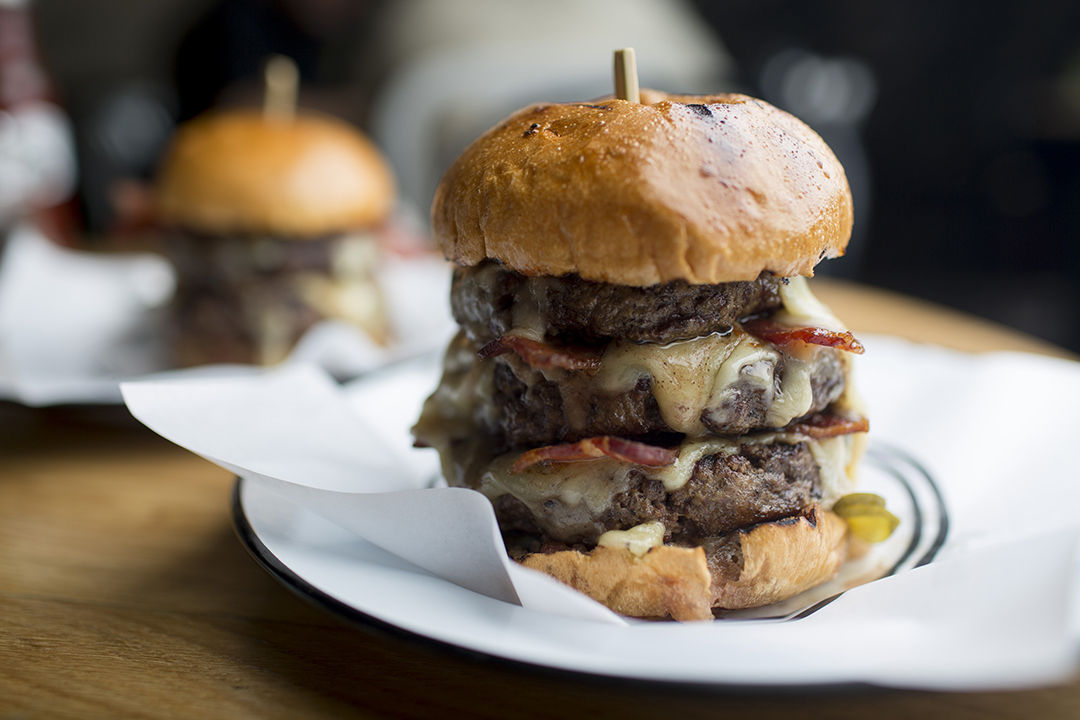 However, beyond all preconceived ideas in this regard, there are different forms of producing beef, which may include a combination of variables that are very different from each other, such as care with beef production, care with nutrition and care with animal welfare. This is the only way to ensure that red meat, in moderate quantities, can continue to be a part of our diets with much less harm done to the environment.
THE WAY TO "MEAT" A GOAL
In Portugal, beef accounts for roughly 17.5% of annual meat consumption per capita, but the country only produces 50.5% of what it consumes. This fact poses a double challenge: reducing dependency on outside sources while at the same time guaranteeing better environmental performance than the countries from which Portugal currently imports. In line with the Paris Agreement, the Roadmap for Carbon Neutrality 2050 defines practices aimed at mitigating the pollutant gases generated by cattle and commits to reducing the national cattle headcount (which is currently 1.3 million head) by 20% to 30%.
This is regarded as the most achievable path towards a positive balance for the environment. The question thus is no longer "Do we have to eat less beef?" and becomes "Can we eat less but better beef? Can beef production be made sustainable? Can we reduce the environmental impacts of beef production by making better use of nature?" The Jerónimo Martins Group is committed to showing that the answer to these questions is yes.
With the Green Beef project, the Jerónimo Martins Group aims to raise cattle with much lower emission rates.
Jerónimo Martins Agro-Alimentar, working closely with Terraprima, is planning to research and develop an Angus beef production model with a low carbon footprint on a farm located in the Covilhã region in central Portugal. The project will incorporate much of the expertise and best practices in animal welfare and the circular economy gained and in use at Herdade da Pecena (a farm in the south of Portugal), where the integrated beef and milk production unit belonging to Best Farmer, a subsidiary of Jerónimo Martins Agro-Alimentar, is located.
Supported by state-of-the-art technology, it is joined on this mission by Terraprima, a company that is a spin-off of Técnico (the School of Architecture, Engineering, Science and Technology of the University of Lisbon) and is devoted to the design and implementation of integrated systems to compensate for the environmental impacts of human activities, as well as the Faculdade de Medicina Veterinária (School of Veterinary Medicine) and the Instituto Superior de Agronomia (School of Agriculture) of the University of Lisbon.
A UNIQUE SYSTEM
In order to ensure that the strategy is successful, and that it will be applied in the future, there are two fundamentally important factors: capturing carbon at the pasture level and reducing methane emissions at the fattening units. It all begins with feed management, which has since been optimised at Herdade da Pecena, thanks to the use of corn silage and subproducts from the food industry, such as tomato pomace and non-calibrated foods (as opposed to the conventional fattening system essentially based on compound foods and hay).
The Terraprima Director revealed that experiments will be carried out using "new types of additives – oils from various origins, in particular from red algae of the Asparagopsis genus. Adding these to animal feed makes a reduction of methane emissions possible." Tiago Domingos went on to explain that "another thing that reduces emissions is if the animals have good quality pastures to eat from, and this opens up an important topic, that of Sown Biodiverse Pastures which are rich in legumes (of which the most symbolic is clover).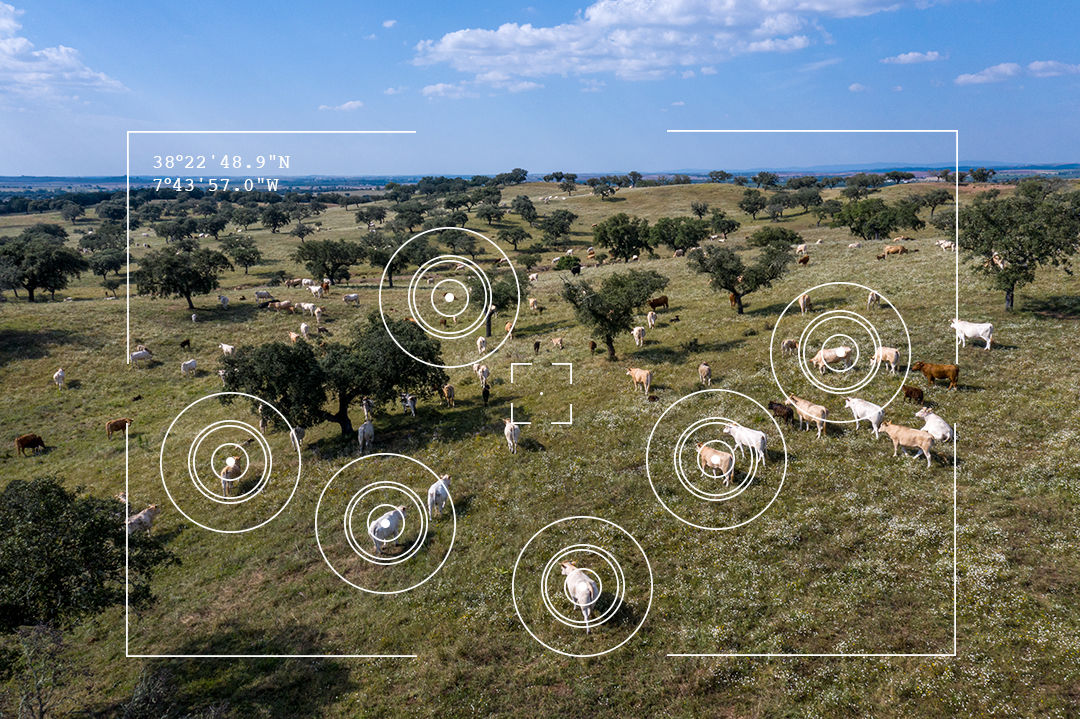 These are very nutritional plants that are rich in protein and easy to digest." A Portuguese innovation from the 1970s, Sown Biodiverse Pastures differ from conventional pastures by using the diversity and functional complementarity of plant species to increase plant production. "So, we have more vegetation above ground but also more roots belowground. What is above ground is eaten by the animals, while, belowground, the roots die and then become organic matter, 58% of which is carbon. This means that we are capturing the carbon and thus making a contribution to reducing the effects of climate change."
At the same time, the organic matter makes the soil more porous, meaning that it can store more water, thus creating a sponge effect: "The water that falls as rain in winter is retained by the soil, instead of just running off and causing flooding. So, when there is a lack of water, the pastures already have more water stored; this means that we're also adapting to climate change." When the soil is improved, this also improves the health of the trees in the montado, which is a forest/grazing ecosystem typical of the Iberian Peninsula and contains cork and holm oaks. Furthermore, grazing "makes it possible to keep the number of shrubs and bushes (broom, rock roses) low, thus reducing the risk of fire."
Tiago Domingos does not doubt that "it is possible to create beef with much lower emission rates than at present; the most desirable scenario would be to have the carbon footprint at the same level as for other animal protein sources that are considered more favourable (pork and poultry), or even reach the levels of plant proteins, such as peas and beans." At the Herdade da Pecena farm, this is tested by measuring the emissions of the young bulls at the fattening unit and also in the pasture (unprecedented in Portugal): "The machine gives the cow a treat and then captures the air breathed out by the cow and sends it to a measuring device.
The animal has to go to the machine several times over the course of a day for us to have results." For the Director at Terraprima, this system is "unique in the world": Optimising the entire process, from calf to the fattening stage, covering a complete lifecycle and combining it with Sown Biodiverse Pastures and Agriculture 4.0 approaches (which comprises constant monitoring, sensors, GPS trackers on the animals, satellite and drone images) delivers a complete package."
A LEAN CUT ON BEEF
Beef production on a global scale can have a significant impact on the environment. But technological progress and smart farming practices are the keys to overcoming this problem. Here is a snapshot of what can be done to produce red meat in a greener way.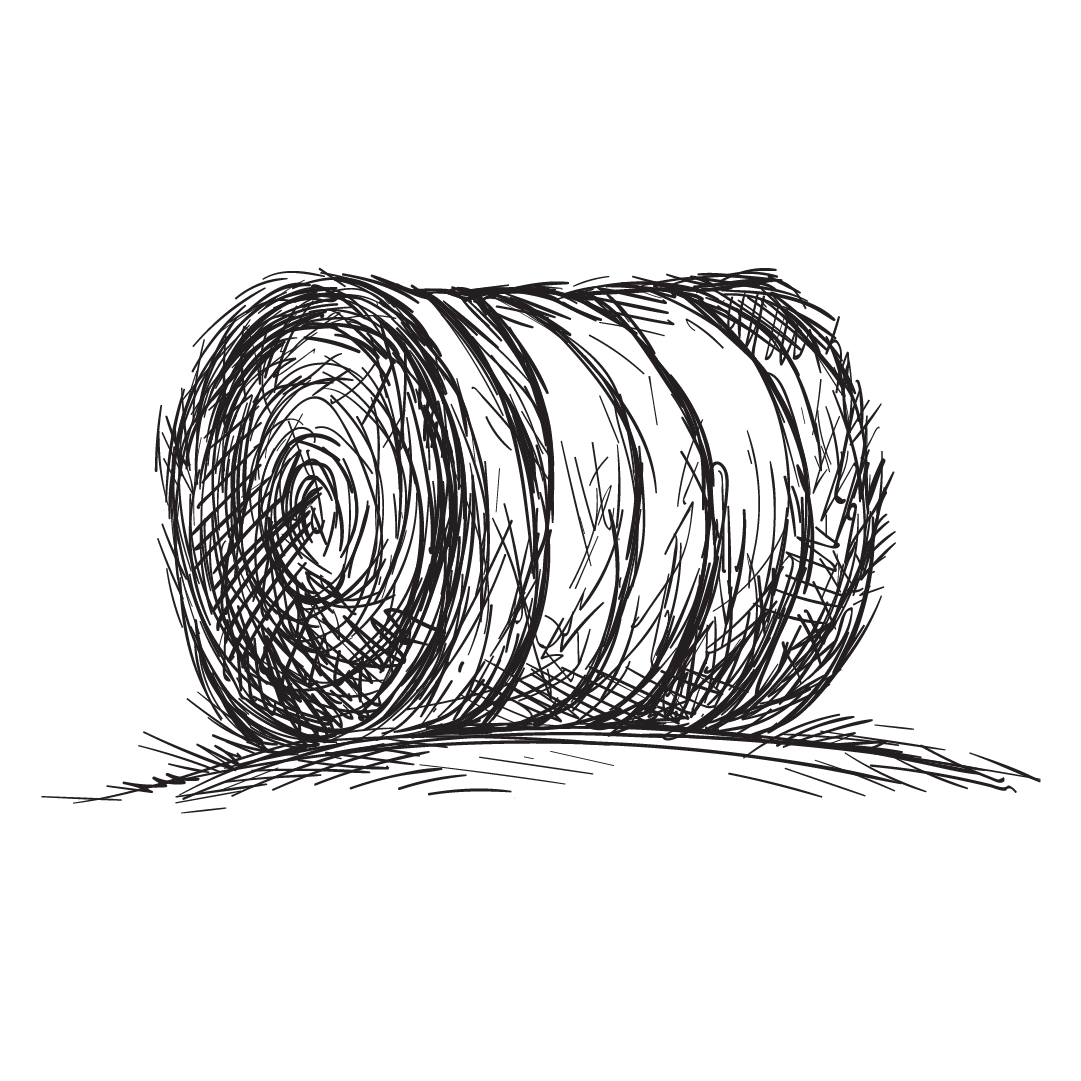 1. WORST CASE SCENARIO
CONVENTIONAL FEEDING
Animal feed ingredients such as corn and soybeans have high environmental impact.
DEFORESTATION
Destruction of natural habitats for creating new breeding areas is also a harsh reality, particularly in South America.
2. FOOD IS KEY
Direct changes in the feeding techniques.
MAIZE SILAGE
Grown on the farm. Optimal digestibility index, hence reduced methane emissions.
FOOD BY-PRODUCTS
Tomato pomace and non-calibrated vegetables (sweet potato, carrot) are incorporated into animal feed, allowing for higher digestibility and less emissions associated to feed production.
ORGANIC FERTILISER
Manure used to fertilise the land where corn silage is produced.
3. A LAND OF OPPORTUNITIES
Besides changing the way cows are eating, Jerónimo Martins' agribusiness sector is also investing in creating its own environmentally-friendly.
BIODIVERSE SOWN PASTURES
Rich in legumes (e.g. clover), these pastures are highly nutritious and easily digestible. They also perform a role in ensuring carbon sequestration.
4. DISRUPTIVE INNOVATION
ADDITIVES
With the use of feed additives from new sources, such as red algae of the Asparagopsis species, cows will further reduce their methane emissions.
AGRICULTURE 4.0
Technological innovations are also great tools for calculating the carbon footprint and optimising management. GPS collars, satellite images or drones are just a few examples.
5. BEST CASE SCENARIO
GREEN BEEF
Angus beef with a low carbon footprint: that is the goal. In the most desirable scenario, it will be possible to produce beef with emissions analogous to other sources of animal (pork, poultry) or even vegetable (peas, chickpeas, etc.) protein.