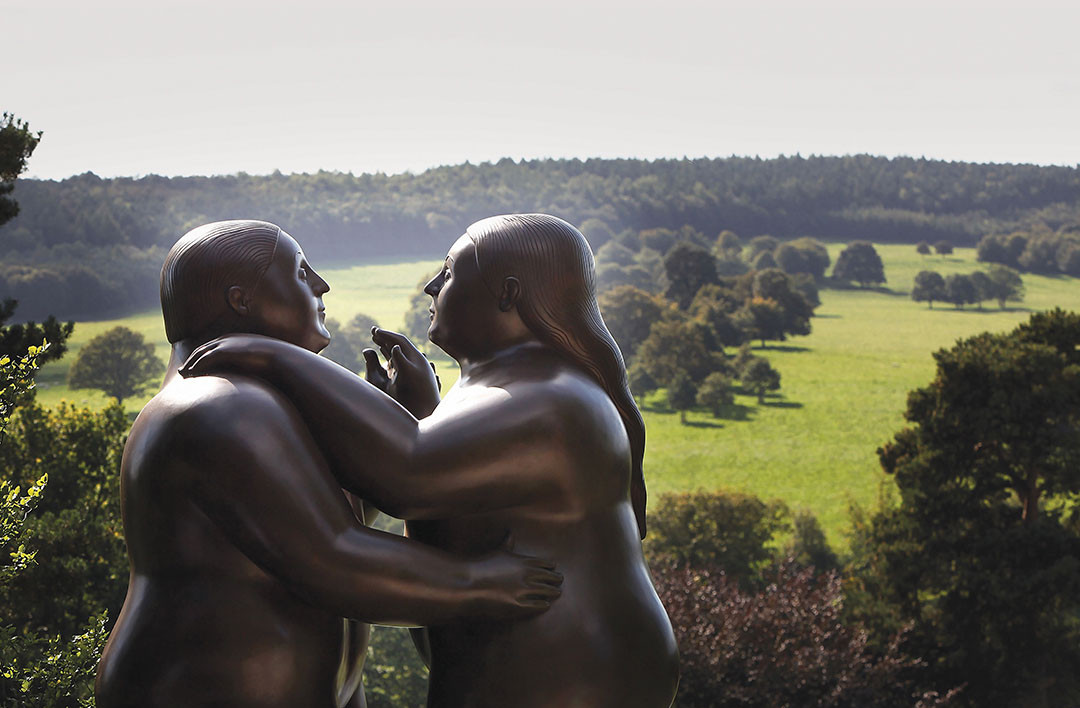 ONCE UPON A TIME IN COLOMBIA
1944 , city of Medellín, Colombia. A young matador apprentice, age twelve, has his first glimpse of two focused and brave man, entering a bull arena on horseback, ready to take down the beast. Forty years later, the impact of that strong sensitive experience, lived at a young age, has inspired him to produce one of his most famous paintings: La Pica, 1984.
Born in 1932, Fernando Botero is a figurative artist in the fullest sense of the word, renowned for his paintings and sculptures of curvaceous, full-figured subjects. Botero's art combines the vibrancy, boldness and folk themes common to Latin American art while paying a respectful homage to the sensuousness of the form in the work of the old masters.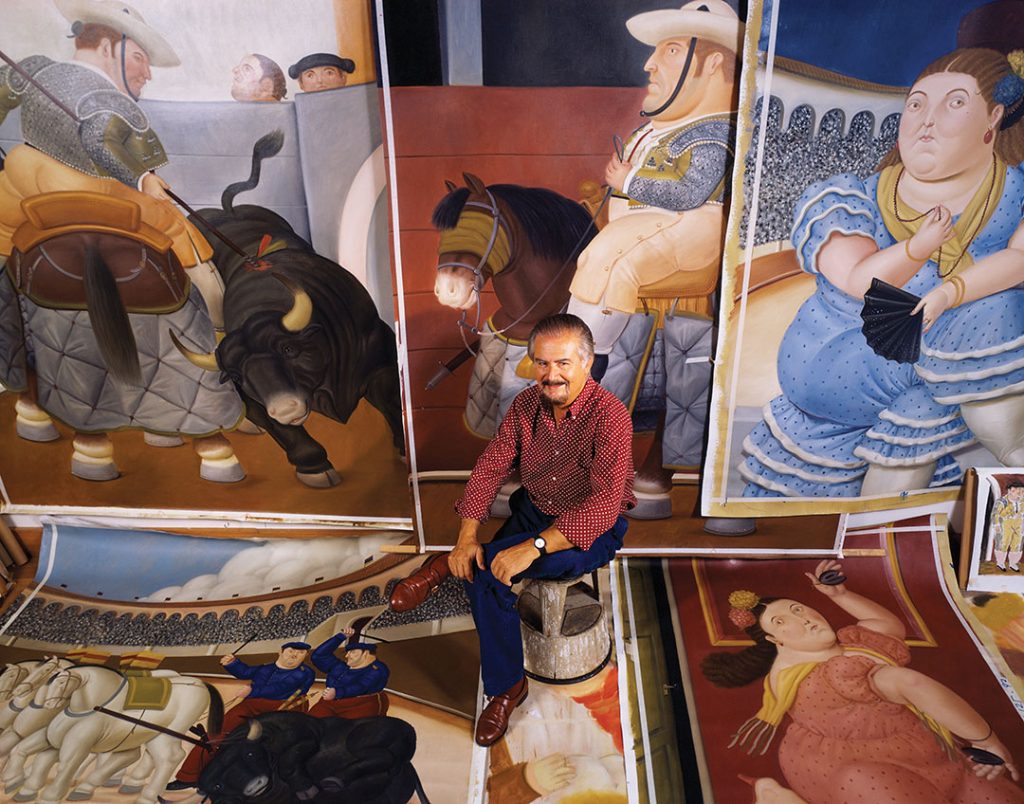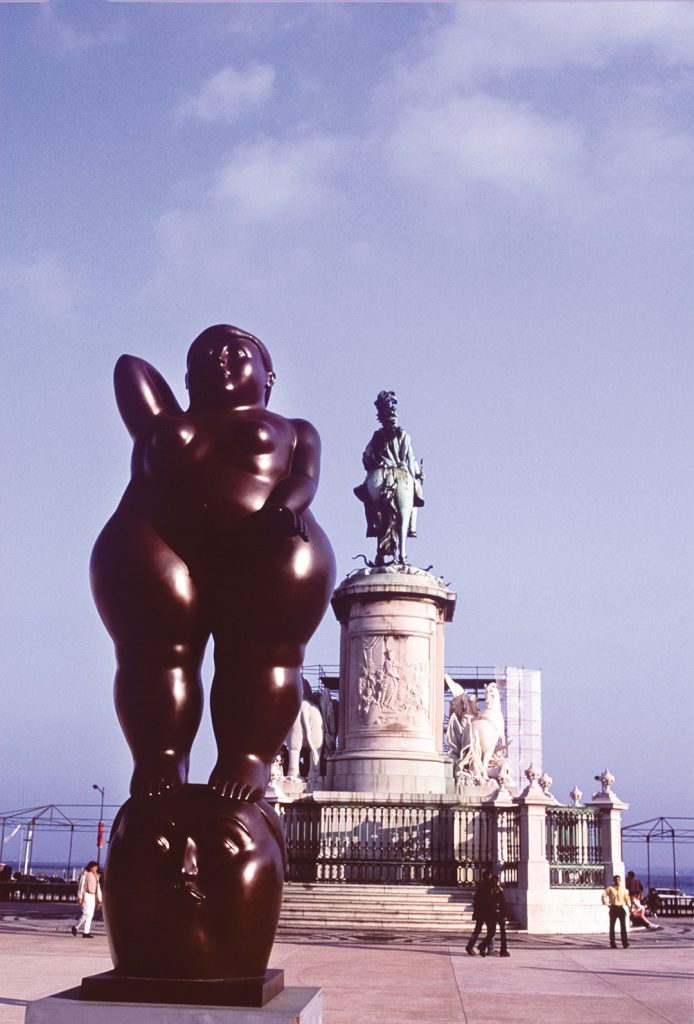 HIS TRADEMARK STYLE
In his youth, Botero attended a school for matadores for a couple of years, but his true interest was in art. While still a teenager, he began painting and, in those early years, was inspired by the pre-Columbian and Spanish colonial art as well as by the vivid, large scale paintings and political work of the Mexican mural artist and painter Diego Rivera. Also influential were the works of his artistic idols at the time: the naturalist portraiture of Spanish baroque master Diego Velázquez da Silva and Francisco de Goya's romanticism.
One can say Botero is an artist in the most fundamental sense, choosing colours, shapes and proportions based on intuitive aesthetic thinking. While his work includes still-lifes and landscapes, Botero has concentrated on situational portraiture. Throughout the 1950s, he began experimenting with proportion and size. In these works, he referenced Latin-American folk art in his use of flat, bright colour and boldly outlined forms, favouring a smooth look in his paintings by eliminating the appearance of brushwork and texture.
When he moved to New York in 1960, Fernando Botero had already developed his signature style, which is part of an artistic tradition and yet entirely his own: the depiction of round, corpulent humans and animals – his paintings and sculptures united by their proportionally exaggerated figures. His Rubenesque humans, rotund landscapes and voluptuous vases are so identifiable that they are practically a trademark. The inflated proportions of his figures also suggest an element of humour or political satire, depending on the piece, perhaps hinting at the subjects' inflated sense of their own importance.
INTERNATIONALLY ACCLAIMED SCULPTURES
After reaching an international audience with his art, in 1973, Botero moved to Paris, where he began creating sculptures. These works extended the foundational themes of his painting, as he again focused on his bloated subjects and rotund shapes. Like his paintings, Botero's sculptures reveal the artist's fascination with volume and proportion by exaggerating the round, fleshy qualities of his models.
In the 1990s, outdoor exhibitions of huge bronze figures were staged around the world to great success. Bogotá, Medellín, Lisbon, New York, Paris, Madrid, Barcelona, Bilbao, Vaduz, Jerusalem, Yerevan, Singapore. These are only some of the cities where Fernando Botero's easily recognizable sculptures can be found decorating parks, plazas and other public spaces.
RECENT WORK
Botero has also the ability to apply his distinct style to serious subject matters. In 2004, the prolific artist exhibited a series of drawings and paintings depicting the drug-fuelled violence in Colombia stemming from drug cartel activities. In 2005, he unveiled his "Abu Ghraib" series, inspired by reports of American military forces abusing prisoners at the Abu Ghraib prison during the Iraq War. The series took him more than 14 months to complete and received considerable attention when first exhibited.
Botero believes in the power of art to address atrocities, which media cannot emulate. As Botero said of his Abu Ghraib series: "Art is important in time. It brings some kind of reflection to the matter. We have analysed this thing from editorial pages and books, but somehow this vision by an artist completes what happened. He can make visible what's invisible, what cannot be photographed. In a photo, you just do a click, but in art you have to put in so much energy. This concentration of energy and attention says something that other media cannot say."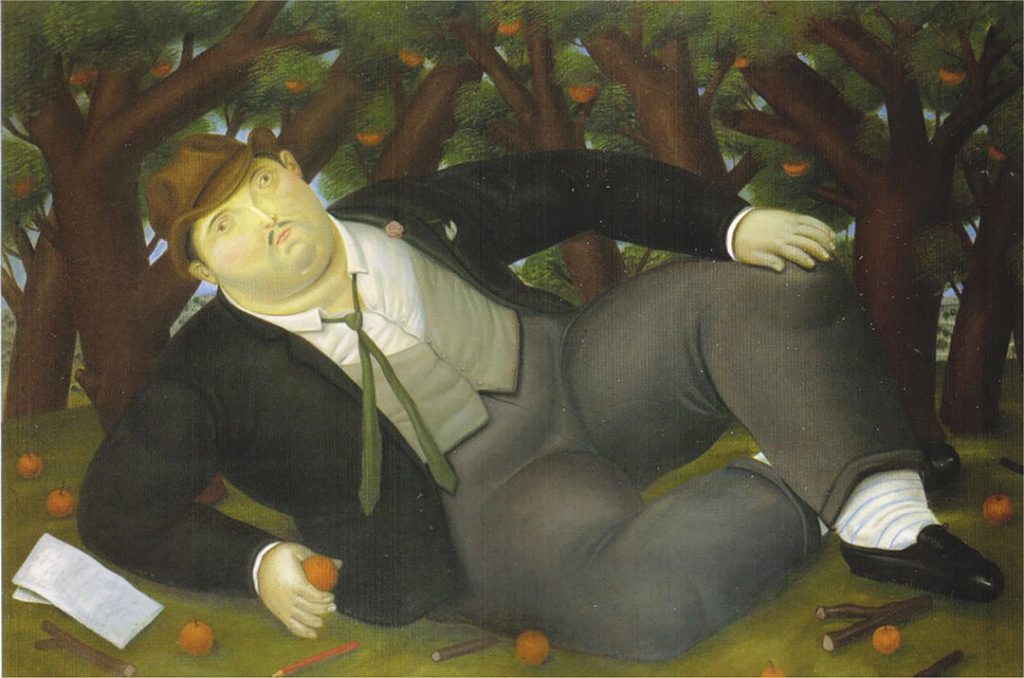 BOTERO'S IMPORTANCE IN CONTEMPORARY ART
Fernando Botero goes against the grain of most artists working today by using traditional techniques, and has established his own clear, distinct and unwavering style, creating art with a sense of permanence, substance and meaning – something Botero feels a great deal of contemporary art is lacking of. It might be Botero's view of art's function that sets him apart from many other contemporary artists. Rather than creating works of art purely made to shock and provoke a certain reaction, he seeks to provide a sense of tranquillity and joy through much of his work.
There is no denying his appeal. His art has a certain magnetism and particular appeal that isn't elitist or restrictive. Painter and sculptor of voluptuous forms, admirer of the old masters and an "everyman" artist, Botero is now in his 80s and is as prolific as ever. An avid creator, he has produced thousands of paintings and hundreds of sculptures and will continue to captivate with his trademark full-figured people and objects. As Botero himself says: "An artist is never complete."
THE "MOST COLOMBIAN OF COLOMBIAN ARTISTS"
Though he spends only one month a year in Colombia, he considers himself the "most Colombian artist living" also to his isolation from the international trends of the art world and due to the fact that the majority of his works explore traditional themes from his country and, in effect, serve as Botero's guide to Colombian history and culture. Here are some examples:
Bullfights. The sport of bullfighting has been practiced in Latin America since colonial times. Historically, Colombia has been no exception. Controversial as it might be, Botero himself spent two years of his youth training to become a bullfighter, before discovering his artistic talents. In La Pica painting, he depicts the first stage of a bullfight in which two picadores enter the arena on horseback.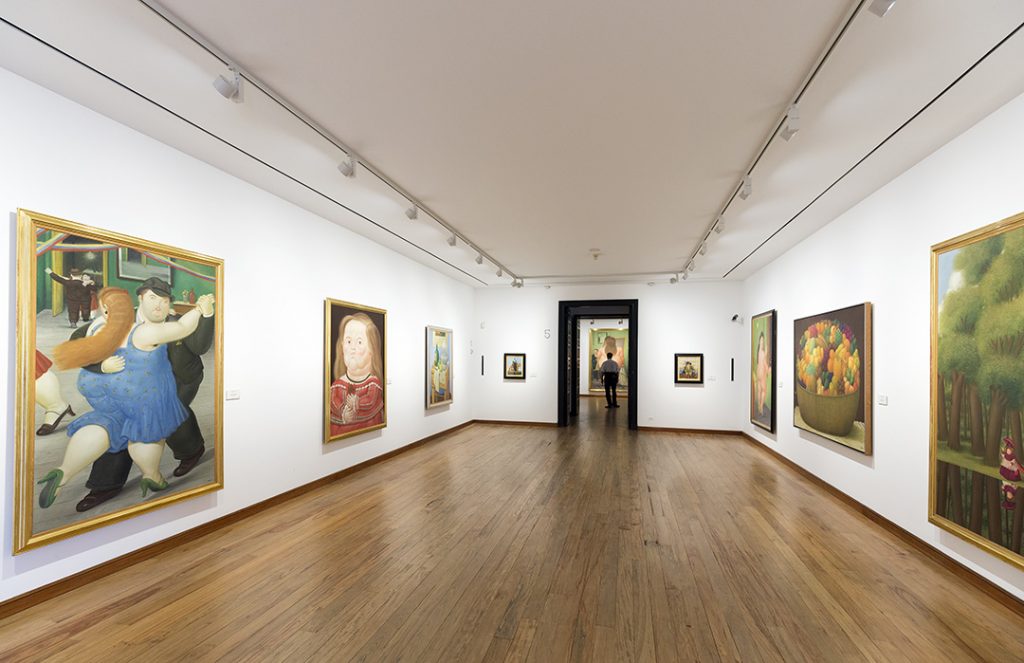 Literature. In the world of literature, Colombia is perhaps most commonly associated with the works of Gabriel García Márquez, who was awarded the Nobel Prize after the publication of his masterpiece One Hundred Years of Solitude and was at the forefront of the Latin American literary boom of the 1960s and 70s. The Poet is Botero's representation of a writer, reclined beneath a grove of fruit trees, pencil and paper at hand, searching for inspiration. Perhaps it was just in such a setting that García Márquez composed some of his most famous short stories, which would serve as the foundation for Magic Realism, a modernist literary genre native to the Latin American cannon that blends fantastical elements with natural and familiar scenarios.
Medellín and Latin America. Although originally inspired by Medellín, The Street could be a representation of many cities in Latin America. With its narrow cobblestone paths and historic buildings, the dreaminess of the setting is contrasted with what appears to be a busy midday scene, as families, priests and businessmen all greet each other before continuing hurriedly on their separate ways.