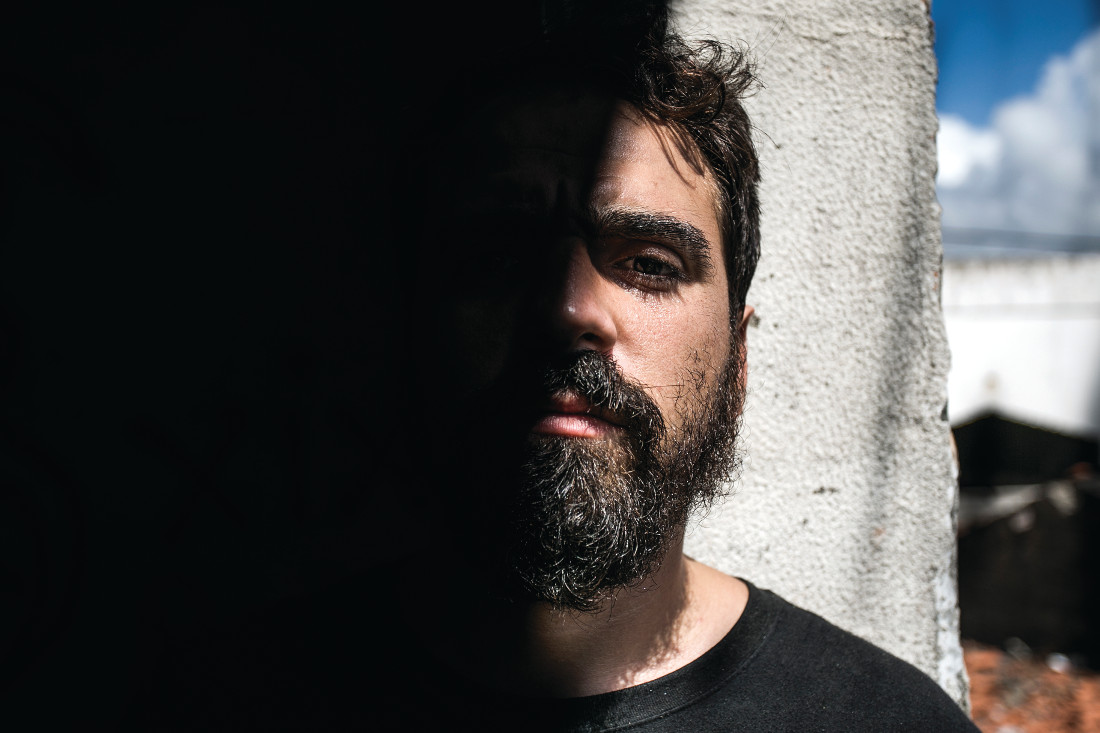 When he started to explore other urban art techniques beyond graffiti – such as interventions on posters and, later, on walls –, the spotlight began to shine on Vhils. Currently he is one of the world's most acclaimed Portuguese artists, listed by "Forbes" as one of the 30 most influential artists under the age of 30.
He was invited by U2 to direct a video clip for the Irish pop-rock band and had a piece of his art work hovering at 400 km above the Earth, on the International Space Station. His art can be found in almost every major city in the world, from Lódz to Bogota, Hong Kong and, of course, Lisbon.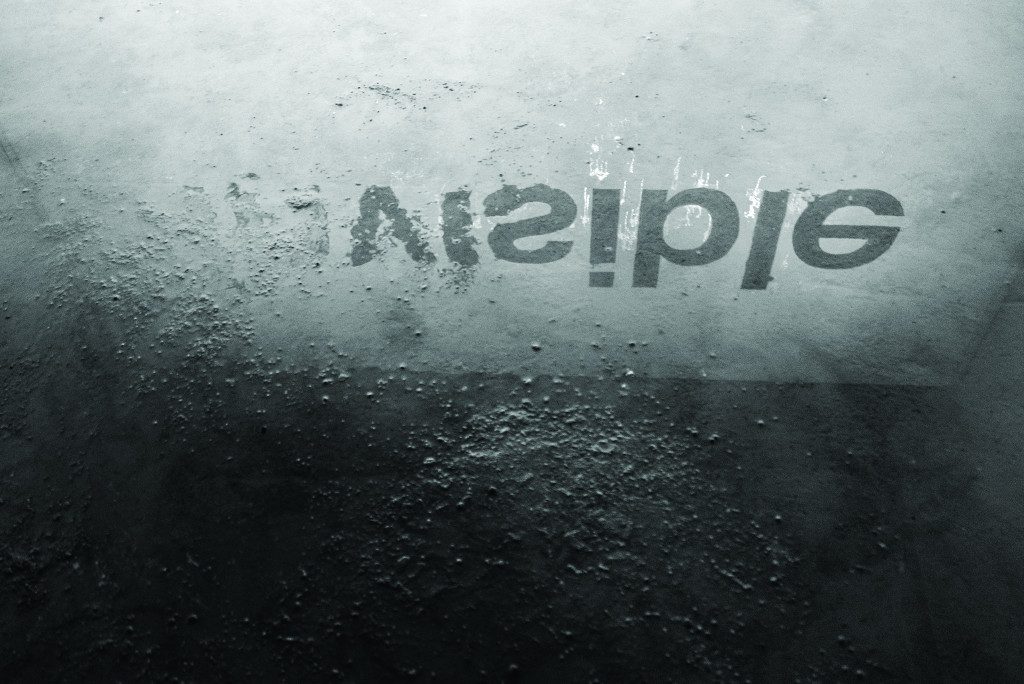 NAME ALEXANDRE FARTO TAG VHILS YEAR OF BIRTH 1987 COUNTRY PORTUGAL
WHAT I DO? "LET'S SIMPLY CALL IT ART"
Vhils' main calling card in the art world are his large-scale portraits, with no accompanying text – after all, words are no match for a building– sized facial expression carved on a suburban wall.
The process leading up to the portrait, Vhils revealed to Feed, "is always preceded by a research phase, which generally starts at a distance and is then completed on site". Both nature and context are key to the project at hand, but this "always involves contact with local people and collecting their stories and impressions, in addition to photographic portraits".
Among the portraits spread around the world that projected him to world fame, perhaps one of them has been the most decisive. In 2008, the most famous street artist in the world, Banksy, organised the Cans Festival, in the tunnels of Waterloo Station, in London. On the left of Banksy's work was that of Vhils, and a photograph of the two works side by side appeared on the cover of "The Times". This was how the world discovered Vhils, a tag with no special meaning besides being the group of letters that Alexandre signed with the greatest ease and speed when he was doing illegal graffiti.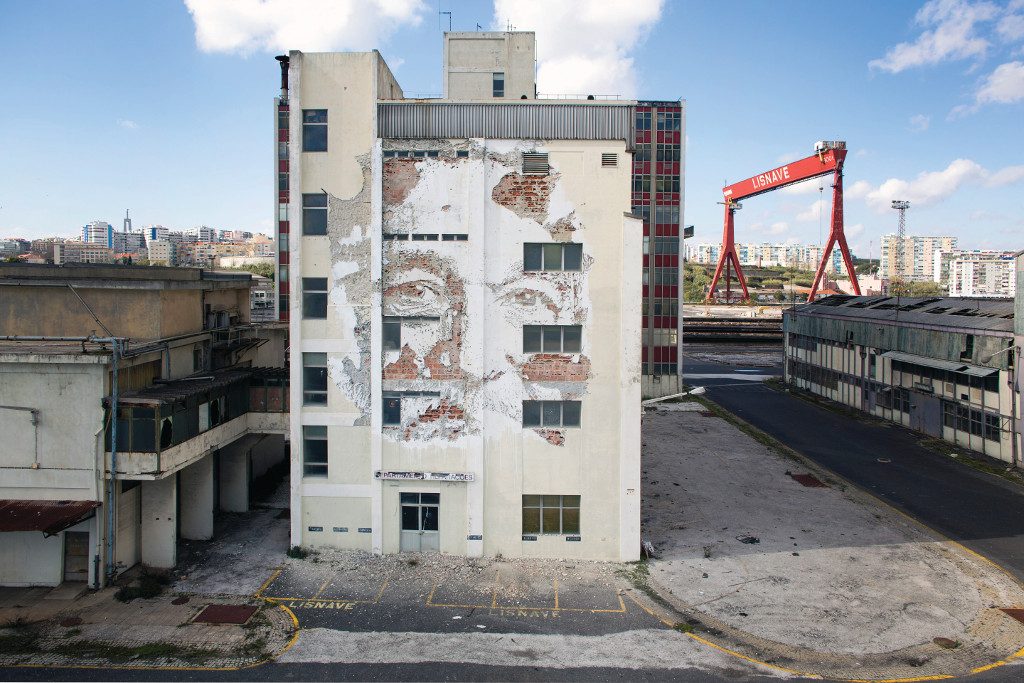 His rise has been so meteoric that he had a work of his in orbit, in the International Space Station (ISS), in 2015. It portrayed astronaut Andreas Morgensen – the first Danish person to go into space – who took Vhils' work with him and installed it.
It was made of perforated plastic and designed to fit perfectly within the main observation window of the ISS. Down here on planet Earth, in April this year, he opened a large exhibition in Hong Kong.
His work can be seen in such different places as Lódz, Poland and Bogota, in Colombia, as well as various North and South American, European and Asian cities. Along with these works in public spaces, Vhils produces exhibitions for galleries, museums and institutions, in addition to working with video and making pieces – in metal, Styrofoam, wood, among other materials – not designed for an urban context. "Street art makes sense in the street, not in the gallery", he added. When asked to better define his work, he was laconic: "let's simply call it art".
They may evict me but I will never leave home.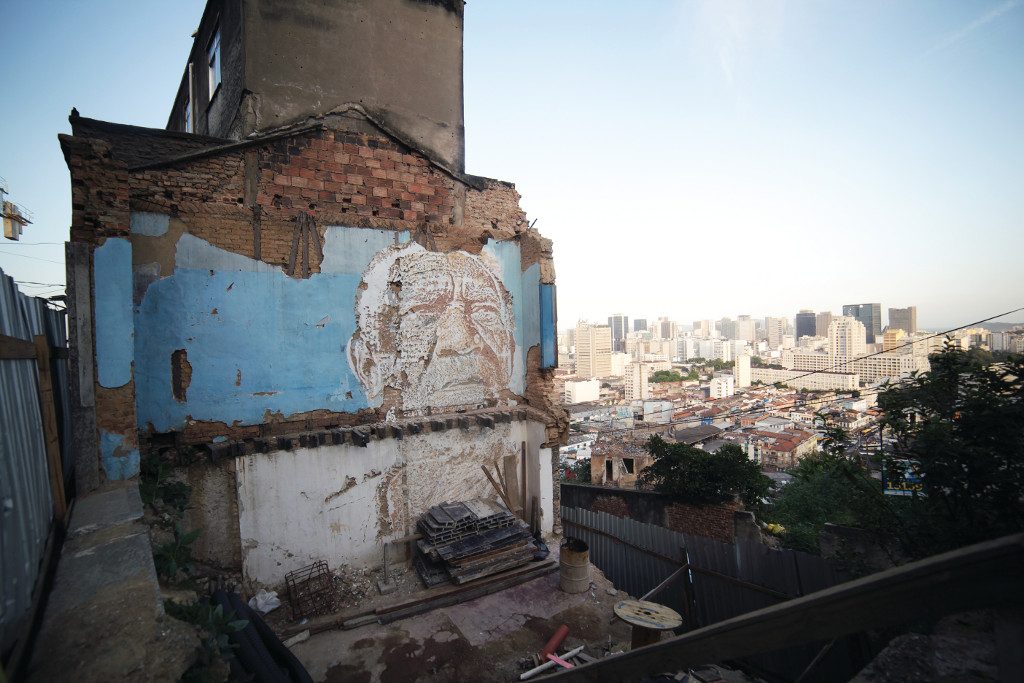 HAMMERS, ACID AND EXPLOSIVES
What Vhils is doing nowadays on walls is an evolution of what, to a certain extent, he started to do with posters that were piling up, and overlapping, on city walls. After years of doing graffiti, which he started when he was very young, Alexandre evolved to "stripping" part of the posters that could be found in the public space to let others that were hidden below show up. This process created abstract forms and the parallel with his portrait technique is evident. To cover the faces, Vhils uses tools such as pneumatic or steel hammers, coffee grounds and bleach. Before this, the face to be sculpted is designed by the artist and then projected or painted on the wall to serve as a working guide as he chops off layers of wall until reaching the final portrait. As Alexander says, much of his creations "begin with destruction". In the specific production he did for U2, faces and words appear carved on walls using explosions.
This technique, created by Vhils, is actually an addition to his usual methods. First the forms are carved, then the microexplosives – developed by the artist with the help of specialists – are installed and finally covered with stucco, creating the illusion of an intact wall. When they are detonated, the explosives cause a cloud of dust which, as it dissipates, discloses faces and words.
The only thing which has changed since his teenager years is the fact that he no longer relates to the epithet of street artist. Although he recognises that it was thanks to graffiti that all the rest became possible, Vhils rejects that connotation "for practical reasons. I do not limit myself to just working in the urban space".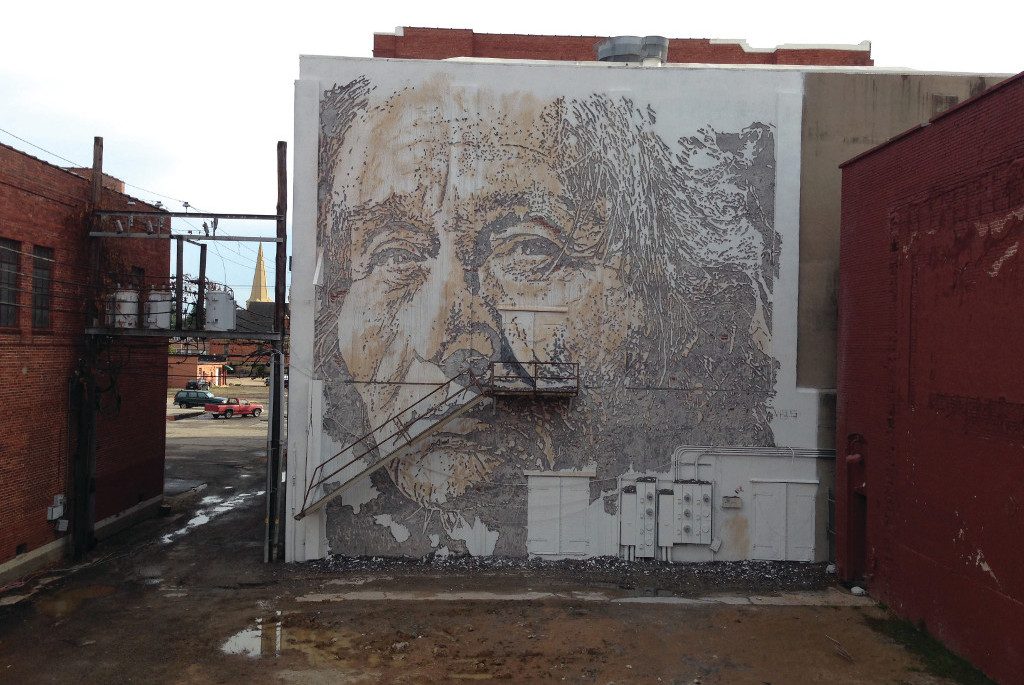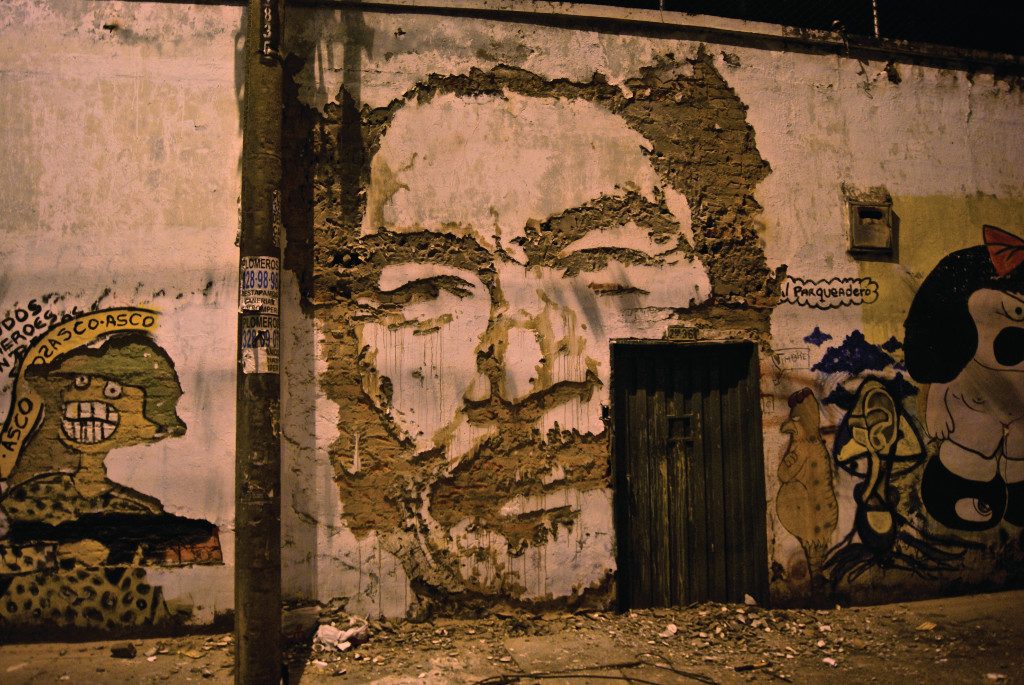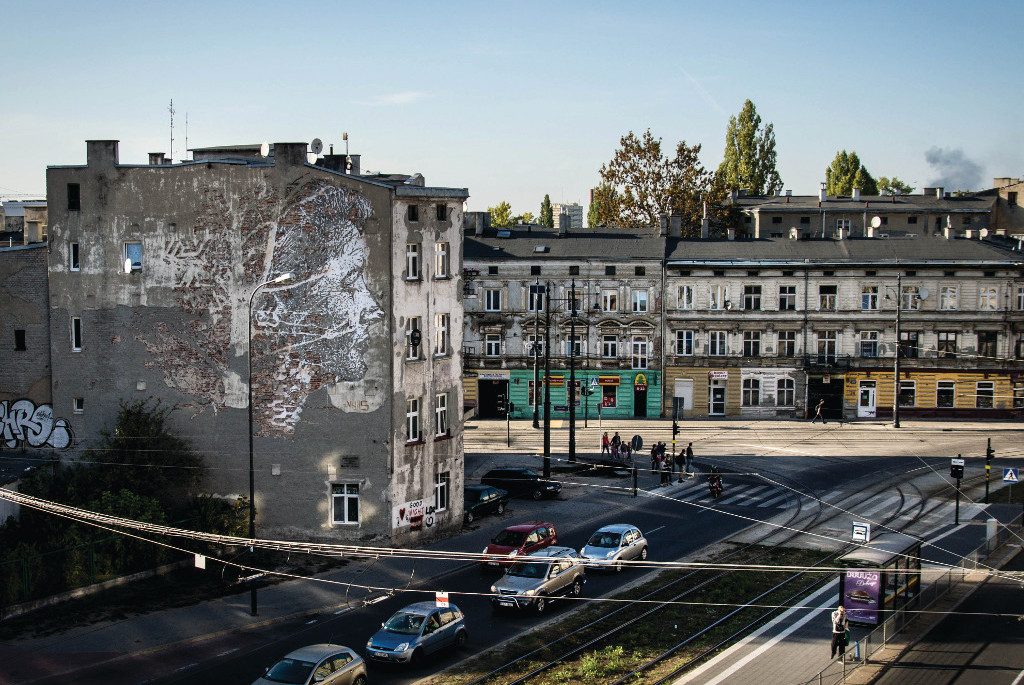 SWINGING BETWEEN POLITICS AND POETRY
When the invitation to make a video for U2 came, Alexandre did not have to think very long before accepting it. It was not so much the projection that he would gain from this partnership with Bono's band that led him to accept, but the fact that he identifies himself with the activist side of the band. "I assume a political component", Vhils said in an interview to Feed, "as my work is an interventionist one".
What is intended is to provoke "a reflection that helps to show local identity and its peculiarities, faced with its growing dilation in the global context". Since globalisation, he says, brings many advantages but also downgrades many of the characteristics "which have made us unique in each part of the world".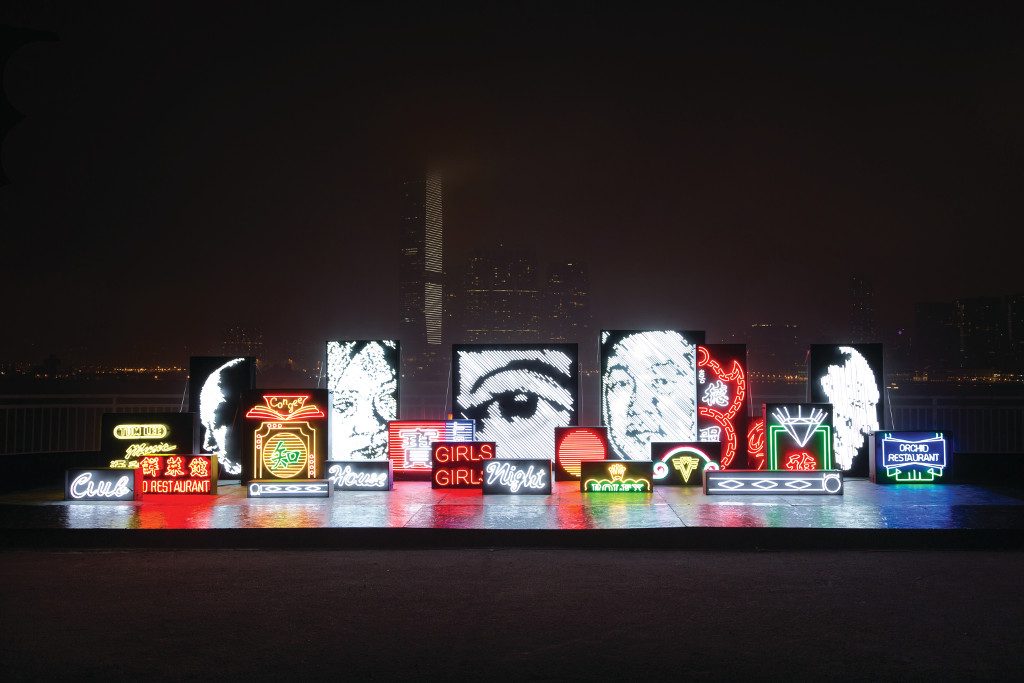 One of the most representative works with his message is the one he carried out in 2012 in Morro da Providência, in Rio de Janeiro, where "each of the five individuals were shown in what remained of their dwellings". The same thing happened the following year, also in Rio, with the Estradinha Ladeira dos Tabajaras community, "but the situation was even wilder".
Also here, Vhils created portraits of "the individuals who had been removed, in what remained of their houses, particularly gables of neighbouring houses where evictions were still ongoing". With a less interventionist component, Vhils also underlined the portrait of "senhor" Bonança, "one of the oldest inhabitants of the fishing community of rabo de Peixe", on the Azorean island of São Miguel. Bonança "had worked his whole life fishing, but his age no longer allowed him to venture forth any more. Now his portrait faces the harbour, where, every day and night, it has the sea for company". This more sentimental side is not an accident, since Vhils assumes a political component, "but the dimensional intention of the work is more poetic than political".
The idea of "working with what the walls of the cities have to offer", he tells us, is a return "to the roots", it is "seeing what's buried under more recent layers, to find those stories that are still relevant in the rapid context in which everything develops and transforms nowadays".
INTERNATIONAL SPACE STATION
Inhabited continuously since 2000, NASA's International Space Station is a kind of in-orbit-laboratory where researchers investigate space, physics and biology, with the purpose of benefiting mankind on Earth. Vhils' work sprung from an invitation made by Portuguese director Miguel Gonçalves Mendes, who's working on a movie titled "The Meaning of Life", which documents the lives of seven people, including Andreas Morgensen, depicted in Vhils' creation. Similarly to the Danish astronaut, the remaining subjects of the movie have also been portrayed by Vhils.