WORTH THEIR WEIGHT IN GOLD
True living organisms, books are born as physical objects, grow with their readers, reproduce knowledge, pulse with emotion and feeling, are passed down from generation to generation and, one day, they "die". Sometimes, books are also our salvation. But for them to continue from one era to the next, we first need to save them. This is what's happening at Brotéria, a Jesuit cultural centre open to the city of Lisbon. In this operating theatre, Clara, Marina, Rita and Vera, four women from Atelier Salvarte, are carefully cleaning and assessing the health of the books chosen for restoration.
As in any emergency department, the process starts with identification and triage. The x-ray looks for book-dwelling insects, living fungi, covers in danger of disintegration, spines that have come unglued. The precious tomes are then sent to an adjoining room, a kind of hospital ward. One is resting with a belt around it: to open it now would risk breaking the spine. In another, the colour of the folios shows that it had to be taken apart and washed, page by page, because of a fungus.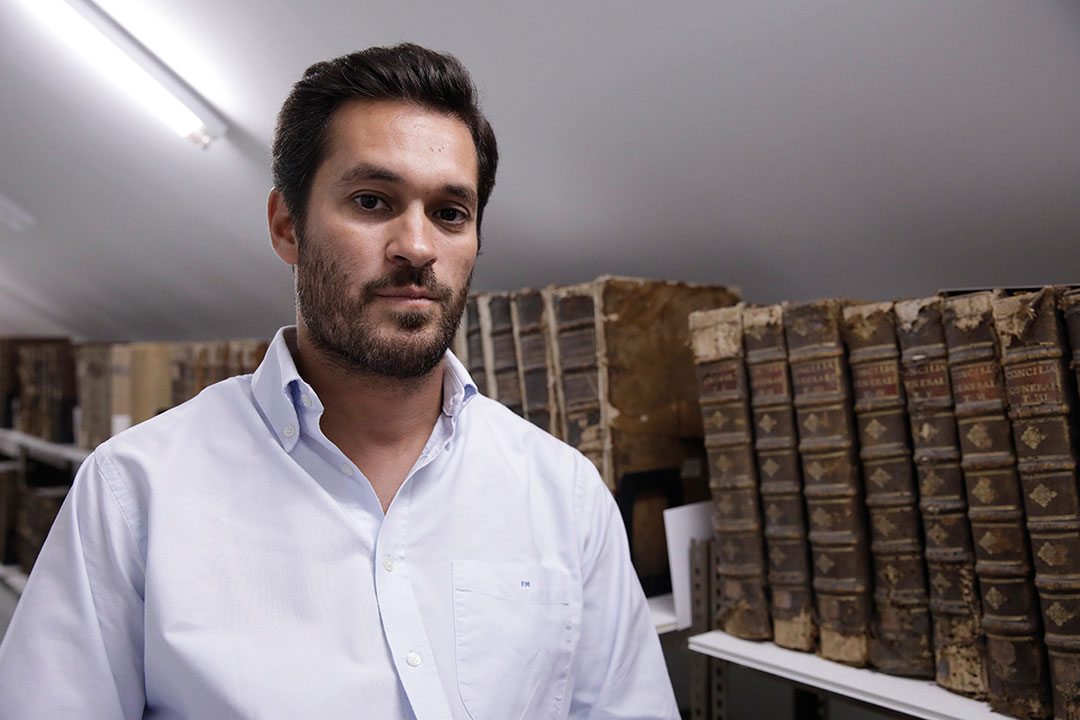 Yet another presents tell-tale colouring near the spine, where it needed a graft of Japanese tengu paper in the places where it was most fragile. Patients more than two centuries old are so riven with ailments that, in some cases, the chances of survival are drastically reduced or non-existent. It's an uphill battle against the ravages of time. Eighty books dating from before 1800 are gaining a new lease of life with help from Jerónimo Martins – thirty have already been restored and another fifty are due for restoration by the end of 2023.
Francisco Mota, a Jesuit priest and director of Brotéria, explains that they have been chosen on the basis of "their relevance to the mission of this institution and to the work of researchers, academics and interested readers" in the fields of history, philosophy, theology and literature, which represent the bulk of a collection of 95,000 books. Another criterion for selecting the books is "their importance in recording the history of the world we live in today and the role the Company of Jesus has played in it".
The likely restoration costs are then "weighed up in relation to the recognised value of each book through the individual valuation of each volume", he explained. A quarter of a million euros has been invested in this four-year project, with 60,000 euros exclusively earmarked for restoration, aiming to "return the book to functional use as part of the library, thereby reclaiming its value". Other activities include digitising content to make the books available online.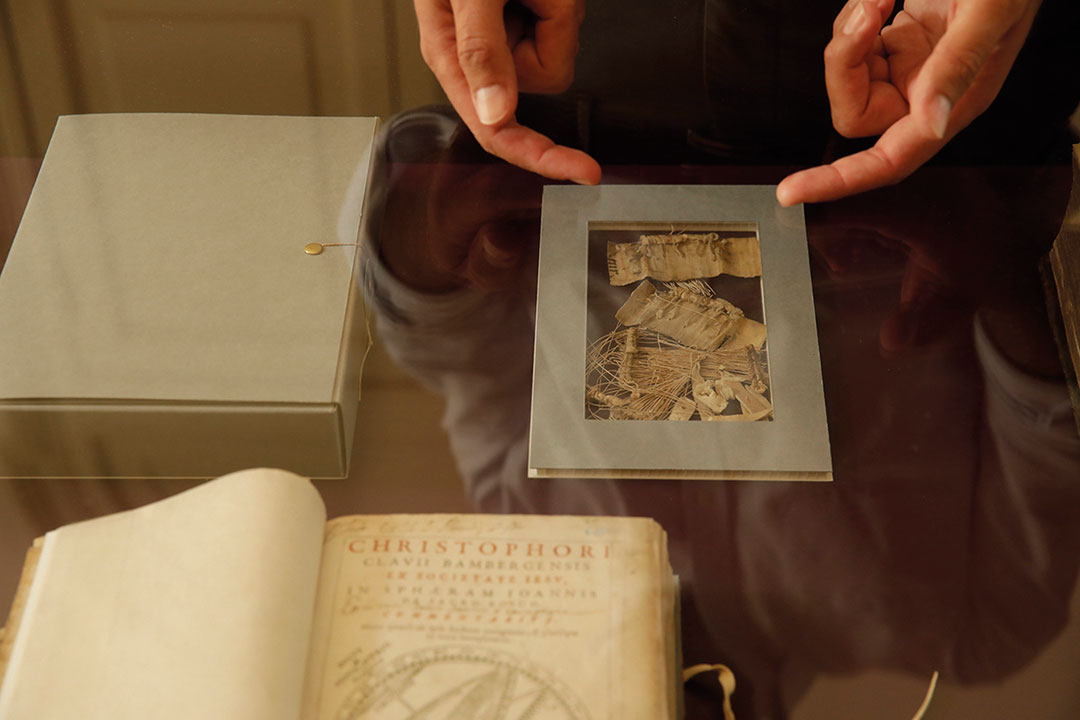 One of the first books to be restored was "Periplus of the Euxine Sea", a sixteenth-century edition of the work by the Greco-Roman historian Arrian of Nicomedia (89-175). It is a kind of letter addressed to Emperor Hadrian (76-138) and had a huge impact on the knowledge acquired by modern Europe about the Middle Eastern region south of the Black Sea, where the Greek city-state of Nicomedia (present-day Izmit, in Turkey) was located. Francisco Mota also drew attention to the "shroud of mystery" around the origin of this work, whose original ownership remains unknown.
WHERE BOOKS BREATHE
From 1930 to 2019, the Brotéria library was housed at the St Robert Bellarmine Casa de Escritores. Founded in Alsemberg, Belgium, in 1913, when Portuguese Jesuits were exiled under the First Republic, the library was moved to Lisbon in 1928 after a period in Pontevedra (Galicia, Spain). Its name alludes to a community of Jesuits devoted exclusively to research, writing and literary criticism. The new library is housed in a sixteenth-century building previously home to the Lisbon municipal periodicals library. The collection is spread over five floors, extending underground, and the task of cataloguing the books will take another two years. In terms of conservation, it is worth noting that "not all the books will be in ideal conditions of temperature and humidity. There always has to be a slight fluctuation, to avoid the fibres losing their elasticity", explained Francisco Mota.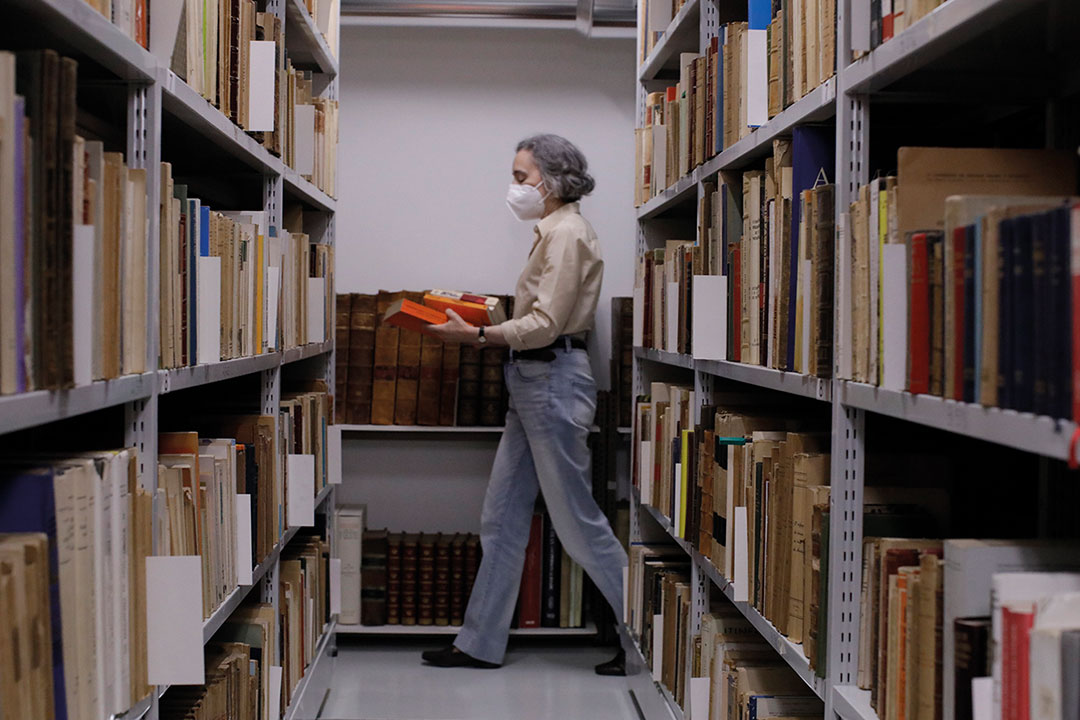 BROTÉRIA MAGAZINE
Brotéria is a dialogue open to different voices, promoted through the library, and also by "a café that serves as a meeting place, a bookshop as the entrance hall, a gallery as a form of expression and a magazine as a network for thought". Founded in 1902, this monthly faith-based publication showcased research in the fields of botany, zoology and genetics. Over the 120 years of its history, celebrated in 2022, Brotéria grew and expanded into other areas of knowledge: chemistry, physics, biology, medicine and farming.
In the early 1960s, it espoused another area of thought – Christianity and Culture. Looking back, Francisco Mota explaines that the magazine has adapted to changing times and readership: "our editorial team is always looking for stories that inspire and subjects of real concern. On every topic, we look for good writers – not always the most obvious choices, better known to the public – and for different perspectives."