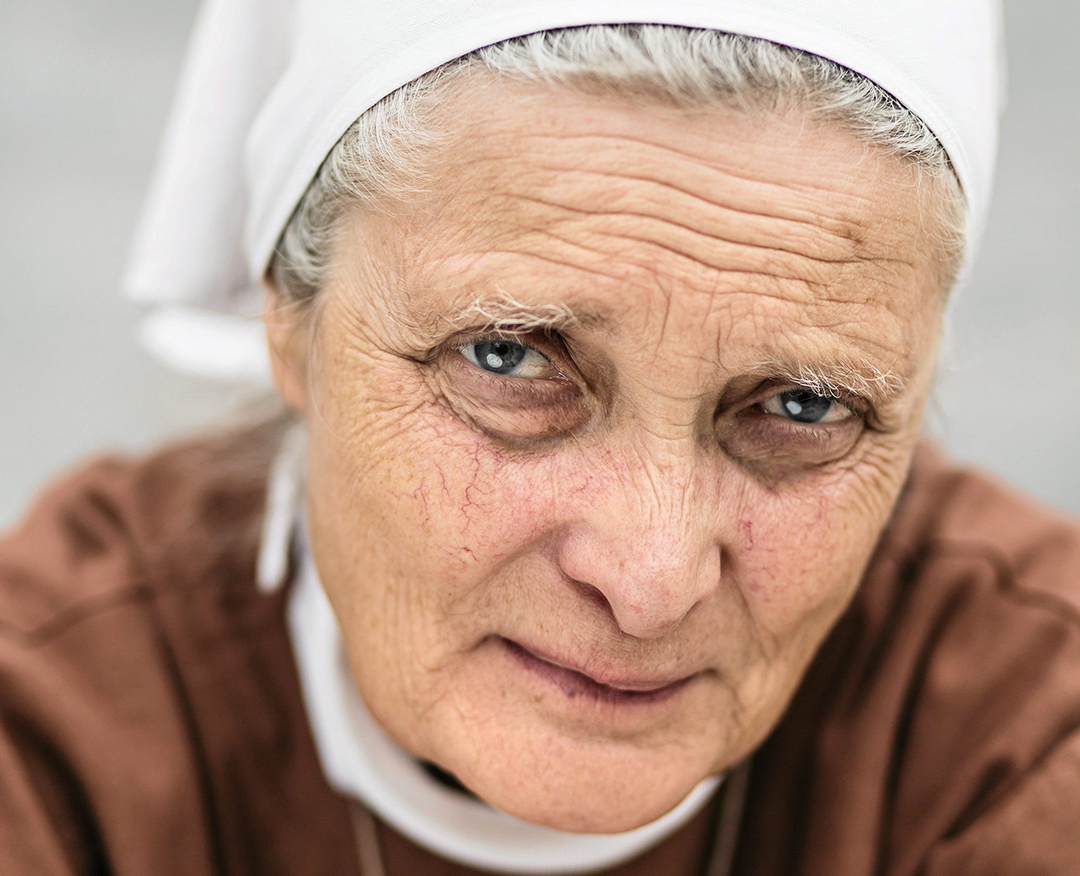 "An ordinary woman who happened to find love" and share it with the neediest as a lifelong task. A graduated in Biology who took the path of faith. A mother of five who believes the children she helped grow up to be decent people are her major achievement. Sister Małgorzata Chmielewska is much more than what she does, either as head of the "Chleb Życia" community – which runs houses for homeless, sick and single mothers in Poland – or now as a member of the Biedronka Foundation Council. And she is also more than what she tells, even if words give a little hand to meet the soul, the nun, the activist, the thinker, and the believer.
THESE COVID-19 TIMES HAVE FORCED US TO SLOW DOWN AND FIGHT FOR LIFE. YOU HAVE STUDIED BIOLOGY AND LATER YOU CHOSE TO FOLLOW A PATH OF FAITH. HOW DO YOU RECONCILE THE BIOLOGIST AND THE BELIEVER TO PROPOSE YOUR OWN DEFINITION OF WHAT LIFE IS?
Poetically – a miracle. If we look at human life, it is a unique and special time of existence on Earth for every human being. Every human being is unique and necessary, no matter where they were born, who they are, or how old. Whether he or she will represent beauty depends primarily on them, but also on what opportunity they are given to develop their humanity. Our calling is to love. Someone who has not experienced it since childhood, a child who is hungry or without good education, or a person who wasn't loved will have less chance to fully develop what is best in them. Apart from human life there is also the life of nature. Fascinating.
AFTER GRADUATING IN BIOLOGY, HAVE YOU FELT THE INTENTION TO MAKE A CHANGE IN YOUR LIFE? WAS THERE AN EVENT THAT TRIGGERED YOUR CHOICE TO LIVE DIFFERENTLY?
I searched for the truth in various philosophies and even religions. I found it in the Gospel and the person of Jesus Christ, and also in the Catholic Church. I decided to put into practice what I understood from the Gospel. And so until today.
YOUR FATHER WAS A DOCTOR AND YOU HAVE DEVOTED YOUR LIFE TO CARE FOR LONELY SOULS. YOUR MOTHER WORKED IN A SCHOOL AND YOU YOURSELF HAVE ALSO DEDICATED SOME TIME TO TEACHING. HAVE YOU FOUND INSPIRATION IN YOUR PARENTS' EXAMPLE AND SENSE OF MISSION?
Certainly, the values taken from home were and are a support. I grew up under communism. My parents were members of the Resistance Movement during World War II, a formation later unwelcome to the communists. Throughout the communist period, they were in a way "internally emigrated", forced to live in a system that they did not accept and taught by their example of adherence to values. They were very sensitive to the needs of the weak and always ready to help. I did not like that world either. My brothers changed it by participating in the anti-communist underground, I chose a different way – supporting the weakest.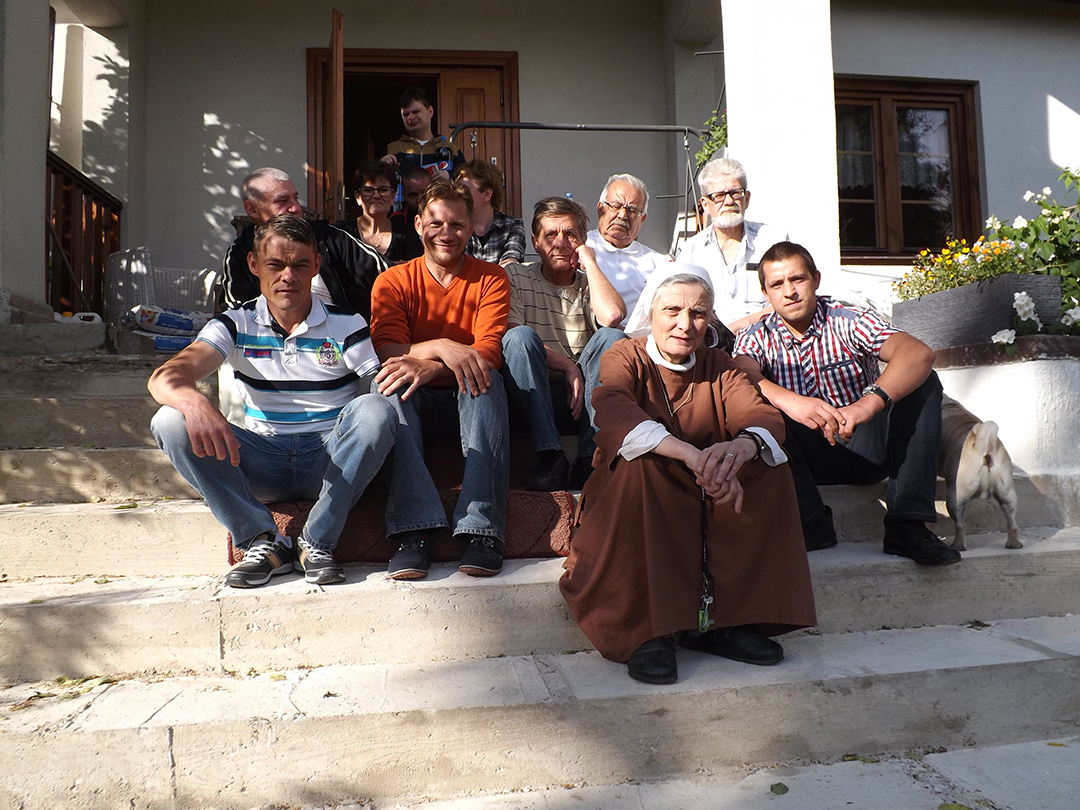 WHEN TIMES GET TOUGH, THEY ARE ALWAYS MUCH TOUGHER FOR THE ONES WHO WERE ALREADY VULNERABLE BEFORE THE CRISIS: THE OLD PEOPLE IN NEED, THE SICK, THE POOR, THE DISABLED, THE MARGINALIZED. THESE ARE THE PEOPLE TO WHOM YOU HAVE CHOSEN TO DEVOTE YOUR LIFE. WHAT HAVE YOUR LEARNED ABOUT LIFE FROM LIVING IN COMMUNITY WITH THE POOR AND THE MARGINALIZED ONES?
First of all… freedom and a kind of humility. The people we live with are very different, they come from backgrounds far from mine and often have had tragic experiences. In material terms, they have nothing, although some once had companies, families, positions. And many of them do not break down, but continue to fight for their lives. They often turn out to be better than me, bolder, more patient, generous in sharing what they have, for example, their last cigarette.
This teaches perspective, respect for others, and how to listen. It requires us to step out of our comfort zone. Our life is constant improvisation – currently we have 11 houses for the homeless, we also run a scholarship fund for poor youth, a day care centre, a kindergarten, we support many poor families, renovate their flats, etc. The vast majority of us do not have permanent financial security. The poor do not fit in systems created for the needs of those who are well off. Hence the constant life of the unpredictable combined with the need for good organization and logistics. If it were not for the good people – as believers say – directed to us by God, we could not help. We simply wouldn't have the means or resources.
Help from people of good will come always, sometimes at the last minute. I have also learned that love requires a little bit of madness. For this you receive the joy of seeing someone who had been in the dark improve, begin to be happy, regain a sense of dignity. Also that there are no losers. There is always hope. Sometimes it takes many years, sometimes we do not see the results of our work. And also the fact that there is a limit which is set by the freedom of each person. We will not reach beyond it. A person may not want to change. At least not now. Or perhaps an alcoholic of many years can't do it anymore. And yet he still remains human and should be treated as such.
"A crisis like the present one can only be survived together."
HOW, IN YOUR OPINION, CAN HUMAN SOLIDARITY AND COMPASSION BE ACTIVATED TO SUPPORT THOSE WHO NEED HELP THE MOST?
In a crisis situation there are generally two attitudes: human solidarity and egoism. The first is people hurrying to help, making a creative effort to face the situation and often risking their property, even their lives. The second is to shut oneself up to the needs of others for fear of losing what one has and the desire to protect oneself. In addition, many people actually lose their livelihoods and become dependents instead of contributors. Only daily solidarity, small, daily material gestures of heartfelt support with words and hospitality can help to survive. And the awareness that no one does well forever.
That I myself can fall on hard times tomorrow. In an empathic, solidarity-based society one lives more safely and simply more pleasantly. A crisis like the present one can only be survived together. And together means with the weakest of us. There is a tendency to sacrifice them "for the common good". It always ends badly, because tomorrow you or someone close to you may become the weak. You have to show that good is just more enjoyable than evil and selfishness. Promote these values wherever possible, build fashion for them, especially among young people.
YOU ARE A STRONG BELIEVER IN THE VALUE OF WORK AS A UNIVERSAL HUMAN RIGHT. WHEN AND HOW HAVE YOU BECOME CONSCIOUS OF THE RELATIONSHIP BETWEEN WORK AND DIGNITY?
When I was young, a very long time ago, I used to visit two ladies in a sick people's home. We became friends. Such houses were terrible under communism. Both ladies were bed-ridden, but their minds and hands were fully functional. All the time they were simply lying in beds and were treated as objects with diapers to be changed, and the staff showed contempt for such people. They had a deep sense of being worthless. I brought them to my mother's house for a few weeks. And once it occurred to me that although they needed help with many things, they could help with dinner. I put a pot and bowl by their beds and asked them to peel potatoes.
Then we made pasta together and so on… They were happy. At last they could give something of themselves! They felt like normal women. Modern welfare systems are generally geared to providing a minimum for survival, not engaging people in active life. This gives rise to learned helplessness, often passed from one generation to the next, and entitlement attitudes, but also bitterness and a hidden sense of inferiority. Also aggression towards those who are better off. It excludes from social, cultural, economic and even spiritual life. It takes away the sense of self-agency necessary for the development of a free person.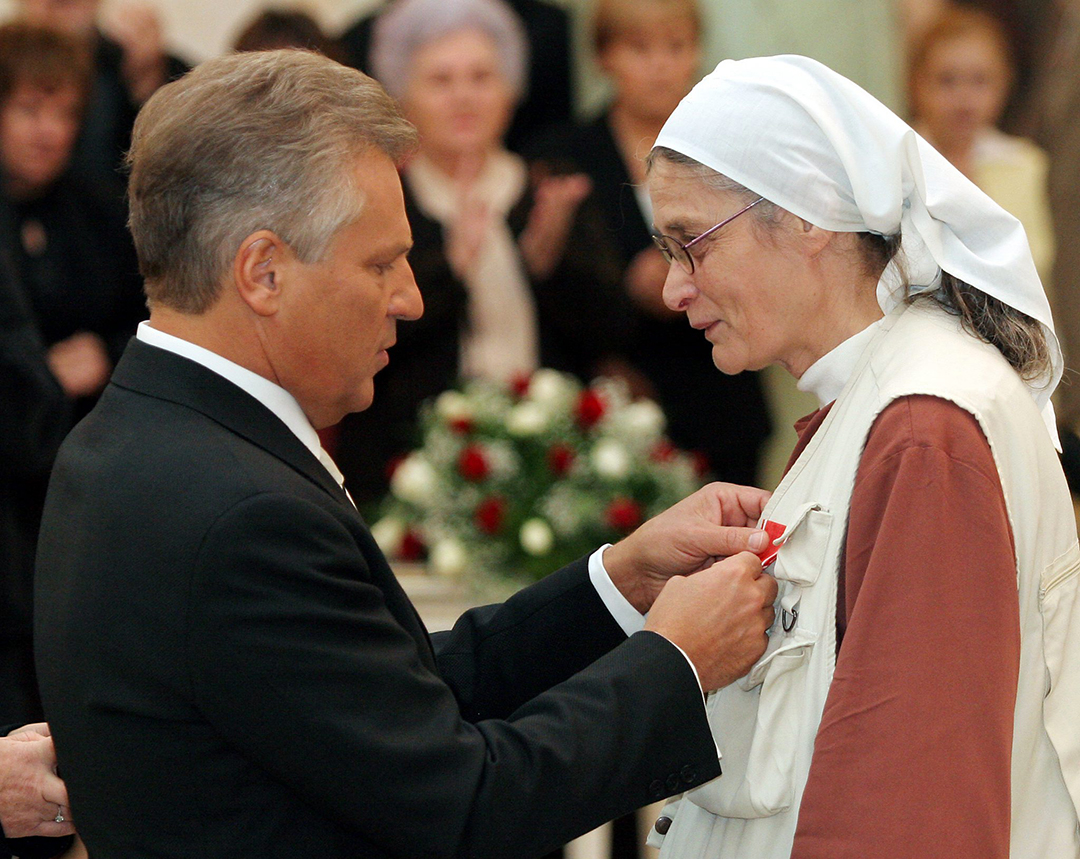 THIS CRISIS IS ALREADY THREATENING EMPLOYMENT AND MANY PEOPLE ANTICIPATE THAT POVERTY WILL INCREASE EVERYWHERE. WHAT, IN YOUR VIEW, ARE THE MOST URGENT CHALLENGES AND NECESSITIES THAT THE POLISH SOCIETY WILL NEED TO ADDRESS IN THE COMING MONTHS OR YEARS?
First of all, loss reduction. The point is to ensure that people who have lost their jobs do not fall irretrievably into the role of beneficiaries of benefits and assistance, which of course should be provided quickly when they are hungry or have no housing. This would be a great loss for entire societies, because they have great potential, not to mention the suffering of each of them and their families. Maintaining or creating jobs is the first challenge. The second is, of course, to organise the emergency chain. Anxiety, an atmosphere of danger already causes mental problems in many, especially amongst the young.
Politicians in Poland, instead of creating an atmosphere of solidarity and building programmes for the present and the future together, bicker with each other and engage in foolishness. This is a tragedy for Poland. There is chaos that reinforces the feeling of uncertainty. I trust that just as in the case of the fight against the coronavirus, society has taken matters into its own hands and organised itself in spite of politicians, the effects of the epidemic will be partly mitigated by citizens organising themselves from the bottom up.
IS IT POSSIBLE THAT THIS CRISIS WILL ALSO BRING A POSITIVE CHANGE TO OUR LIVES?
Of course, good can finally come out of any tragedy. There may be changes for the better in health care, in Poland, which has been in terrible condition for years. People can see that they can afford to do sometimes heroic deeds – like volunteering in infectious diseases hospitals or care homes. Having experienced the hardship of being locked up in their homes, they can become more sensitive to those who are weak. We encounter many gestures of solidarity and understanding.
THE COMMUNITY YOU FOUNDED IN POLAND IS CALLED "BREAD OF LIFE" AND DEDICATES ITSELF TO THE SICK, THE OLD, THE DISABLED, AND HOMELESS WOMEN AND MEN. WHERE AND HOW, IN YOUR OPINION, CAN A HUMAN BEING FIND THE MOST NOURISHING BREAD TO FEED HIS/HER LIFE?
We are Christians, Catholics. We don't force our people to practise religion, but we enable them to meet God. We live as we do for Christ's sake, which we do not hide. Many people take advantage of such a meeting, often after years of being away. There they find peace and strength to live. There are also people of other religions or beliefs with us, there are unbelievers. We encourage people to deepen their spiritual life and often it gives them joy and strength.
"I got a lot from life and I try to give it back (…) It's just a task to be performed."
YOU HAVE BEEN CALLED A "GENERAL IN A HABIT" AND A "TOUGH NUN WITH PRINCIPLES". FOR THOSE WHO DO NOT KNOW YOU AS WELL AS THE POLES DO, HOW WOULD YOU PUT THESE TWO IMAGES INTO A BIGGER PICTURE OF WHO YOU ARE?
An ordinary woman who happened to find love. And even though I took a vow of celibacy… I have five children and a few more around. All of them, of course, met on the way of life in dramatic situations when you had to decide to become a mother for them. Today they're grown-ups and most of them work with us because they chose to. One is deeply disabled and lives with me all the time. I got a lot from life and I try to give it back. It's not my accomplishment that I was born healthy, that my parents gave me an education, that I met many wonderful people who inspired me and still inspire me. It's just a task to be performed.
IT IS SAID THAT THERE ARE MANY WAYS TO GOD AND YOU HAVE SAID THAT THERE ALSO MANY WAYS TO MOTHERHOOD. YOU YOURSELF HAVE ADOPTED SEVERAL CHILDREN. WHAT HAS MOTHERHOOD TAUGHT YOU THAT OTHER PREVIOUS EXPERIENCES HAVEN'T?
Patience! And it still teaches me that, especially with my autistic son. Seriously? Love, love and perseverance after all. The children were not without problems, they had gone through hard times. I had to learn how to love otherness, how to activate my imagination, how to manage a gang – at one point of nine kids with problems while constantly thinking… where to get money from, how to fight bureaucracy, doctors, schools, who weren't always helpful in our reality.
At the same time, I learned and taught others to have trust in life and in people. There is always a way out. This is what I taught the children. We do not break down, we will find a way. It has built up in them the courage to face difficulties and the self-confidence and sense of value. They were children despised by everyone, humiliated by strangers and their own family. They are wonderful and full of empathy for others. Two of them had begged in the streets when they were children.
WHAT HAS BEEN SO FAR YOUR MOST IMPORTANT ACHIEVEMENT IN LIFE, THE ONE YOU ARE MOST PROUD OF?
Certainly the children who have grown up to be decent people. Also because, together with my co-workers, I managed to touch the conscience of thousands of people and draw attention to the fate of the weakest. And also to save thousands. Or at least relieve their suffering. The fight is not over yet.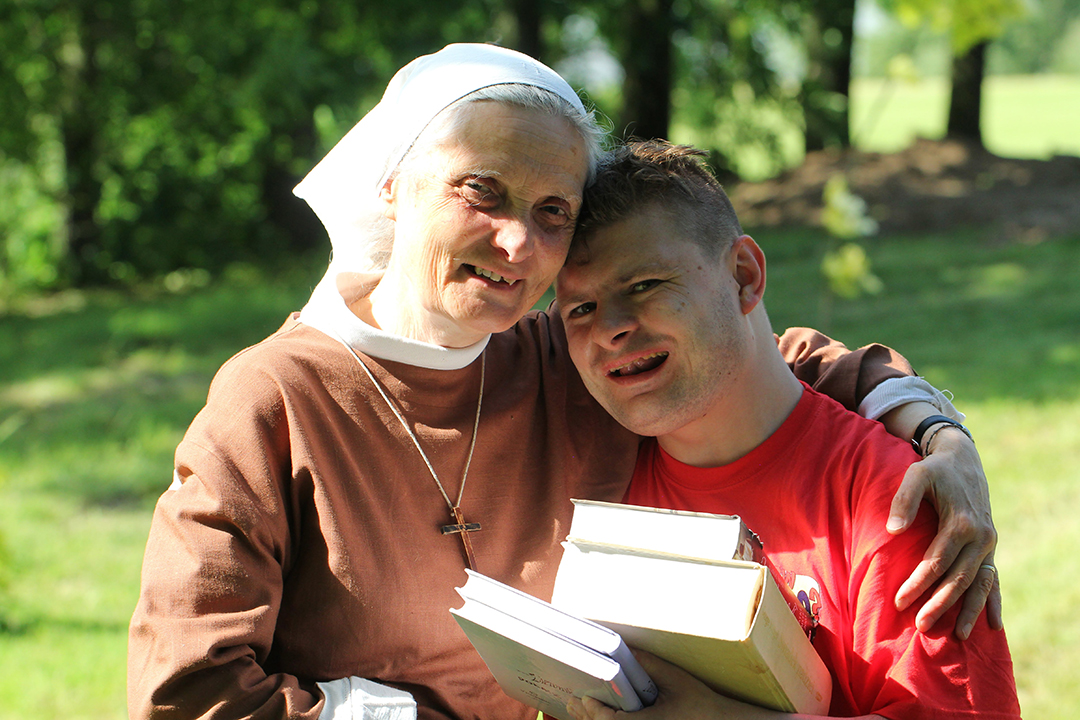 AND DISAPPOINTMENTS… WHAT WAS THE MOST PAINFUL ONE?
I haven't been disappointed in any great way. Maybe because I'm a realist and I know that the world and people are not a paradise on Earth, so I acknowledge my own weakness and that of others.
DO YOU HAVE DREAMS YET TO BE FULFILLED?
Oh, perhaps, the last and greatest of mad ideas – to build a decent home for the old and sick homeless in Warsaw. We were already close. After many hardships, the city of Warsaw had given us a plot of land, the architects had made plans, but then the epidemic came and crisis struck our friend who was supposed to sponsor this construction. Our shelters for the homeless are located in old buildings, the conditions are difficult, it is tight. I would like the poorest people to have a beautiful place to live, and for my colleagues who live with them to have decent conditions. For now they live in the basement of the shelter. I trust that we will succeed in spite of everything, although it will be difficult.
EVERY SINGLE PERSON DREAMS OF BEING HAPPY EVEN MAYBE NOT KNOWING WHAT EXACTLY THAT MEANS. HOW DO YOU DEFINE HAPPINESS? HAVE YOU FOUND IT?
Everyone's desire is to love and be loved however prosaic it might sound. Because I meet these two conditions for happiness: I love people and there are people who love me, and I deeply believe that Christ loves me (although sometimes I am surprised that He hasn't stopped yet), because of that I am happy. Though I'm not always laughing out loud.
WHO WERE THE PEOPLE THAT INSPIRED YOU THE MOST IN YOUR LIFE AND WHY?
People faithful to values: truth, solidarity, honesty. Who often pay a high price. Many saints, also contemporary, but also young people engaged in the repair of the world, having great ideas, brave. There are many of them. This gives hope and strength. I have been, and I still am, lucky to meet such people on my way. Some of them are well known – like John Paul II, Mother Teresa, some remain unknown, some of them simple, some of them scholars.
WHAT HAS BEEN THE BEST ADVICE SOMEBODY HAS GIVEN YOU?
"Experience is not transferable," an old nun's remark when I tried to convince someone based on my own experience that he was heading into something stupid. Often you have to come to certain conclusions yourself. And the words I heard many years ago on English television: "This is a task that must be completed." It was… Golda Meir, the former Prime Minister of Israel, who said them in an interview. Life is a task that has to be completed. And an old nun who shared the last piece of bread from the monastery kitchen with me a long time ago: "If your hands are clenched, the Lord God cannot pour into them. If your hands are open, He will pour into them."
ARE THERE, IN YOUR OPINION, UNIVERSAL LAWS TO LIVE A WORTHY LIFE?
Faith, love and mercy. And a sense of humour. And never stop using your common sense.