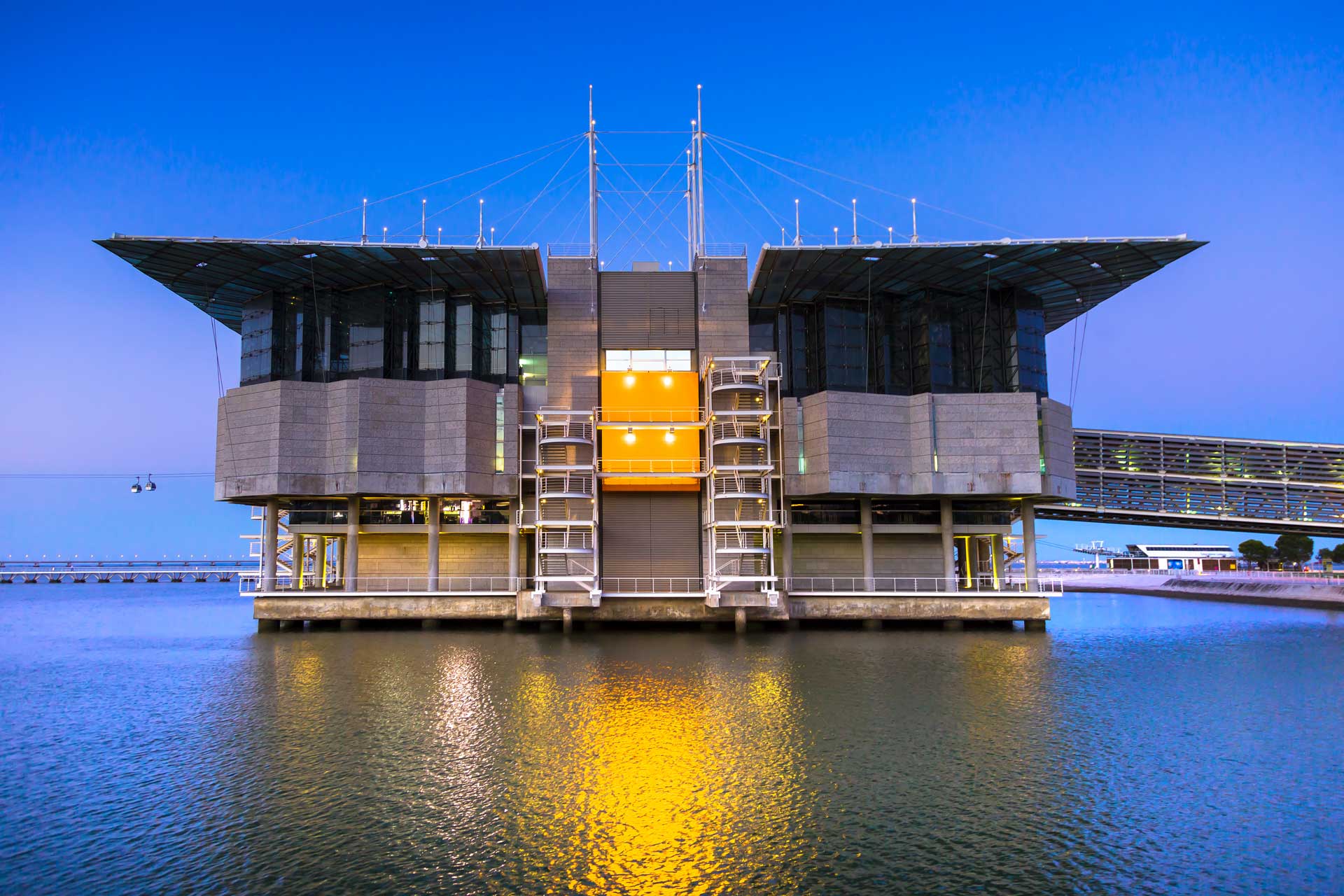 Oceanário de Lisboa
Twice voted the best in the world on TripAdvisor Travellers' Choice, the Oceanário de Lisboa has just celebrated twenty years. As in 1998, its mission remains unchanged: to promote the ocean conservation. Its CEO, João Falcato, tells us about the importance of the blue literacy for younger generations and the challenges of ensuring that visitors continue to enjoy a unique experience.
"The oceans: a heritage for the future" was the theme of Lisbon's World Fair – EXPO'98 – which over four months attracted 11 million visitors from all over the world to celebrate the 500 years of the Portuguese voyages of discovery. At the epicentre of the Expo'98, the Lisbon Oceanário was designed by the celebrated architect Peter Chermayeff. The total equipment installation area spans for 20 thousand square metres and comprises 7.5 million litres of saltwater that are home to 8 thousand organisms from 500 species. The central aquarium represents the Global Ocean, housing more than 100 species from four oceans.
Around it, four sea habitats create the illusion that we are facing just one aquarium, one ocean. It is today one of Lisbon's main tourist attractions and over its life has welcomed more than 23 million visitors from 180 countries. Twice voted the best in the world (the second time in 2017) on TripAdvisor Travellers' Choice, it got more than 32,500 positive reviews, of which 64% classed it as "Excellent". Originally created in the public sector, the Oceanário was privatised in 2015, when the Portuguese Government sold a 30-year concession contract to Sociedade Francisco Manuel dos Santos.
Then, the aquarium was donated to Oceano Azul Foundation, founded by the majority shareholder in the Jerónimo Martins Group. The foundation brought a fresh approach to managing the Oceanário. By pledging to reinvest its profits, it breathed new life into its work and recommitted the institution to its vital mission. In an interview with Feed, the Oceanário's CEO, João Falcato, tells us about the challenges of ensuring that visitors enjoy a unique experience and underlines the importance of the "blue literacy" for younger generations.
20 years protecting the less explored place on earth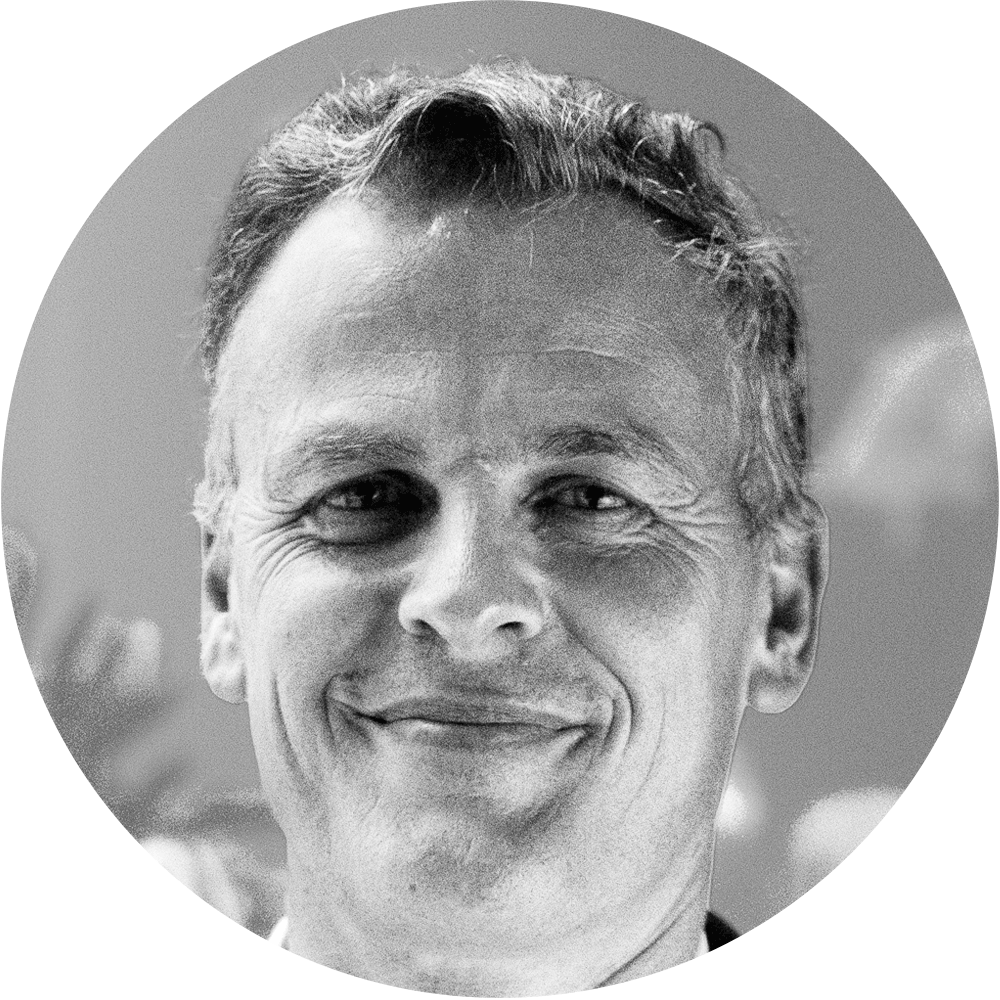 JOÃO FALCATO
Having joined the Oceanário de Lisboa as an aquarist, in 1997, João Falcato is its current CEO since 2006, and part of the Board of Directors of Oceano Azul Foundation. He is a member of the Directive Board of the Portuguese Association of Zoos and Aquaria and administrator of SIEOCEAN. João Falcato is also a member of the Executive Committee of EAZA (European Association of Zoos and Aquaria), and President of the EUAC (European Union of Aquarium Curators).
INTERVIEWING
THE CEO OF THE OCEANÁRIO DE LISBOA
THE OCENÁRIO IS TODAY LISBON'S TOP TOURIST ATTRACTION. WHAT'S THE SECRET OF ITS SUCCESS?
What our visitors tell us, in their TripAdvisor reviews, is that this is a new aquarium. Considering we've been going for 20 years, that's amazing. The concept behind it is virtually timeless. Our theme, the Global Ocean, was valid twenty years ago and still is today, just as it will be in fifty years' time. In addition to the quality we offer, our success comes from ensuring that the experience is unique and extremely rewarding.
The fact that living creatures are our main attraction also adds to the appeal: animals are able to connect us to an emotional experience much more easily than an inert object. In addition, under the new management model in place since we joined the private sector in 2015, all the money that the Oceanário earns, all its profits, are channelled into Ocean conservation and blue literacy. This means that visitors can be sure that as well as enjoying a fantastic experience, they're helping to pay for Ocean conservation work and to boost marine education programmes in Portugal, and that's an added source of satisfaction.
ON THE SUBJECT OF BLUE LITERACY, WHAT SPECIFICALLY RAISES PEOPLE'S AWARENESS AND PERSUADES THEM TO CHANGE THEIR BEHAVIOUR?
Firstly, if visitors are inspired by what they see, whenever they read one of the explanatory panels, they are told what they can do tomorrow to help protect the world's oceans. Because the main problem facing the oceans is not in the oceans, it's in cities: it's what I consume, the plastics I use, how I choose to travel. It's us, people. Then we have an educational programme. In 2015, this reached out to around 70 thousand people, but since our new shareholder took over, this has grown, and last year we reached 168 thousand. And about half of this is through programmes which are now free of charge. We have a programme called "Marine Plasticology", in which we visit schools to raise awareness amongst younger generations of the harm that plastic does to marine biodiversity.
With more than 1 million visitors every year, the Oceanário is one of Lisbon's main tourist attractions.
Strange as it sounds, sometimes we get this message across better when we go into schools, than when the schools come to us. Two weeks later, we go back to that school, go through the canteen, and they've stopped using disposable plastic cups. And now, with the Oceano Azul Foundation, we're working on a new approach, because it's not enough just to inspire people and believe they're going to change something. We're working on a pilot program in Mafra, in conjunction with the Ministry of Education, in which we're going to train primary school teachers to address certain topics on the curriculum from the perspective of the oceans.
In short, there's lots to be done and different ways of getting there, and twenty years on, rather than celebrating a new attraction, we've recommitted to our original message, making it harderhitting. If you go to our shop, you'll see how we've branded it "Sea the Future", and that 30% of the products on sale are already sustainable. Our pledge is that, in three years' time, 95% of what we sell will be sustainable.
WHAT HAS BEEN THE OCEANÁRIO'S GREATEST ACHIEVEMENT IN THE PAST TWENTY YEARS?
The most difficult thing has perhaps been to stay at the top of our game, twenty years on. To be a world leader, highly profitable and to channel all our money into worthwhile cause – marine conservation – is a greater asset than the institution itself, and it's something that belongs to us all, it's a public service. And after twenty years, to start having an impact on the world around us, and being sustainable on every front.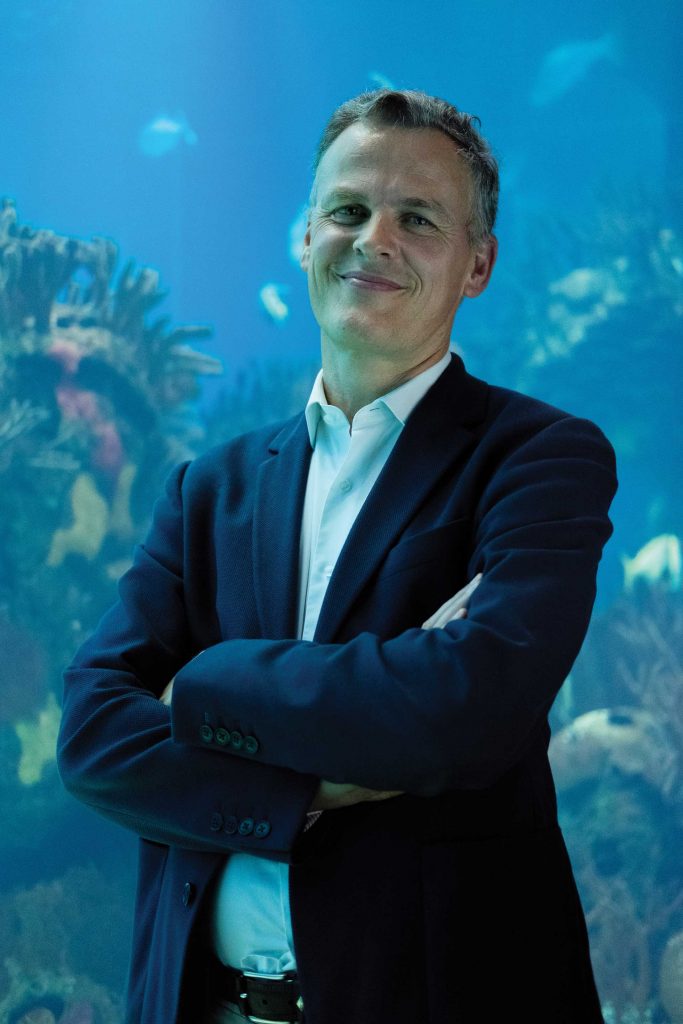 HOW DO YOU DECIDE WHICH SPECIES YOU TRY TO PROTECT?
The priority is to save what still exists, and there are two clear ways of doing that: one is by working with Protected Marine Areas, principally through the Oceano Azul Foundation. And then we take action on individual species, and that's a difficult choice. What we do is choose a topic each year – for example, last year the topic was "Rays and Sharks" – and then empower institutions to work on the selected groups. So with 23 projects applying for funding, that means we have 23 organisations that start to work in the topic area. We use the influence we have to steer universities and other organisations to work in particular areas.
DO YOU FEEL THERE'S STILL ROOM TO GROW?
We're reaching the limit on our capacity, considering the quality standards we want. When the Oceanário is crowded, it's obvious we don't get our message across as effectively as on quieter days. We're well aware that we won't stop growing and so if we're going to continue being efficient in our mission, we'll need a bigger area, we know we need to expand.
FLUCTUATIONS IN TOURIST NUMBERS APART, WILL THE OCEANÁRIO CONTINUE TO BE A MAJOR ATTRACTION?
Lisbon's tourist appeal is starting to rival with cities like Barcelona and Madrid. The number of tourists visiting will be the same that will visit those two cities. Tourism will continue to grow. Crises happen, but facilities like the Oceanário are highly resilient to crises. What happens here is that, when local people have less money to spend, they travel less, and so our local visitor numbers grow. It's a trade-off that cushions us from a sudden fall-off in numbers. Our sustainability isn't in doubt, but profitability can vary. Before privatisation, we needed to create new attractions to increase the number of visitors. But not now.