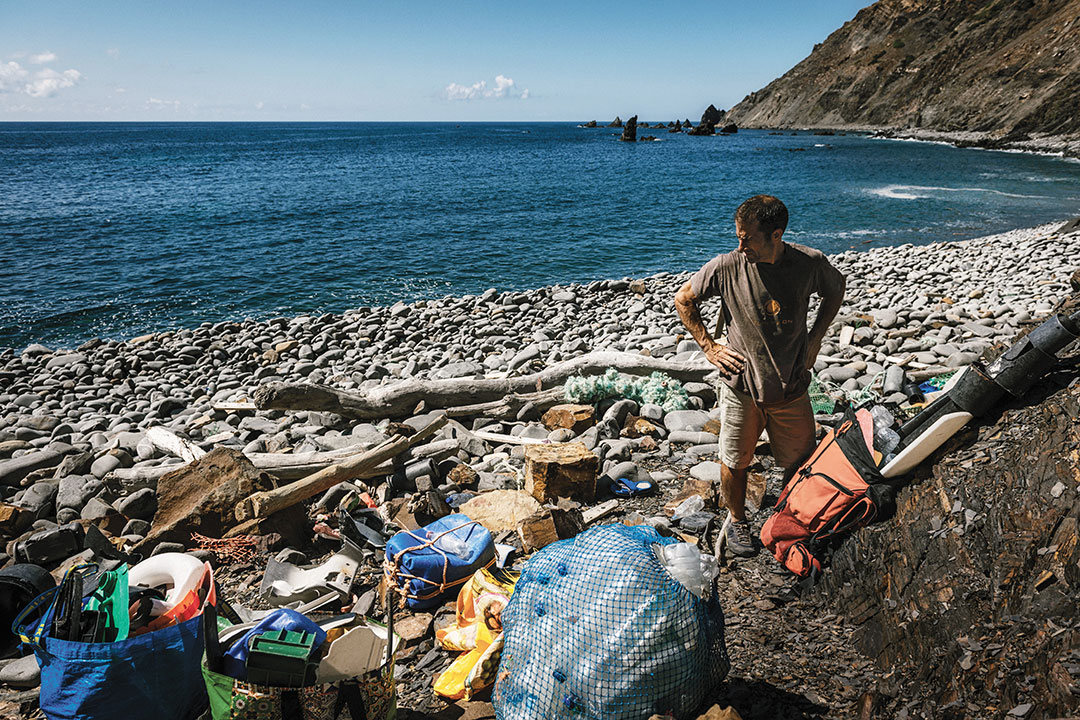 The Beauty Underneath
"I exchanged my bag full of goose barnacles for one full of plastic". This is the short version of how Ricardo Ramos came to be known as Xico Gaivota, of how a fisherman also began collecting what does not belong in the sea. He became a beachcomber, an artist, an activist. And, to get here, he had to navigate the fascinating ocean waters for years, until he went diving and discovered the need to protect the sea, emerging with a mission: to inspire and educate through art. "I don't know exactly what triggered it, what woke me up. I've climbed down many a jagged cliff to search for goose barnacles, fish, or whatever. I've always been hooked on being close to the sea and fishing. But I somehow know it was at Christmas of 2017. Instead of buying gifts for my family and friends, I took my kids and we went to the beach to gather material which we used to make art and offered it to our family."
Flip-flops, toothbrushes, earbuds, toilet brushes. Everything the waves wash up into Xico's hands is treasure. He is particularly fascinated by the edges crafted by time, after rolling and rolling in the sand: "I use them just as I find them, without cleaning, painting, bending or gluing them. That would kind of diminish their story." On the other hand, the artist explains that it is also a choice to remove this plastic "from the almost vicious cycle it is in, without leaving more of a footprint when using it. Whenever we cut up plastic, we compound the problem. It's no longer one piece, but two".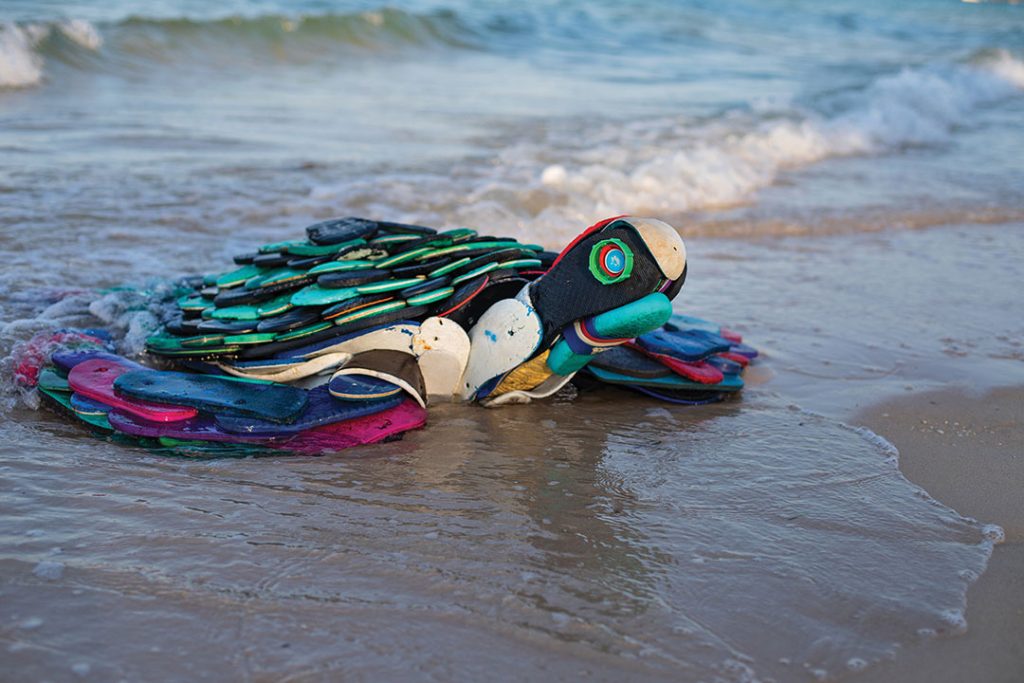 He has always been in contact with the arts: "My father was a sculptor. I know how to work with wood, iron, I know how to solder… I work with glass fibre, stone, all materials basically. But no other material has fascinated me more than the concept I created for Xico Gaivota", he says. He started by making fish. In the beginning, he kept them: "It was very personal to me and I didn't want anyone to know that Ricardo was doing this". But the secret was bound to come out.
At Christmas of 2017, the artist took his children to the beach to gather litter. With what they found, they made art and offered it to family.
Encouraged by his friends to display his work, he created a site to share his creations. Dozens of brightly-coloured animals, mostly sea creatures, with an unassailable beauty that holds mysteries that escape us. Xico Gaivota points to a killer whale behind him during the interview as an example: "This killer whale only has Styrofoam, octopus pots inside it… All wrapped in a plastic fishing net, that I also found in the sea, which is then covered by this plastic. What I find more interesting is what people don't see. Everyone sees a plastic killer whale. What they don't see are all the hours spent combing beaches and everything that is inside it, which I think is much more exciting".
Just as exciting as seeing his children committed to saving the ocean: "All three (of my kids) are very special and very creative. They are incredibly curious and help out a lot. Sometimes I don't give them the plastic they want, because I need it for something else (laughter). But they are, above all, very aware of the problem and are very… especially my eldest, active in school", he says proudly.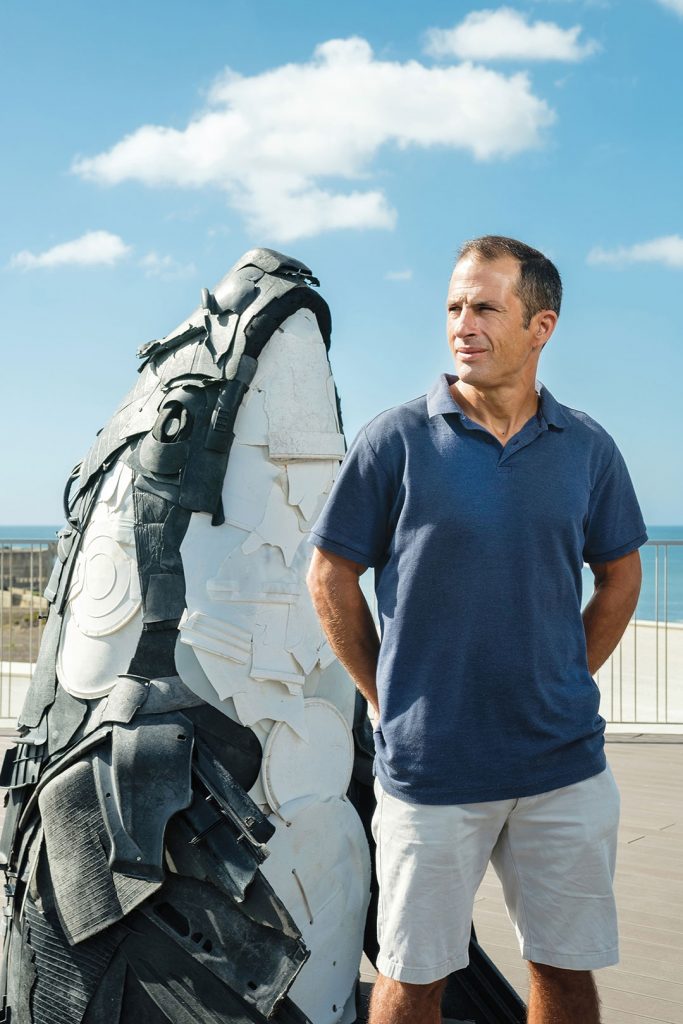 The mission to raise the awareness of children saw Xico Gaivota travel to Mozambique, at the invitation of a resort. At first, he thought of selling some of his creations, but he quickly changed his mind after seeing how those in need lived in paradisiacal Vilankulo. He donated money to ParCo – Parceiros Comunitários (Community Partners), an association that has been implementing community projects for 15 years related to environmental conservation, social protection, responsible tourism and early childhood education.
"They have amazing projects, like sexual education for children in schools… They also had teams to clean the beach on weekends, but it wasn't going so well because of the problems in those countries, so I helped give them a boost", says Ricardo Ramos. Beach Clean, the ParCo programme the artist joined over the course of a year, has already filled up more than two thousand five hundred bags with trash collected along the coast, despite their meagre resources: "They don't have rubbish bins or trucks. Here in Portugal, we're so worried about how often trucks come to collect our trash, and there… this service doesn't even exist. Their houses are incredibly clean inside but, outside, it's a dump. So there's this tremendous need to explain to them and teach them, to show them that they have to preserve what they have, otherwise they risk losing it all."
For Xico Gaivota, being part of the initiative and teaching his art is more than a calling, it's a moral obligation: "We Europeans have to understand that we are on a different level. We've already climbed a few rungs on the ladder, but there are those who don't even know such a ladder exists." More help is needed, he insists: "Anyone who has walked along one of those beaches, across the endless white sand, under the sun, knows the difference having a quad bike and trailer makes. It makes a huge difference, not only when it comes to motivation, but especially as regards to how much material they can collect. So, "giving them the tools to help them carry on what they are doing is much better than giving them money."
Even so, he was still surprised to see how aware the community is of the plastic problem, even in the tiniest detail: "What we do in Portugal, or in any other part of the world, is to provide plastic bags to fill them with plastic. That makes no sense. There, they use coffee bags and flour sacks, all those sorts of bags and sacks, even those used for rations or cement…"
Xico Gaivota is using his art to help drive global change. In Mozambique, he joined ParCo, an association that implements community projects related to environmental conservation.
But what moved him the most was the resilience and creative power of the children, which he recounts with this story: "The best thing we can give to a child is a new experience. They looked at my backpack – which costs a hundred and something euros – and went straight to a palm tree, stripped its leaves and found a way to make straps for those sacks and bags, and even used flip-flops to pad the shoulders. They even made a hip belt. Seriously, they have an incredible imagination." It made him feel as though we are waging an unfair war, where two sides are fighting for the same thing, but "in different worlds".
A year and a half later, he still gets photos of them cleaning beaches, streets and schools through WhatsApp: "I love receiving photos of children creating things with plastic, just like I taught them, and the artists who go on TV and say that Xico Gaivota taught them what they know." Footprints of a struggle forever etched in the sand and in his heart, as indestructible as the stories he collects from the bottom of the sea.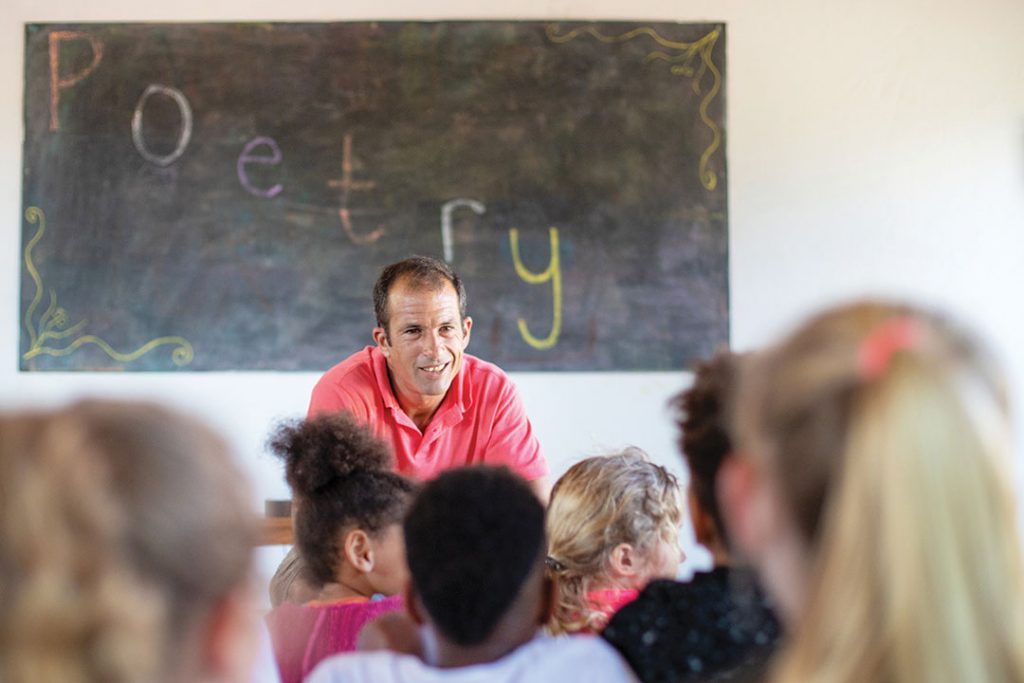 CLEANING THE SHORELINE
Mozambique was the only place where Ricardo saw people collecting plastic from the beach without any kind of handling support, neither bags, nor backpacks. To support his commitment to the shoreline-located community of Vilankulo, while providing the knowledge and tools to make it happen, the attendees of the 7th Jerónimo Martins Sustainability Conference – dedicated to plastic pollution and its consequences on the environment – were invited to play an arcade-inspired game.
A joystick controlled-claw was the only way of saving the marine species from the plastic drama. And each stuffed teddy was worth money to help the Vilankulo community. At the end, 20,000 euros were gathered during the Conference. The money was used to purchase a quad bike with a waste trailer, collecting bags and adequate footwear.