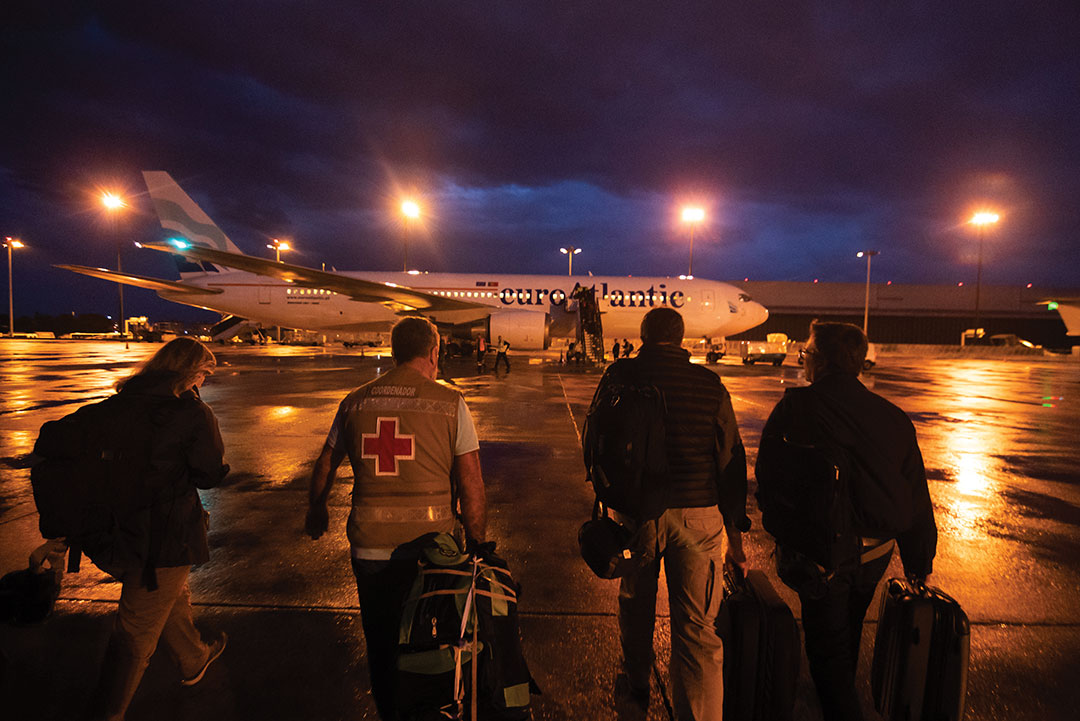 Logbook from Lisbon to Beira
Fátima Loureiro, from Jerónimo Martins, and Henrique Soares dos Santos, from Francisco Manuel dos Santos Society, were aboard the aircraft provided by the Group. They registered their impressions on their visit in this logbook and shared it with FEED.
FÁTIMA LOUREIRO
Jerónimo Martins
HENRIQUE SOARES DOS SANTOS
Francisco Manuel dos Santos Society
MARCH 31
6:20 PM – FIGO MADURO, THE DEPARTURE! We were welcomed by the Air Base Commander, along with Francisco George (Portuguese Red Cross) and David Lopes (Francisco Manuel dos Santos Society). Men and women, volunteers of the Portuguese Red Cross (CVP), set off to support the mission in Beira. Aboard the aircraft are also a mobile maternity unit, approximately 2.5 tonnes of baby products, mattresses for the maternity beds and medication boxes.
9:12 PM – ALL ABOARD, THE PLANE IS READY FOR TAKE-OFF. We set off with the purpose of helping, offering comfort and dignity. Doctors, nurses, volunteers, journalists and… 'us', who joined this mission as representatives of two entities who readily provided this aircraft full of humanity and affection.
APRIL 1
8:11 AM – BEIRA INTERNATIONAL AIRPORT. As we step off the plane, we feel a warm breeze, a preview of the heat we would be facing. The fallen lettering from the airport's rooftop denounced the cyclone's fury and the trail of destruction left behind. There was a flurry of activity, but at the Mozambican pace. Waiting for us, on the landing strip, was Commander Lara Martins, Head of the Portuguese Red Cross mission in Beira, who welcomed us with a warm hug. She's been in the field for a week. Smiling optimistically and proudly, she shares with us that although it was a slow process and with many obstacles, the Field Hospital is now operational.
12:18 PM – MACURUNGO DISTRICT, ONE OF THE MOST DENSELY POPULATED IN BEIRA. This is where the Field Hospital is based, right next to the Health Centre. There is a shortage of everything, from human resources to material goods. The infrastructures have been destroyed: inaccessible roads, open sewers, the roof of the building has been ripped up, the glasses in the windows are broken…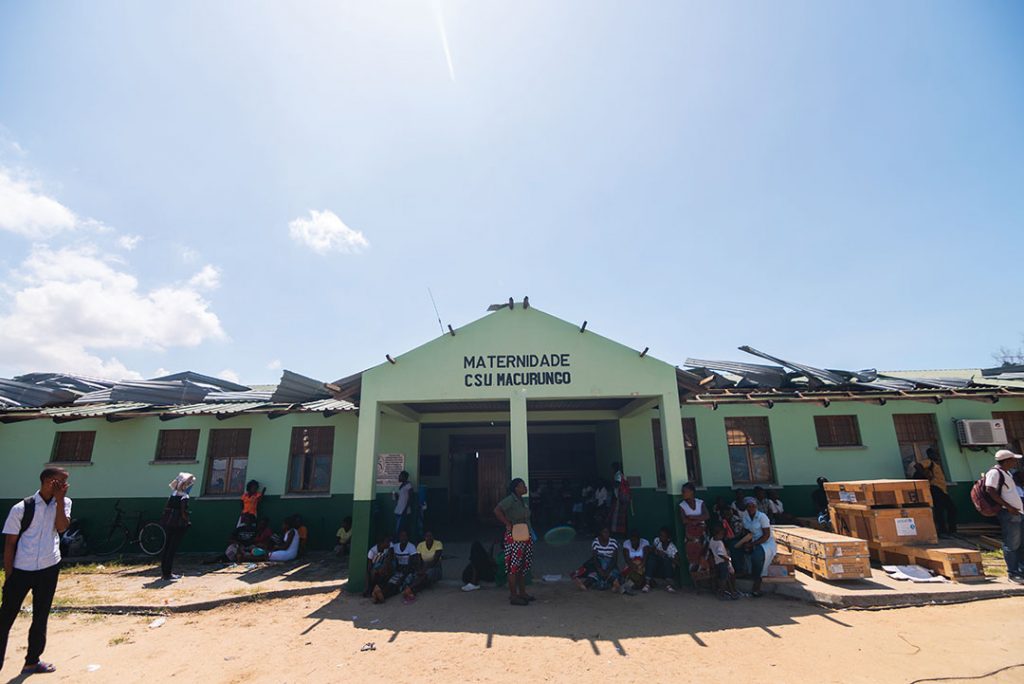 NURSE MARIA DE JESUS, THE PORTUGUESE MIDWIFE WHO FLEW OUT THERE IN THE BOEING 767 FLIGHT.
She had been at CVP's Field Hospital for little more than an hour, still without her birthing kit (it was still being unloaded), but nothing stopped her from 'rolling up her sleeves' and helping three women, all very young, give birth. For three weeks, and with 45 thousand babies expected to be born before the end of 2019, her goal is to share her knowledge with Mozambican midwives.
GONÇALO ÓRFÃO, VOLUNTEERING DOCTOR FROM COIMBRA, AND LARA MARTINS'S RIGHT- AND LEFT-HAND MAN.
He didn't think twice when it came to setting off for the city of Beira. He's in charge of the medical and nursing teams, and has an easy smile. Alongside him, other specialty doctors, some of whom are still in training, throw themselves into the mission with all dedication and commitment.
JOANA PINHEIRO, THE PSYCHOLOGIST.
She had only been in the field for a week but, judging by how at ease she was, she seemed to have been there longer. Her role is to provide support and strength to those who need them the most. At Macurungo's Maternity Hospital, we watched the care with which she spoke to a mother and her 9-month-old daughter. They were sitting on the floor, waiting… Simply waiting, without questioning it. Little Laíssa's uncle has cholera and is being treated at UNICEF's field hospital. Laíssa doesn't understand what is happening around her. And just like this baby, we could see many other children on their mothers' backs, waiting in line to receive filtered water. Almost without moving, these children did not appear to have been asleep, under unbearable heat. They just looked like they had no energy. They were hungry.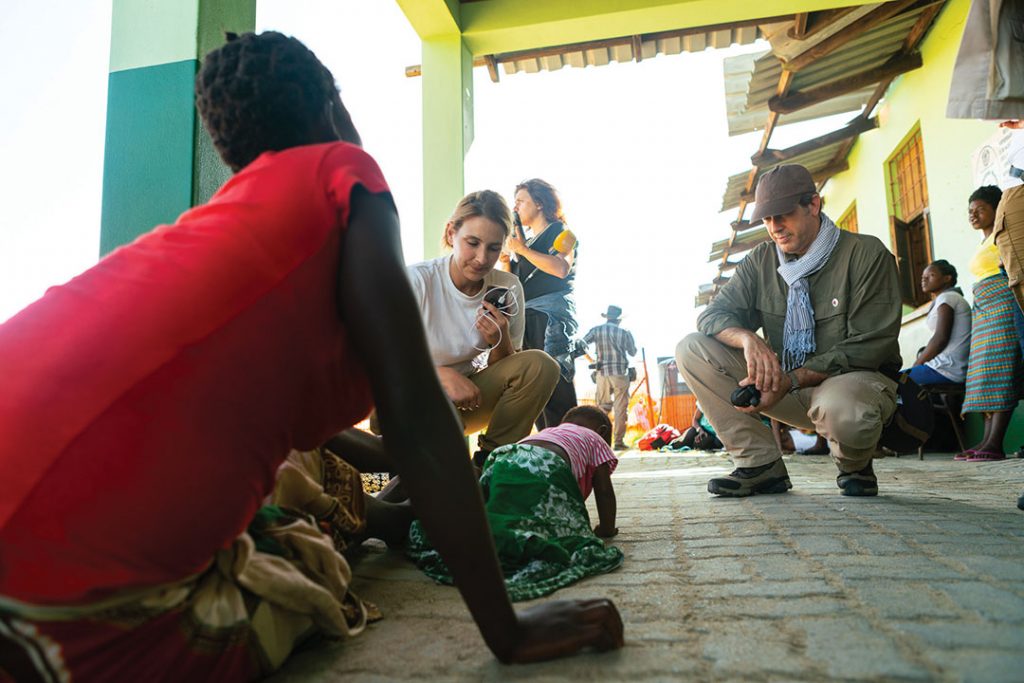 3:30 PM – ITEM ON THE AGENDA: REBUILDING MACURUNGO'S MATERNITY HOSPITAL. This is the most official moment in our visit to Beira. Signing the Protocol of Cooperation to rebuild the Maternity Hospital, made possible by the donations of the Portuguese to operation Baobab ('Embondeiro'). The structure will be rebuilt and equipped with everything necessary to assist future mothers, perform births and care for babies.
4:45 PM – TIME TO LEAVE MACURUNGO, BUT ONLY PHYSICALLY. We return with warm hearts, but tinged by anxiety. There is so much to do in Mozambique. Beira will not get back on its feet in just a matter of days, months, or even years. It will take a long time. But the birth of the three little girls on April 1 are a sign of hope. Their celebratory cry when they arrived in this world was like their 'war cry', a symbol for those who don't give up on the Mozambican land and people. Interestingly, in the place where the Portuguese team is "camped out", we found a sentence which is very representative of this positive way of looking at life:_ 'I didn't ask to be Mozambican, I just got lucky.'
8:00 PM – TIME TO RETURN TO PORTUGAL. WITH A FEELING OF MISSION ACCOMPLISHED. The EuroAtlantic flight returns lighter, offering a lift to the teams from various entities who arrived in Beira immediately after Idai hit. They return with a sense of duty fulfilled. And so do we!
9:00 AM – LISBON, FIGO MADURO. END OF MISSION.