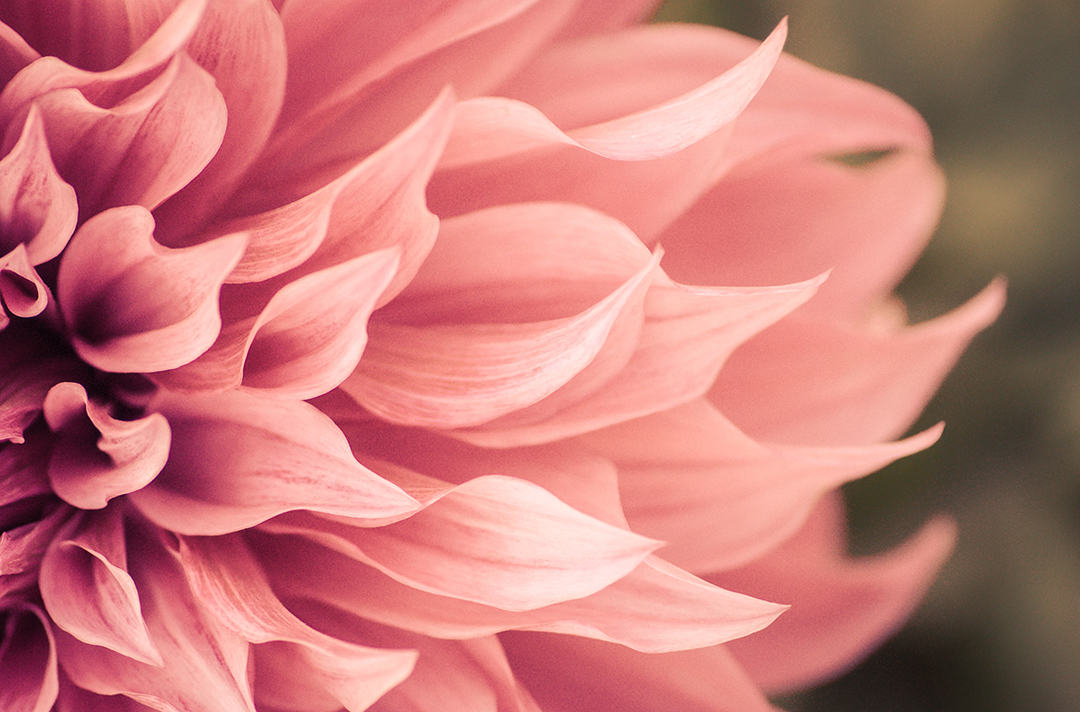 Life in Bloom
Here comes spring: the season of growth. The days become longer, the sun brighter and the Earth greener. Nature's symphony bursts again, surrounded by the vibrant colours and hues of life, reborn.
WHERE DO FLOWERS LIVE?
"Happy birthday." "I love you." "Get well soon." From the welcoming of a new-born to a wedding celebration, special occasions in our lives often carry the scent of flowers. Offering them is not just simply a way of courtesy. It is rather a form of expressing feelings and emotions. And it is when Spring comes that impossible colours and sweet perfumes embrace life in all its beauty. For more than fifty years, Colombia has been contributing towards turning these moments even more delicate and memorable. In this rich and diverse land, blessed with fertile soil and tenacious people, 260 thousand hands work in flower crops. This blossoming vision covers over 8,000 hectares in the high, sunny plateaus outside of its two largest cities, Bogotá and Medellín.
The country is in fact the second-largest producer of cut flowers in the world – only surpassed by the Netherlands –, accounting for 16% of the world's exports, which total more than 1.4 billion dollars (approximately 1.2 billion euros) every year. Between twenty and thirty airplanes loaded with more than 20 thousand boxes of carefully packed flowers of various colours and species take off daily from Colombia. 77% go to the United States. The remaining production flies mostly to Europe to supply some countries, including the United Kingdom (4.1%). In Colombia, floriculture generates over 80,000 direct jobs and 50,000 indirect jobs, features 25% of female workforce and contributes with around 5% of the national agro GDP.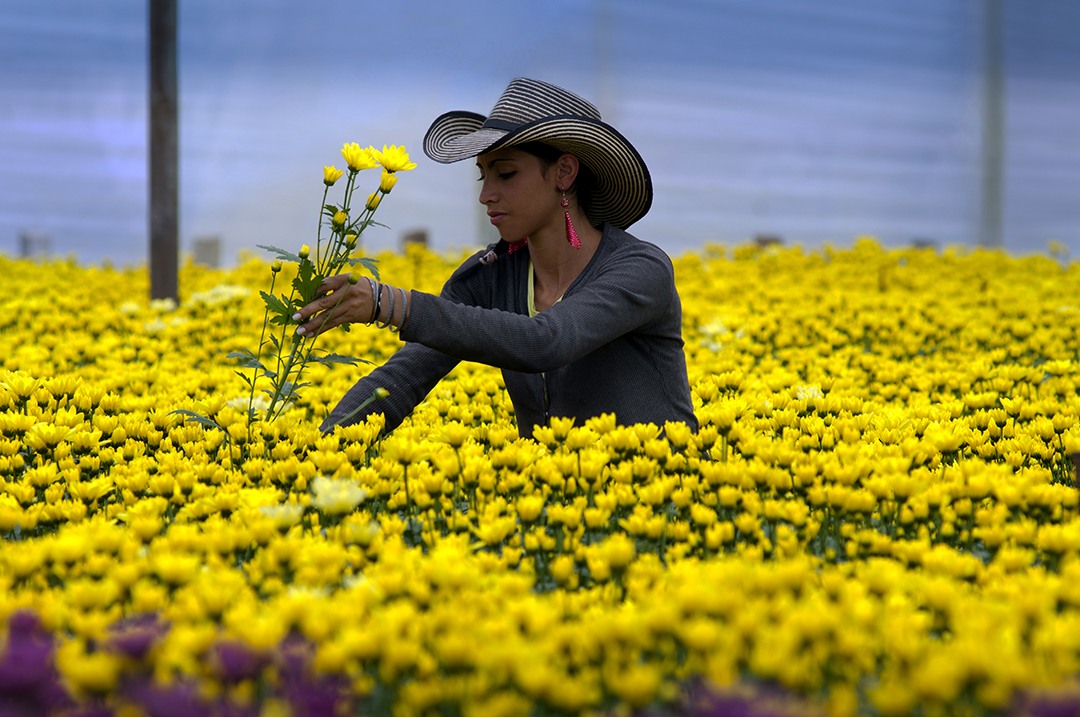 ORCHID: COLOMBIA'S NATIONAL FLOWER
The Colombian territory is home to more 1,500 varieties of orchids, but one of them is more special than the others: Cattleya Trianae, a specific Orchid species which has been the country's national flower for almost 80 years. In 1936, the National Academy of History of Argentina asked Latin American countries to participate in an exhibition with the representative flowers of each country. The Colombian government gave the botanist Emilio Robledo, in representation of the Colombian Academy of History, the task to designate the most characteristic flowering plant of the country.
Cattleya trianae was the chosen species, named after José Jerónimo Triana, a 19th century Colombian naturalist who is said to have catalogued over 60,000 specimens representing 8,000 species over his life. Also known as Flor de Mayo ("May flower") or "Christmas orchid", this rare flower is endemic to Colombia and grows between 1,500 and 2,000 metres above sea level, in cloud forest. Located in the Antioquia Department, the city of Medellín is home to one of the greatest flower events in the planet. Gardens, terraces, balconies, billboards get flooded with bloom. A profusion of bursting colours, alongside with a party atmosphere, fills the streets.
Every summer, the Flower Fair returns to Medellín to honour Colombia's thriving floral industry.
It is in August that the Flower Fair (Feria de las Flores) returns to honour the thriving floral industry in the country. For ten days, people from all over the world go there to delight themselves and celebrate this beauty explosion, as well as to enjoy the music, the traditions and the lifestyle of the "city of the eternal spring". 500 people take part in the silleteros parade, which anticipates the fair's big finale. The word "silletero" derives from "silla" (meaning chair in Spanish) and has its origins in the colonial period. Due to the impossibility of pack animals like cows, mules or horses crossing over certain passages of the Andean Mountains, a group of men who could carry merchandise (ceramics, tableware, furniture, etc.) and people in wooden chairs (silletas) from one village to another was organised. The term "silleteros" later stuck for flower vendors, as they always carried their huge stacks of flowers into Medellín on their backs.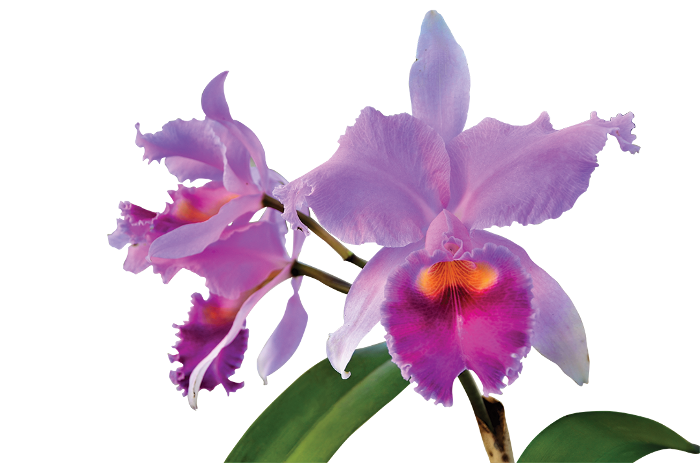 QUEEN OF FLOWERS
Roses are one of the most exported products by Colombian flower farms, totalling 33.5% of all sales. And the Colombian red rose is a top-seller at the Jerónimo Martins Group' stores in Portugal, together with four other Colombian varieties of this flower, who feature in the top 10 of cut flower sales: the champagne rose, the two-colour red rose, the pink rose and the two-colour orange rose. In 2019 alone, more than 350,000 single roses from these five Colombian varieties were sold in Pingo Doce stores, along with over 69,000 Colombian rose bouquets.
Valentine's Day and International Women's Day are the occasions in which Portuguese people are more likely to buy roses. These two moments are celebrated with particular intensity in Poland. In Biedronka, more than half a million roses were sold on Valentine's Day in 2019. But the largest number of these flowers are not sold on Valentine's Day as one would assume. For Women's Day – celebrated on the 8th of March -, more than one million ladies received a flower purchased at a Biedronka store, whether a rose or, most typically, a tulip. This occasion contributes to nearly 8% of annual turnover generated from the sale of flowers in the largest food retailer in Poland.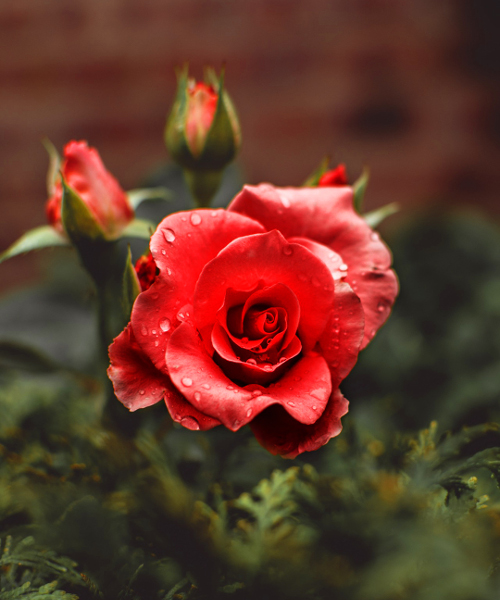 FAMILY TRADITIONS
Last year, almost four million Poles bought flowers in Biedronka to offer as a gift on Mother's Day, celebrated on the 26th of May. Roses, tulips and orchids were the best-sellers. Grandmothers are also spoiled by their grandchildren every January 21st. The date is only celebrated in a handful of countries around the world and its tradition in the Polish calendar dates back to the 1960s. Children offer handmade cards to their beloved grandmothers, as well as chocolates and flowers. The January Grandma's bouquet usually includes roses in a variety of colours, but also tulips, gerberas or lilies. In 2020, almost two million flowers were sold across Biedronka stores to celebrate this day.
A GROWING SCENT
In Portugal, flower production is just taking the first steps. However, this market has greatly increased its investment, considerably improving the quantity and quality of production. Over 5,000 people work in floriculture in Portugal, a sector that registers a turnover of 600 million euros per year. About 70 to 75% of the national production of cut flowers is made in the municipality of Montijo, on the outskirts of the Lisbon Metropolitan Area.
This activity has expanded considerably since the 70's: currently there are about 20 farms occupying around 200 hectares of greenhouses and 25 for the growing of bulbs and ornamental plants in the open air. Gerbera, chrysanthemum, rose, carnation and gladiolus are the most produced species. Gerbera occupies around 50 hectares of greenhouses, making Montijo one of the largest producers of this species in the Iberian Peninsula. In some areas of Portugal, flowers are synonym to celebrations. These are a tribute to spring and the season's exuberant flowering. A symbol of metamorphosis, rebirth and fertility. A luxurious treat for the senses.
Madeira Flower Festival ("Festa da Flor", in Portuguese) attracts thousands of visitors each year with its stunning carpets of natural flowers and fills the city of Funchal's main arteries with magic. The event's main attraction is the Flower Parade, where flower-bedecked floats make their way through the streets accompanied by hundreds of people dressed in costumes lavishly adorned with flowers. Other flower-themed initiatives include the "Wall of Hope", where children place flowers symbolising hope for world peace. Madeira Flower Festival dates back to 1954, when the Festa da Rosa (meaning "Rose Festival) took place at the Ateneu Comercial do Funchal. At that party, flowers were exhibited and culminated with a prize for the best ones. The fair's success led to this reedition under the name it has today.