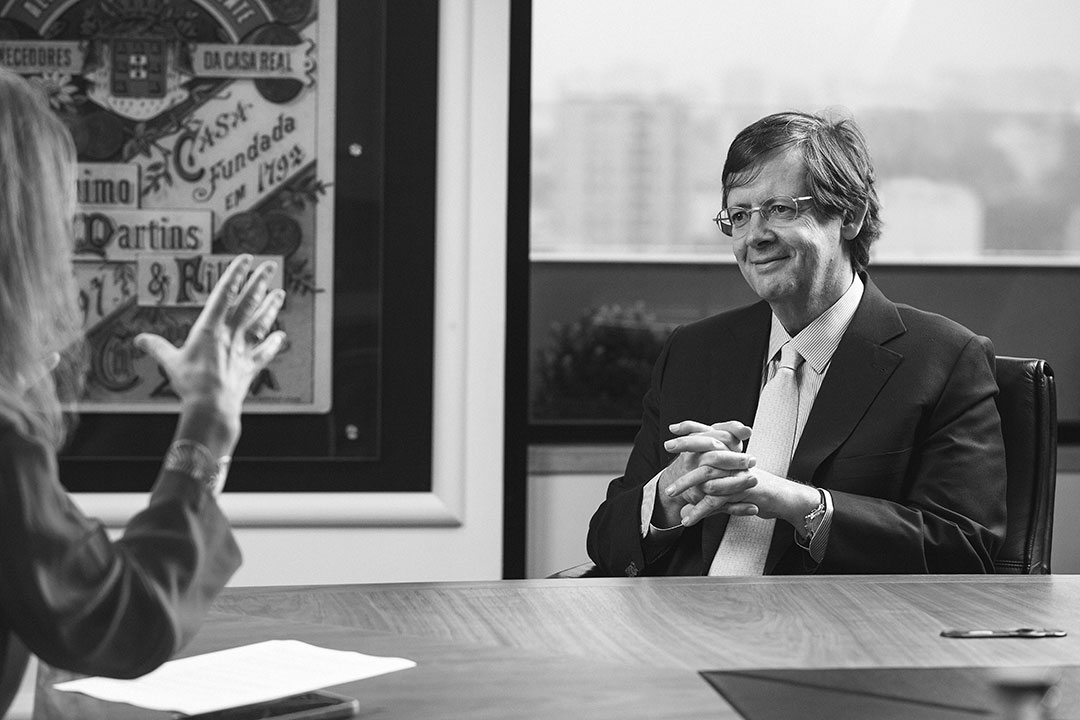 "Greed is the worst thing a leader can have."
Pedro Soares dos Santos takes on the importance of leadership anchored on solid values.
With more than ten years of executive leadership and almost 40 years of service in the Group in a wide variety of business areas and markets, Pedro Soares dos Santos gives his take on the importance of preserving family leadership based on firm values and geared towards sharing the value created. The Chairman and CEO of the Group talks openly about his red lines and the commitment of the family he represents to the future sustainability of the business and the companies they invest in. This interview, conducted by Sara Miranda, Chief Communications & Corporate Responsibility Officer of Jerónimo Martins, was recorded in November 2022.
IN 2022, WE WERE CELEBRATING THAT JERÓNIMO MARTINS HAS BEEN DOING BUSINESS IN PORTUGAL FOR AN UNBROKEN PERIOD OF 230 YEARS. FOR MORE THAN 100 YEARS, JERÓNIMO MARTINS HAS BEEN IN YOUR FAMILY, A FAMILY OF WHICH YOU REPRESENT THE FOURTH GENERATION. WHAT WOULD YOU SAY ARE THE ESSENTIAL VALUES THAT HAVE GUIDED YOUR FAMILY AS THE MAJORITY SHAREHOLDER?
What I've always seen is that this task is an honour and, as such, it has had to be respected. And it has had to be respected, thinking of others at all times, the future sustainability of the business, keeping everything above board and never yielding to corruption or the temptation to cut corners. I was born into a serious-minded family; despite being well-off, the family has made hard work its number one objective.
AND HOW HAVE THE FAMILY'S VALUES THAT YOU MENTION — A SENSE OF SERVICE, THE WORK ETHIC, PUTTING PEOPLE FIRST AND FOREMOST — HOW HAVE YOUR FAMILY'S CORE VALUES INFLUENCED THE CULTURE IN JERÓNIMO MARTINS?
They've had an influence, and an important one. This is the culture we try to bring into the Company. Because the strong have the duty to protect the weaker ones, and that's part of our life. I learned that what governs us out in the world is what has to govern us internally too. We can't be one person out there and another in here. We have to have the same principles, the same aims and, above all, the same focus.
"In this business, either you're a leader or you have no future."
BUT THAT MEANS YOU NEVER SWITCH OFF FROM WORK.
No, I never switch off. When you have responsibilities at my level, that would be impossible. Everything has to be very clearly thought through. I confess that eight hours a day isn't enough for that. There are times when you're away and you can think more clearly than when you're in the thick of things.
SO RATHER THAN A WORK-LIFE BALANCE, WHAT YOU'RE ADVOCATING IS ACTUALLY WEDDING THE TWO TOGETHER.
The two lives have to be combined, the family depends on the business, and the business depends on the family. If the two aren't wedded together, the family can think one thing and the Company another. And, sooner or later, everything comes off the rails. I think that's the secret of the family I come from, looking at the future sustainability of its business as its number one aim, ensuring it grows and that the people who work here are treated well. And that has often meant sacrifices on the family side.
NORMALLY IT'S WHEN WE GO THROUGH DIFFICULT TIMES, WHEN WE HAVE TO RISE TO THE OCCASION, THAT WE REALLY PUT THE STRENGTH OF OUR VALUES TO THE TEST. CAN YOU GIVE AN EXAMPLE OF WHEN YOU THINK THAT'S ESPECIALLY IMPORTANT?
I have two stories I'd like to talk about, ones I've lived through — I can't talk about those I didn't. I remember when we entered a very difficult phase in 1999, when my father said, "we've got ourselves into a hole; we're in a tricky situation. There's only one person to blame, and that's me, and I've got to go". And the family proved its solidarity by not letting him fall. Another strong evidence of this: after the Company recovered from the crisis, the family only paid itself dividends when the people working here earned bonuses.
That's proof of a balanced approach. The most important thing at that time was to realise that the family shareholders bore their share of the troubles — and I can tell you that some people in the family depend on their dividends for their income. Further proof is how people are chosen to lead the business on their merit. We shouldn't forget my great-grandfather, who chose his son-in-law. And he had seven children. Then it was my father who was chosen, and then it just happened to be me.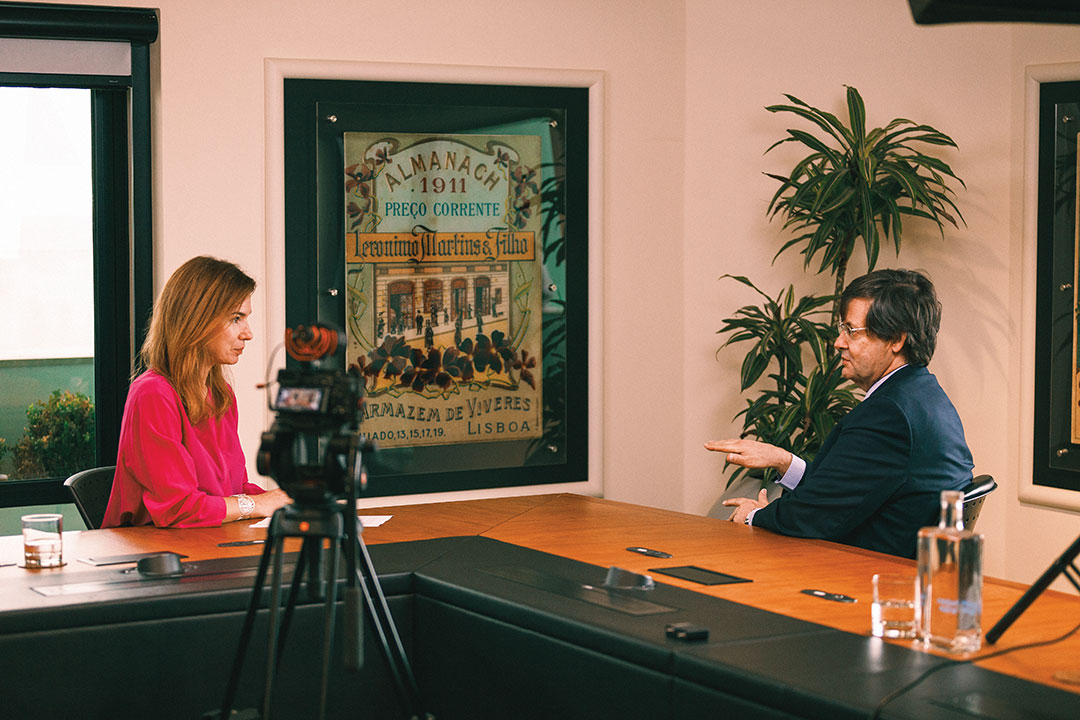 IT DIDN'T JUST HAPPEN (LAUGHTER)…
At home I always say, "I happened to get the job". But the selection process was…
…VERY CAREFUL; THERE ARE SEVERAL INTERVIEWS WITH YOUR FATHER ABOUT THAT.
Taking care in the choice brings stable leadership, which is extremely important for strengthening the family side and the business side.
WHAT DO YOU THINK YOUR FATHER VALUED IN YOU WHEN HE MADE THE CHOICE? WHAT DO YOU SUPPOSE MADE THE BIGGEST DIFFERENCE IN YOUR FATHER'S DECISION THAT YOU WERE BEST PLACED TO LEAD THE BUSINESS?
Perhaps the determination and courage I've always shown in the face of difficulties. And the value I attach to people. Because I always have a principle, I prefer the people who work with me to be better than me because that means the future is always assured. And if we feel that those around us are better, the Company is always better protected.
FOCUSING NOW ON THE INDIVIDUAL AND YOUR LEADERSHIP, WHAT WOULD YOU SAY IS THE VALUE YOU PLACE UPPERMOST?
The bottom line for me is impartiality in making decisions and the value I attach to the people working with me. If my family has something, it owes it to someone; if we have something, we owe it to someone. The Company has always come first, whatever happens, whatever sacrifices have to be made, the Company must always be protected.
VALUES ARE ALSO SOMETHING THAT HELP YOU TO KNOW WHERE YOU WANT TO GO, THAT SOMETIMES HELP YOU TO REACH DIFFICULT DECISIONS. WHERE DO YOU DRAW THE LINE ON THINGS THAT AREN'T NEGOTIABLE? THE LINES YOU WON'T CROSS?
There's one line I won't cross: greed. Greed is the worst thing a leader can have. Then there's corruption; we must uphold the law at all times. We can't invest in anything questionable, in areas we don't know for ourselves. We can't cut corners to achieve our goals. Shortcuts are full of pitfalls, and it's our duty to preserve the Company. So, never tolerate corruption, never tolerate cutting corners and never tolerate greed. These are the things I will never countenance. I know that if we had different principles, other ways of looking at things, we might have moved faster. But I don't believe in being in a rush; I believe in sound foundations for the future.
"I am very proud with our major shift towards placing sustainability at the core of what we do."
IN A WORLD TODAY INCREASINGLY RACKED BY UNCERTAINTY, SUFFERING, A RETURN TO WAR IN EUROPE, SOCIAL INEQUALITIES THAT GROW EVER WIDER, MORE AND MORE VOICES HAVE BEEN RAISED AGAINST CAPITALISM. IN YOUR VIEW, WHAT ARE THE VIRTUES, AND WHAT ARE THE FLAWS AND DEFECTS IN CAPITALISM?
We have to look at this from a somewhat different angle. Capitalism has one defect, which came to light when the world of finance was allowed to take over the economy, and the economy gained a stranglehold on governments. There was an absence of leadership, no one to think things through and set a course. Of course, many investment funds were set up with just one aim, profit, with absolutely no other concern. This distorts things about business owners, entrepreneurs, and people who have a sense of purpose in life. These two paths have yet to find a balance. If you look for where the problems are, they're always in the financial world, in high finance, in the ways it's managed, the lack of scruples, the lack of principles. In the old days, we had bankers; today, we don't know who owns the banks. There was a face, we knew who they were, but today we don't.
The world of finance has been dehumanised, and the world of business too. The stock exchange brought transparency, but it also brought short-term greed. And that's where you see the value of good business owners, and where families with a shareholder mindset secure their businesses. Why? Because they won't sell their shares. Look at the present crisis in this completely irrational world. The good companies realised that this didn't start with the war; it goes back to the problem of covid and the disruption it brought to the world. The war has made it worse and accelerated the whole process. And we can see which companies are putting up their prices and which family companies prefer to take the strain.
There's a big difference. Let's not forget that grain is in the hands of four companies in the world — just four — which decide the price of grain. That's how the world has organised itself, and it's a big problem. A new balance needs to be struck. But extremism isn't the answer either.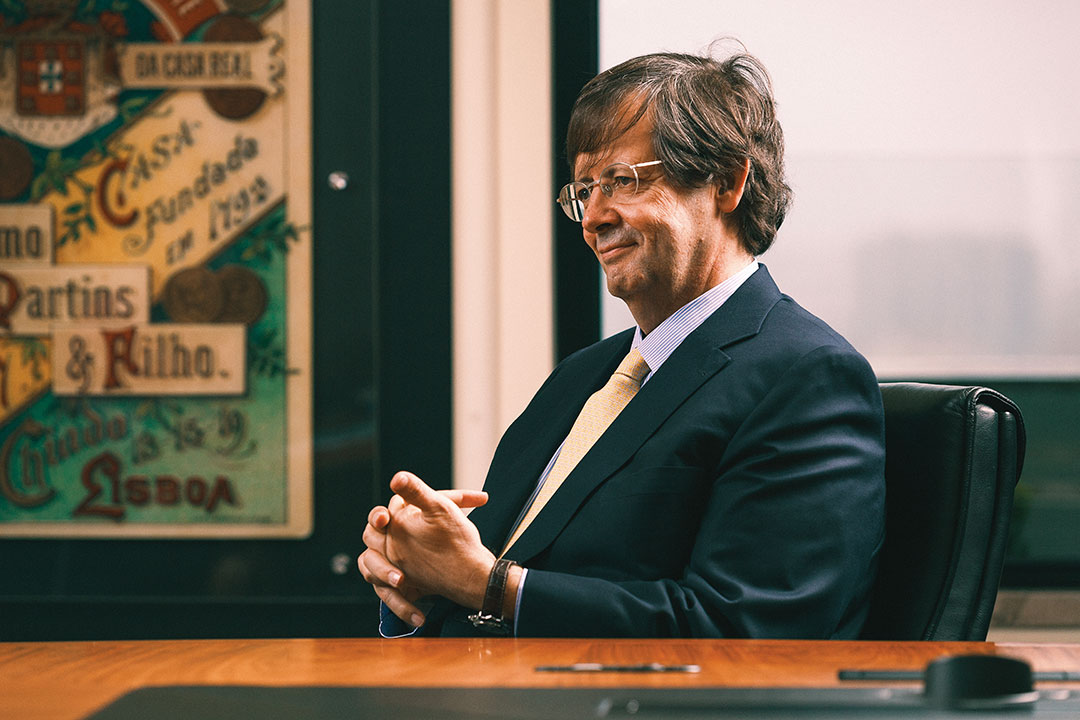 BUT THE WORLD IS LOOKING TO EXTREMISM.
The world is looking to extremists because, unfortunately, politicians don't tell the truth. For example, everything that's happening with prices was something we knew about at the start of the year. In August last year, the first signs were already there. Why didn't they tell the truth? They were all very happy when central banks didn't raise interest rates; now they're critical when they do. Why?
PERHAPS BECAUSE THE TIMING IS UNPOPULAR.
It is hypocrisy, not timing. In my view, what's happening in the world, and this is what worries me most, is that democracy is starting to break down. And if democracy gives way, I don't know what kind of world we'll have. I wouldn't like to return to the early 20th century.
TO TOTALITARIAN REGIMES OF DIFFERENT KINDS…
Precisely.
YOU'VE BEEN THE GROUP'S CEO FOR OVER A DECADE AND GROUP CHAIRMAN FOR ALMOST TEN YEARS. IT'S BEEN A DECADE OF ABSOLUTELY PHENOMENAL GROWTH, SALES HAVE MORE THAN TRIPLED, THE GROUP HAS BECOME ONE OF THE TOP 50 LEADING RETAILERS, THE WORKFORCE HAS BROKEN THROUGH THE 100,000 MARK… WHAT'S BEEN THE SECRET BEHIND THIS ABILITY TO CREATE VALUE SO CONTINUOUSLY AND CONSISTENTLY?
If you create value for the consumer, if what you're doing makes sense to consumers, then you have a business. If the people who are next in importance to consumers, the people who work in the Company, are valued, then those who rank in third place – the shareholders – will benefit. Because if you have consumers and people who are motivated to work, the shareholders will get their returns. And consumers too. And that's the great priority for the years ahead. The goal is no longer simply that of shareholder returns; today, we have to offer a return for society, in different areas. In the area of environmental sustainability, support for communities…
We must fight to improve these communities because otherwise, there won't be any consumers for the future. And consumers have to feel a connection to the Company, also at an emotional level. And people working in it have to feel it makes sense, that they're working for consumers but also for society.
"Autonomy and the spirit of local people must be reflected in the Company."
JERÓNIMO MARTINS HAS A LONG LIST OF SOCIAL AND ENVIRONMENTAL IMPACT PROJECTS. WOULD YOU LIKE TO HIGHLIGHT SOME OF THOSE YOU'RE ESPECIALLY PROUD OF?
I'm extremely proud of the internal changes we've made regarding sustainability. Combating deforestation, raw materials that fail to meet legal standards. That's something I'm really proud of. The Include project is fundamental because it is crucial for a company to learn to live with different people because they will also teach us to be different and look at the world through different eyes. The Serra do Açor Project, launched after some devastating fires, shows reforestation can be done and how to make it happen and, from a different perspective, how value can be extracted from forests to support communities. Then there's the Biedronka Foundation, which reflects how we should deal with an ageing society.
If we have a good business, how can we give more back to these people? There are many other projects, like the social emergency fund, to help people with significant difficulties. And it's worth the struggle for all these reasons, and it makes sense to make a profit. Not to accumulate it, but to share it. Shareholders must realise they can't keep 100% of the dividends. They are there to be distributed throughout society, to the people who created them and to the shareholder who believed in them, on the basis of shared value.
THE STRATEGY OF INTERNATIONAL EXPANSION HAS ALWAYS SHOWN GREAT RESPECT FOR THE LOCAL WAY OF LIFE, FOR LOCAL AUTONOMY, WE NEVER BRING IN BRANDS FROM ABROAD. WE'VE ALWAYS CREATED LOCAL BRANDS, PAYING CAREFUL ATTENTION TO HOW EACH COUNTRY WORKS. ALL THE SAME, WE BELIEVE THERE ARE VALUES WE ALL SHARE. WHEN YOU THINK OF TWO COMPANIES IN COUNTRIES AS DIFFERENT AS BIEDRONKA IN POLAND AND ARA IN COLOMBIA, WHAT DO YOU THINK THEY HAVE IN COMMON, AND WHAT MAKES THEM DIFFERENT?
What they have most in common is respect for local people; they're companies created with their own personalities. It's not copy-paste. I believe that in Poland, I'm Polish; in Colombia, I'm Colombian; and in Portugal, I'm Portuguese. Each country has its own culture, its own special features, its aims for the future and its way of looking at the world. These are the principles that the Company has to subscribe to, and that's the main strength of our brands. In this business, either you're a leader or you have no future; either you grow or you have no future. Allowing people to be autonomous so that the country can identify with these brands, what they contribute to their industry, to their society — that's the strength of the Jerónimo Martins brands, what we should take from one place to another. Autonomy and the spirit of local people must be reflected in the Company. That's the strength of these brands, that they think locally, that they are integrated locally.
JERÓNIMO MARTINS STARTED UP IN THE 18TH CENTURY, IT CONTINUED THROUGH THE 19TH AND 20TH CENTURIES, BUT THE 21ST CENTURY HASN'T GOT OFF TO A VERY GOOD START. TWO DECADES OF MAJOR UNCERTAINTY, PROBLEMS OF EXTREMIST POLITICS, THE RETURN OF WAR IN EUROPE. WHEN YOU THINK AND LOOK AHEAD IN THE LONG TERM, WHAT ARE THE TOOLS THAT CAN CARRY THE GROUP SAFELY INTO THE TWENTY-SECOND CENTURY?
Into the twenty-second century I can't say because I won't be here, but the main thing is to stay true to the values that have brought the Group this far, through periods of war, never losing sight of its aims and being skilful at reading political situations. Another thing is to have a solid balance sheet in order to weather the storms. Because they will come. And the life of a company goes through good times and bad. We have an important obligation during good times to prepare for the bad and not to waste these opportunities. Of course, there are things you can't foresee, like a nuclear bomb. And then, society changes as a whole and nothing can be done. But to the extent we're able to ready ourselves, it's criminal not to read the writing on the wall and prepare for the Company's continued success in good time. Many people depend on it: those who work here, the shareholder family, consumers and our partners and suppliers who grow with us.