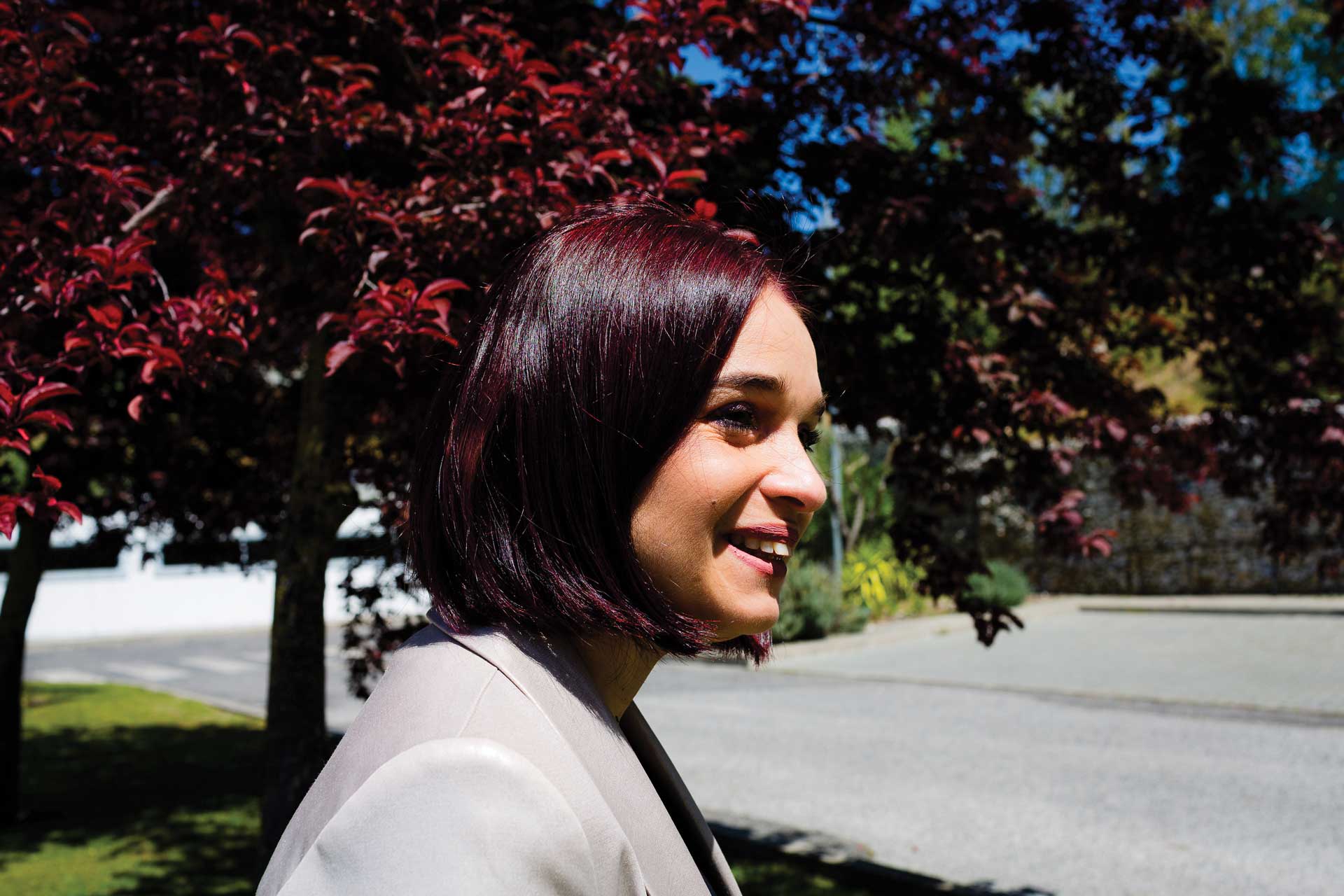 Shine a Light
Being visually-impaired taught Sara Tadeu to see the light in another way. Now, as a psychologist for the Group's Logistics team in Portugal, she teaches others how to see life through her light.
What the eyes don't see is revealed to Sara by touch, smell, sound and flavour – the four senses, which combined, present her a unique view of the world. A perception that is her own, just as another person's perception is theirs alone. It is these senses that anticipate and acknowledge the arrival of her favourite season: "You can feel it's Spring, because it smells like stock flowers (matthiola incana) and green". Sara (re)cognises the colour green and the immense shades – ranging from lavender-blue to purple – of these rustic flowers that are accustomed to mild climates because, until she was 23, she could make out colours and shapes.
She was born with visual impairment due to a congenital glaucoma as a result of her mother getting German measles while pregnant. She underwent multiple surgeries to control intraocular pressure and also had a corneal transplant when she was fifteen. However, while attending University and tired of undergoing so many unsuccessful treatments, she decided to accept that her progressive loss of sight was irreversible: "I had already gotten used to living with it, so I stopped going to the doctor."
She completed her degree in Psychology from the University of Coimbra in 2007 and immediately set off for Lisbon to take a course to become a Physiotherapy Assistant. Along the way, she taught cooking classes and social integration skills to visually impaired youth. At the time, she was offered a job as a switchboard operator at a Jerónimo Martins hypermarket.
"For me, light is joy, positivism, resilience, change. Enlightenment makes us want to change, does it not?"

SARA TADEU
However, and with no solid plan in place, Sara had other ambitions and the Group was an appealing stepping stone. She decided to hand in her résumé in person at the Group's head office and, some months later, she was called to fill in a vacancy at the nursery at the Azambuja Logistics Center: "I worked with children between the ages of 3 and 4. I taught them what one usually does at that age – family and the senses, I fed them, changed their nappies…" And, before she knew it, her career as a psychologist began. "I realised there were many parents with problems and some sought me out because they had heard from the teachers that I was a Psychologist.
So, I thought to myself: "This is a business community and there's a doctor's office, so why not help these people?" She submitted her idea, which was aimed mostly at "reducing psychiatric medical leave and absenteeism" in a context of economic crisis, which was increasing the incidence of depression. The proposal was well-received within the Group and Sara Tadeu began consultations, not only in Azambuja, but in Vila Nova da Rainha as well. At the end of the first year, she already had 20 patients. In 2011, she expanded her 'practice' to Jerónimo Martins' Logistics Centre in Modivas, which is close to Porto, where she was born and where her relatives live.
Today, she treats over 100 employees from five units, the most recent being the recently inaugurated facilities in Alfena, in the municipality of Valongo, in the north of Portugal.When assessing her patients, Sara prefers interaction rather than tests, and says she can see through people, despite not actually seeing them: "I can assess them based on their voice, their posture – how they're sitting, for example." Whenever she needs to refer to articles on Psychology, record information on appointments and prepare notes to share with doctors, she uses her computer's synthetic speech system, which immediately starts firing off instructions as soon as she turns it on. Four kilometres separate Azambuja and her place of work, and there is no public transportation serving the route. So, Sara usually gets a ride from a friend.
When she has to travel up country, she goes by train with her daughter, Luana, who is two and a half. Being a mother was not as complicated a challenge as you'd expect: "I became an aunt at 16 and lived in a town called Vila Flor – in Trás-os-Montes, in the northeast of Portugal, where everyone looked after the children in the family. Then, my other nephews came along and I always helped my sisters. And later, I came to the nursery when I was 29 and gained a lot of experience." My husband, Hadiley, who is partially sighted, plays goalball for Sporting and has already been considered the best European player of the sport, which was created specifically for the visually impaired.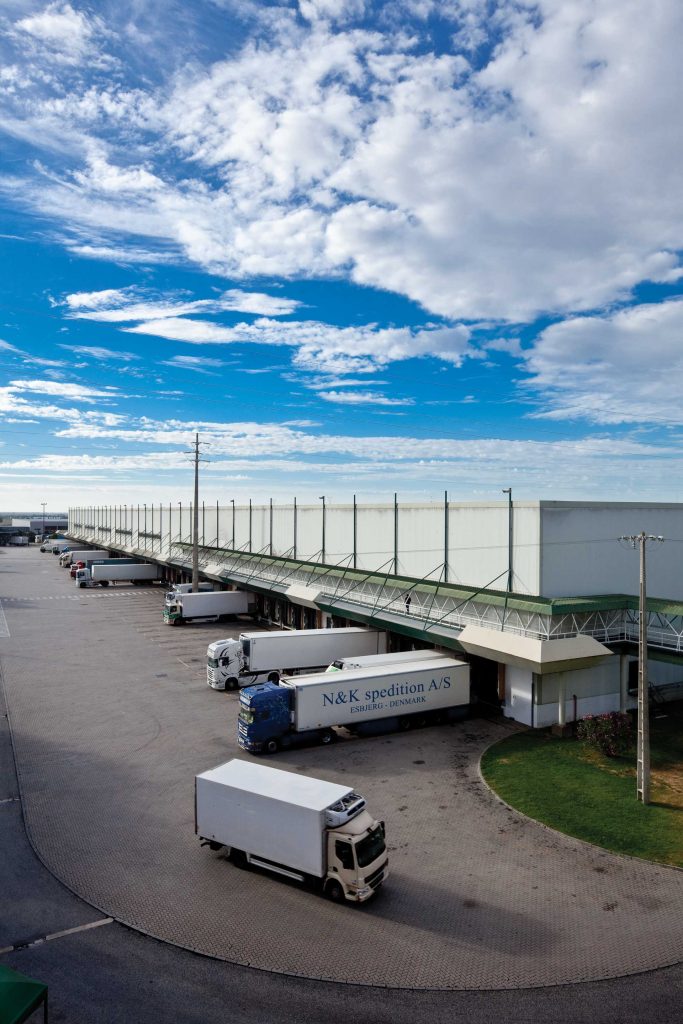 A SPARKLING LIFE
An example of resilience and courage in the face of adversity, Sara Tadeu is overflowing with an admirable and contagious zest for life. "What I love most is family and beauty", she confides. The Jerónimo Martins Psychologist loves fashion and make-up: "Today, for instance, I have six shades of eyeshadow." The combination goes well with the colour of her hazel-brown hair. In fact, getting the colour scheme right is a must when choosing an outfit and, when in doubt, Colorino, a portable talking colour device that helps identify 150 different colours (in addition to indicating the presence of light), gives her the proverbial thumbs up. When it's time to choose what to wear, the labels in braille are also of great help. After fashion, Sara's next great passion is music: After fashion, Sara's next great passion is music: She likes to sing and has performed in public on several occasions.
Cooking is another passion and her pantry is filled with spices and condiments for the African and Middle Eastern dishes she prepares for her friends: "I make Indian curry, chicken in peanut sauce…" She has the same voracious appetite for reading: "I read a lot, especially historical novels, crime novels and adventure stories." It's natural to try to identify with the stories (and characters) in books. If the books Sara reads were a reflection of her own life story, they would most certainly be narratives filled with light. A light that emanates. A light that helps others to see. But only because she is able to see: "For me, light is joy, positivism, resilience, change. Enlightenment makes us want to change, does it not?"