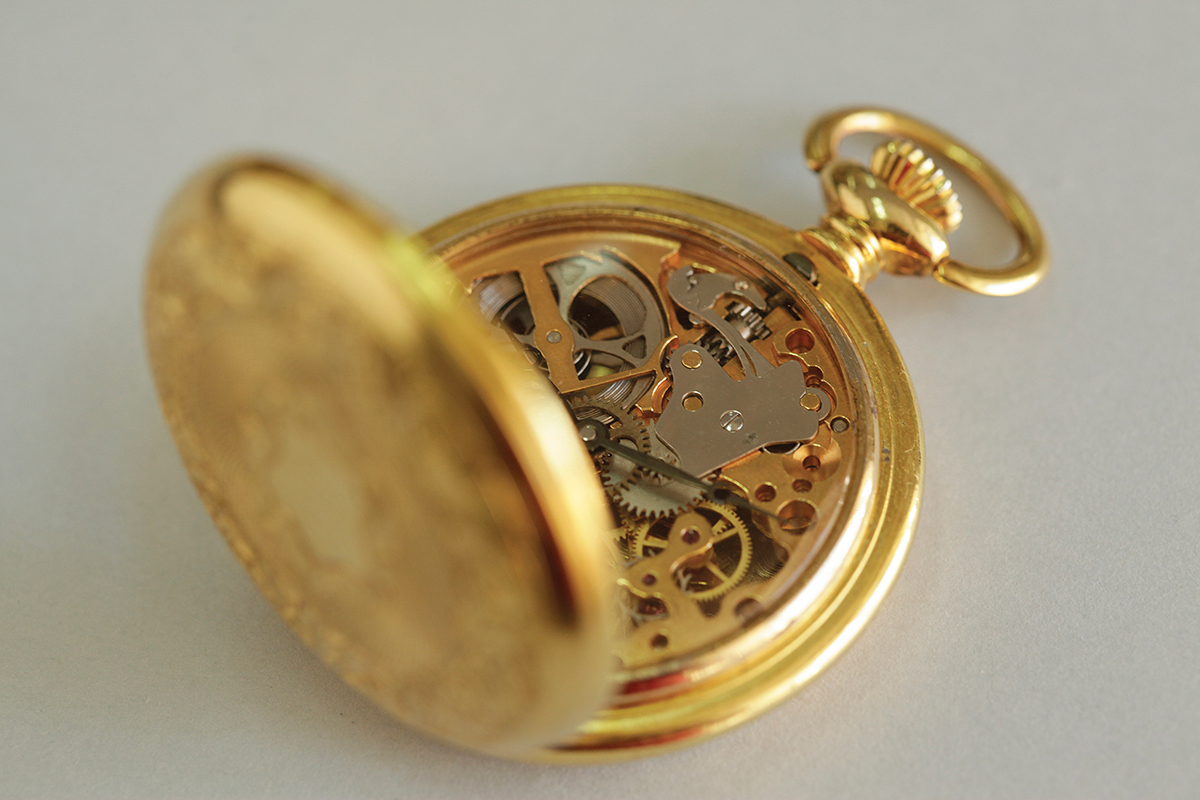 Watchmaking @ Casa Pia
The Watchmaking course at Casa Pia, that first began 120 years ago, has an astounding 100% employability rate and teaches it students a timeless art.
WATCHMAKING COURSE
When you look at a mechanical watch it's hard to imagine that, inside it, there is a highly complex and organised world. A world made up of minuscule pieces, some of them so tiny they are hard to see with the naked eye. A world where the technical terms – bezel, balance, hairspring, pallet, plate – are utterly incomprehensible to most of us. A world where mechanics merge with physics, sculpture and design. It has been said that mechanical and old watchmaking have a similar relationship to general watchmaking as opera does to music.
While this comparison does not explain everything, it certainly helps to shed some light on the matter. Unique not only in Portugal but in the Iberian Peninsula, the Casa Pia's professional watchmaking course first began over 120 years ago, in 1894. At that time it was held in a mansion house rented by the school in Lapa, Lisbon. "There being no watch manufacturing in the country and with an initial undertaking promoted by the Marquis of Pombal having been shortlived, it was the Casa Pia, in 1894, that took on the task of teaching this very interesting skill," says a document from the time.
Today, the course is known for the rigour and discipline demanded from its students – reflected in the considerable competence and highly-refined skills they have acquired by the time they leave the school – and for the comprehensive range of taught subjects. These include Portuguese, mathematics, physics and chemistry, in addition to other more specific subjects such as watchmaking technology, practical workshops in watchmaking and technical drawing for watchmaking. Another distinguishing factor of the course, which helps to explain why young people with no previous connection whatsoever to watchmaking choose to take it, is its 100% employability rate.
A THREE-YEAR-LONG COURSE
With both his brother and his mother already being connected to the world of watchmaking, 16-year-old Pedro Madruga has always believed that this is where his future will lie. Not because he felt any obligation to follow in an established family tradition but simply because he grew up surrounded by stories around watches and mechanisms, which to a certain extent fired his passion for the craft.
"I was influenced by my family," admits Pedro, one of the 10 students currently in the second year of the Casa Pia's watchmaking course. A year away from completing his training, Pedro says, "I really want to keep doing this". What he enjoys the most, he says, is "poking about in watches" and trying to understand their mechanisms.
On the contrary, 19-year-old Marta Oliveira never imagined herself working with watches, either in terms of study or as a profession. In fact, it took her several months to start enjoying the course.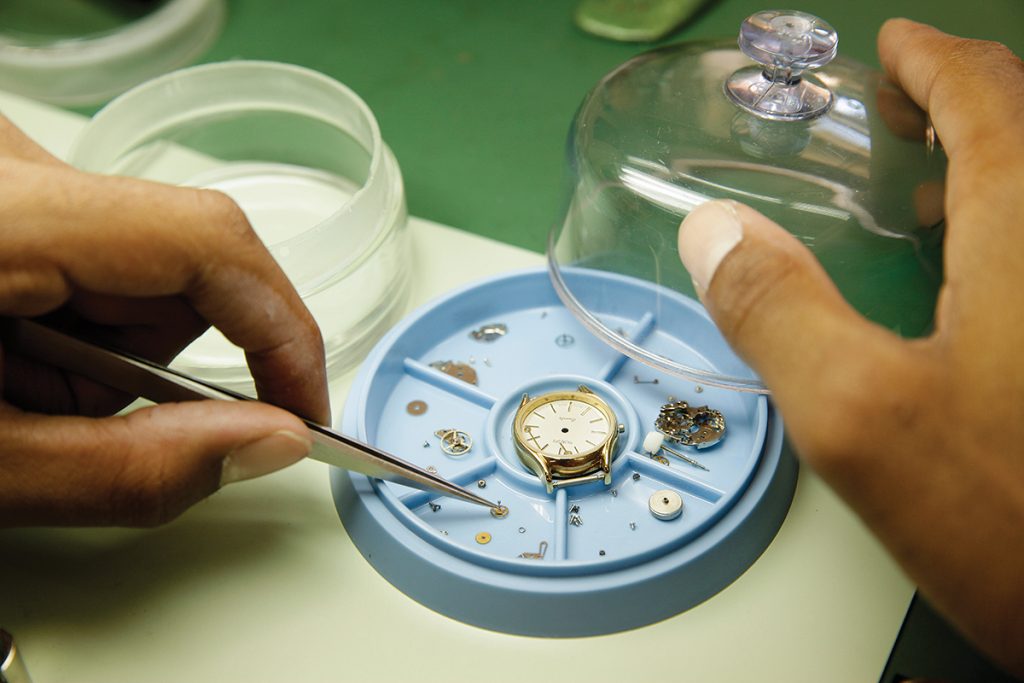 However, by the end of her first year, during which students develop their psychomotor and fine motor skills – by making and handling the tools they will use during the remainder of the course – all her doubts had vanished: she loved what she was doing and, whatever it took, she would make her way in the world of watchmaking. Marta Oliveira is now in the final year of the course.
Despite the fact that this third and final year began only recently, she has already made firm plans. She intends to stay in Portugal and work in the business for at least two years. Then, having gained experience, she will head for Switzerland where she hopes to follow the footsteps of many former students and work for one of the country's many luxury watch manufacturers.
While she talks, Marta never takes her eyes off the tiny piece she is working on. It is the hairspring of a watch that belonged to her uncle, and previously to her great-grandfather, and which she brought with her to class today. Her aim in handling the tiny spring with such precision and care is to straighten it, or flatten it, to use the technical term. This is considered to be one of the most rigorous of the tasks involved in repairing mechanical watches.
In fact, one of the biggest challenges students in the Casa Pia's watchmaking course have to face is the ability to maintain their focus for long periods of time. That and being very, very patient. "You have to really like this. Some people cannot manage to stand still and stare at the innards of a watch for two hours, trying to work out where the problems are," says Pedro Madruga. Marta Oliveira agrees: "It's a very demanding course. You have to have a lot of patience."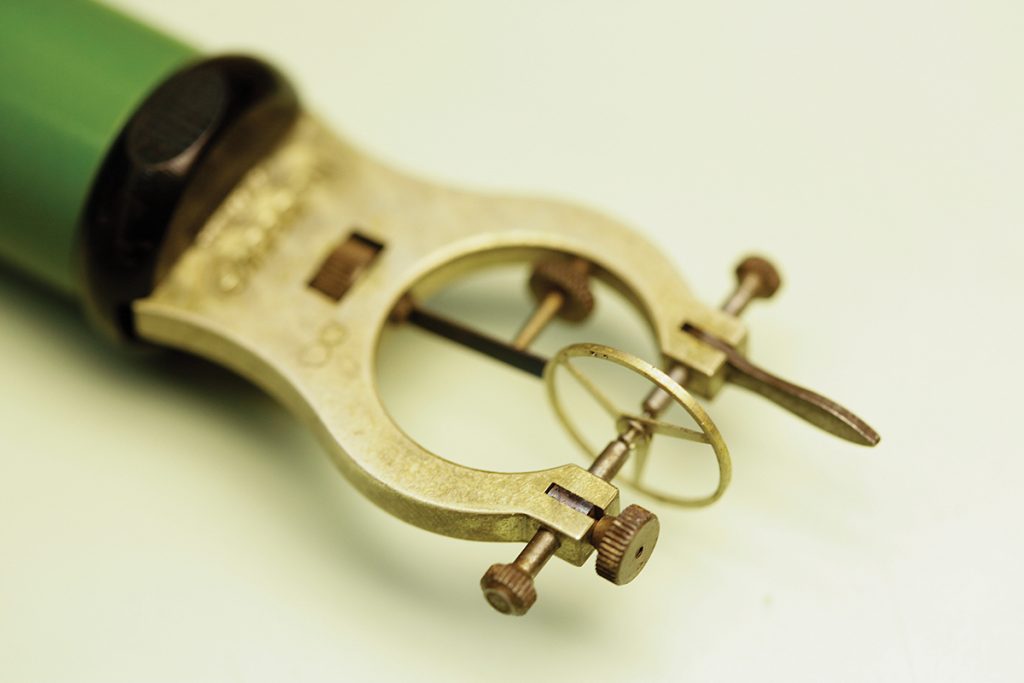 AN ETERNAL ART
Former Casa Pia student Alexandre Ribeiro, who started at this school when he was four, says that what he valued the most in the watchmaking course was its highly demanding and disciplined nature. "There were rules and you had to obey them. There was a great spirit of learning, with lots of masters all looking out for us," says Alexandre, explaining that it was precisely this "strong sense of responsibility" that led him to becoming manager of a watch shop at the age of eighteen. "You are really well-qualified when you finish the course."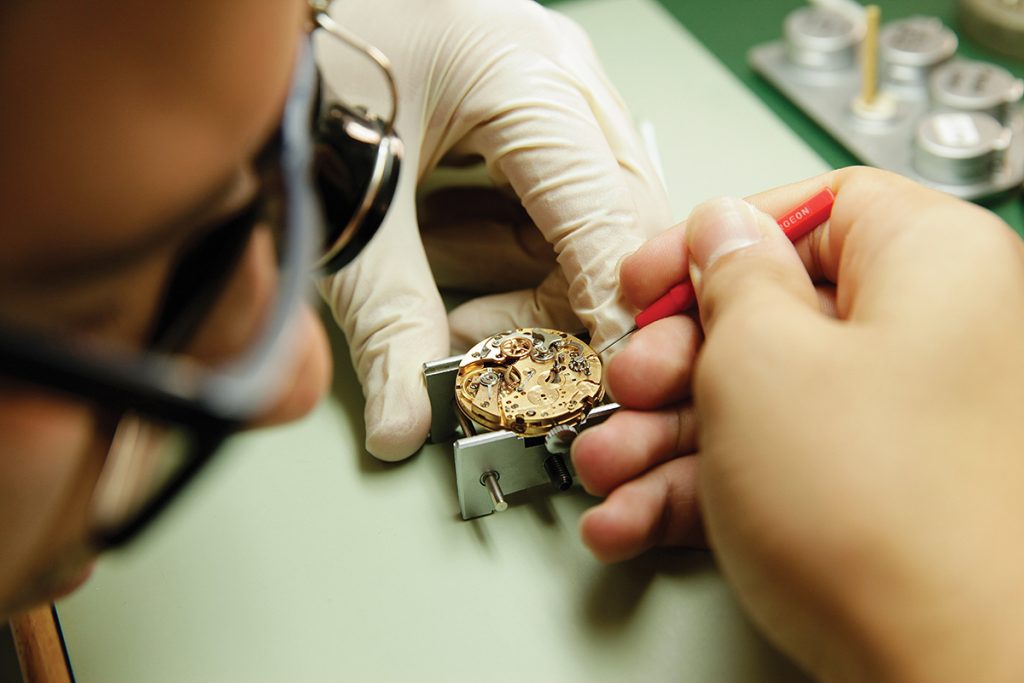 Currently, Alexandre manages the Torres Joalheiros shop in the Avenida da Liberdade, a family-run enterprise which has been in business for more than a century. The shop, one of six that the company runs in Lisbon and Cascais, features the most extensive range of fine timepieces and jewellery in the Portuguese capital, with customised sections dedicated to leading brands such as Rolex, Chopard and Jaeger-LeCoultre.
Asked about the main challenges ahead of the mechanical watch business in these days of increasing demand for so-called smart watches, Alexandre says that it is important for watchmaking to remain true to itself: a long-standing and well-established art that requires knowledge in various fields and which produces some of the finest artistic objects that, unlike electronic watches, can be truly "eternal".
It was "love at first sight," says Igor Pereira, he too a former Casa Pia student, describing his feelings when he started the course. "The school, its resources, the planning, the first contact with watches… For me, it ticked all the boxes." He has many memories of the time he spent at the school. He remembers "the master watchmakers who shared their expertise and the classmates I used to laugh with."
Currently working in Switzerland for one of the world's mosthighly acclaimed brands, Igor says that because the course "is so demanding and includes both practical classes and theory, every one of its students is well-placed to enter the world of professional watchmaking. So much so that the course is on a par with any similar type of training offered in Switzerland."
"You are really well-qualified when you finish the course"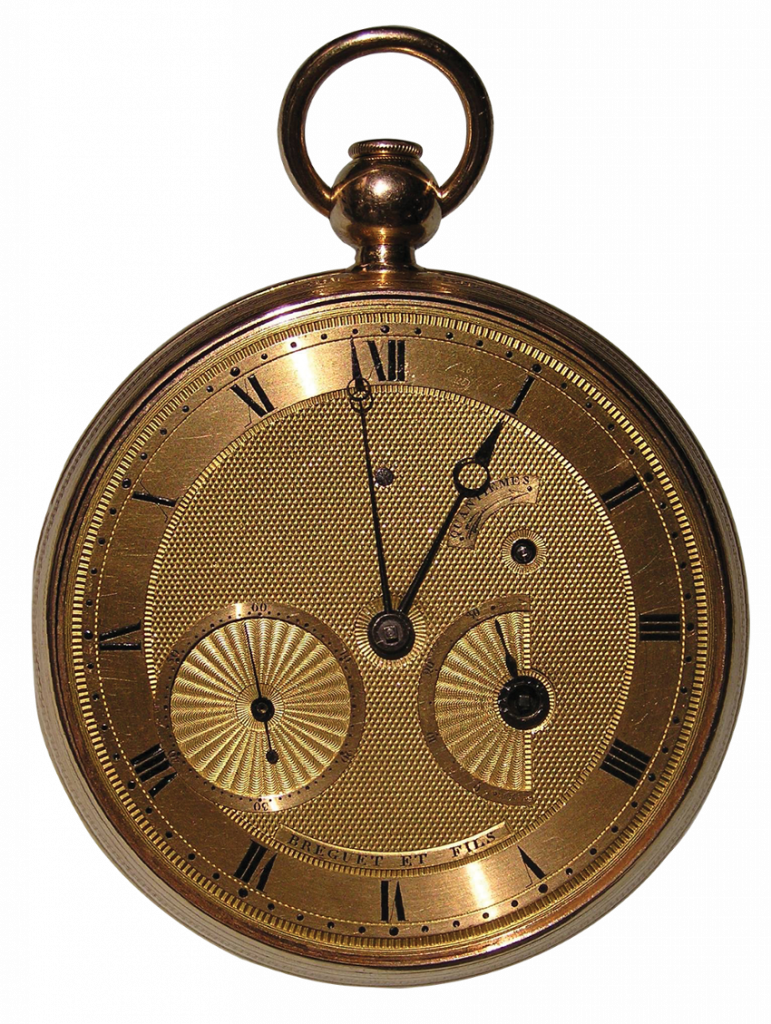 MEDEIROS E ALMEIDA COLLECTION
POCKET WATCH
On display in the house where he lived and which he turned into a house-museum in 1972, the collection belonging to António de Medeiros e Almeida (1895-1986) brings together Portuguese and international works of art in the fields of furnishing, painting, sculpture, textiles, goldsmithery, ceramics and sacred art, dating from between the second century BC and the 20th century. A particular highlight of the collection is the pocket watch designed by the prestigious watchmaker Breguet. It was commissioned by General Junot, who led the first French invasion of Portugal. When the General committed suicide in 1813, the watch was returned to the House of Breguet and was later offered to General Arthur Wellesley, first Duke of Wellington.