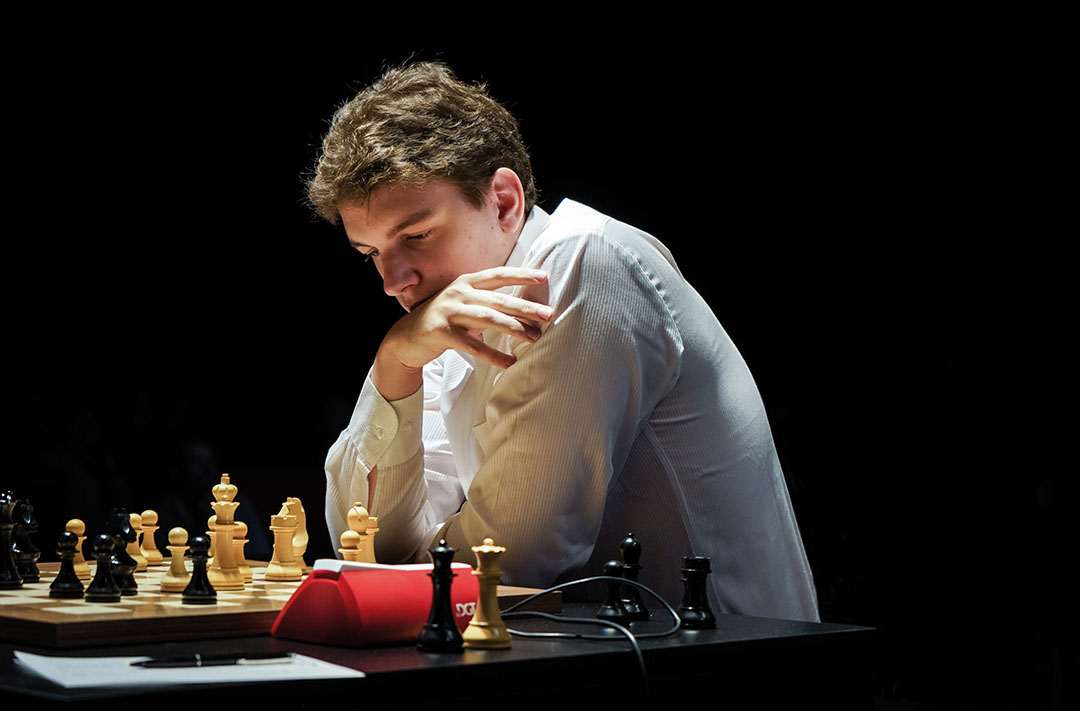 THE OUTLYING FIGURE
The pandemic may have paralysed sports all over the world, but in Poland there is a game that has triggered a wave of support for 22-year-old chess prodigy Jan-Krzysztof Duda. Blitz doesn't always mean a military attack, nor a way of mincing ingredients to make a delicious burger patty. In chess terms, blitz is a very rapid game of chess, in which both players have very limited time to think and move their pieces. Becoming a master of this art is definitely something only a few can achieve.
In May 2020, the Polish player Jan-Krzysztof Duda beat the undisputed world chess champion for the past decade – Norwegian Magnus Carlsen – in a blitz game, during a tournament taking place online due to the pandemic. It is a great achievement, but it's far from just being a stroke of luck. Back in 2018, Duda finished just half a point behind Carlsen in the World Blitz Chess Championship. In October, the Pole and the Norwegian finally got the chance to go head-to-head in a physical battle that would serve as a rematch to clear things up. Duda won again, disrupting Carlsen's spectacular winning series – 125 wins or draws in a row, which was the longest undefeated streak in chess history.
For Carlsen, this was the first time he had lost a classic chess game in two years. The Norwegian is himself a prodigy, having reached the top of the world ranking when he was just 19 years old. Duda made one mistake though: the day the 22-year-old chose for his historic victory over the world's greatest chess player was also the day on which 19-year-old Iga Świątek won the 2020 Roland-Garros tournament and became the first Polish woman to win a Grand Slam singles title. But Duda does not seem to begrudge her stealing the limelight in Polish media.
FROM THE SHADOW TO THE SPOTLIGHT
Duda's first appearance in the international FIDE ranking – the chess equivalent of the ATP in tennis – occurred when he was 8, a short time after he had won a Polish under 8 championship. He then went on to become Poland's under 12 and then under 18 champion. By the time he became an adult player, he had already won dozens of national tournaments. However, he never missed an opportunity to play in international competitions, especially in Poland and neighbouring countries. In one such tournament in 2013, when Duda was just 15, he earned the official title of grandmaster.
FIDE grants this title to players who, within a set period, excel in three international events where they play against other grandmasters. Each exceptional chess player is then given a rating according to their performance. Duda's career developed pretty much under the shadow of the Norwegian master, who leads the ratings with one of the highest scores ever achieved: 2,862 points. Twice, his score reached the unprecedented heights of 2,882 points – an all-time record.
But Duda reached his own rating of 2,000 at the age of 10 and received a present for his 15th birthday when his rating exceeded 2,500. Going beyond that rating is hard, but Duda kept climbing up in the ranking until he reached a rating never before achieved by any other Polish player: 2,743 points. He became one of the world's top 20 chess players – first, in 2018, for just a short while, and then again, in 2019, this time to stay.
Jan-Krzysztof Duda achieved the title of Grandmaster in 2013 at the age of 15 and is the player who ended the record series of 125 wins by the world number one.
When it comes to the world's top chess players, Jan-Krzysztof Duda is the youngest. There are a few thirty somethings, but older players are few and far between. Despite obvious differences, chess and tennis have something in common: in both games, matches last for hours. Playing chess requires a sharp mind, but players also need to be physically fit. Carlsen often emphasises just how much time he spends on the football pitch. In the hotels where he stays during tournaments, a gym is a must. Duda is a student at the Academy of Physical Education in Kraków and also trains there. Traditional chess is dominated by a number of nations.
The race between the USA and Russia, which started during the Cold War, was joined by India at the beginning of this century. The credit goes to Viswanathan Anand, who won the world championship five times and is a great inspiration for his younger compatriots. China's position has also grown stronger in the past decade – China's most treasured player Ding Liren is the first Chinese player to reach a rating of 2,800 points. When a player from a country outside of this group emerges, everyone's attention is on that player. It applied to Carlsen, and now it applies to Duda too.
In Poland, Duda's success has drawn attention to chess itself. It was predicted that the closure of international borders and the risks linked to the pandemic would paralyse chess. But, as a matter of fact, just the opposite happened. The game was easily moved to the Internet and, while for most sports having to stay at home meant that athletes were no longer able to train and compete, chess players were competing in one tournament after another. And eager supporters showed renewed interest in the somewhat forgotten game, now being massively followed online. At the end of the day, it was a master move by Duda.