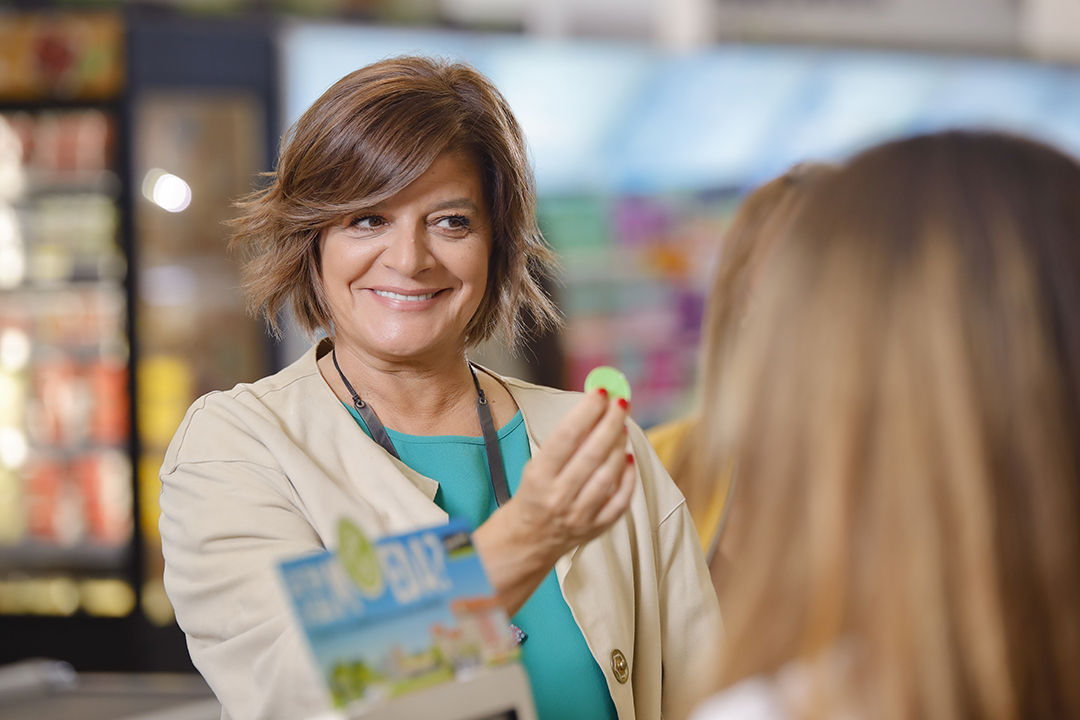 Bairro Feliz
Launched by Pingo Doce, the Bairro Feliz project is aimed at contributing towards happier communities by supporting the locals' causes. Filipa Pimentel, Sustainable Development and Local Impact Director of Pingo Doce, shares some happy stories that resulted from the project.
CREATING HAPPIER NEIGHBOURHOODS
What makes a happy neighbourhood? Having good neighbours for a start. But having a Pingo Doce store nearby helps too. The Bairro Feliz (Happy Neighbourhood) programme was launched in 2019 to support the causes chosen by the people living in the neighbourhood where the stores are located. Part of the Pingo Doce responsibility policy, the programme is aimed at bringing neighbours closer together and strengthening the bonds between them, listening to their ideas and aspirations for community life.
The projects that get the most votes receive funding of up to 1,000 euros. Local bodies and neighbourhood groups alike can participate in the programme, indicating a cause they feel deserves support in areas such as healthcare, well-being and sports, social support and citizenship, culture and heritage, tourism and leisure, education and the environment, as well as animal-related causes. A panel selects two proposals per neighbourhood, which are then put to a vote in Pingo Doce stores.
For every 10 euros in purchases, customers receive a Bairro Feliz token to choose the cause they want to support. It started out as an experimental programme, implemented only in the north of Portugal. However, it was so well received by the people living near the Pingo Doce stores that the programme was extended to the whole country in 2021, after the amount earmarked for the Bairro Feliz programme in 2020 was channelled to other projects which, due to the pandemic, required immediate aid.
It started out as an experimental programme, implemented only in the north of Portugal.
There are countless examples of causes supported. The Ovar Volunteer Fire Department (in Aveiro District) received a vital signs monitor for their new ambulance. "We were going to buy a monitor, but then we heard about the Bairro Feliz programme," explained João Mesquita, the station chief, adding that "it's nice to know that the community looks out for its firefighters".
In Espinho (also in Aveiro District), the young people who go to the Ponte de Anta Community Centre (CerciEspinho) now have musical instruments for their classes: "I like to sing and discovered that I can write my own songs. Whenever I learn something, it makes me happier," said Pedro Domingues.
In Penafiel (on the outskirts of Porto), fitness gear was donated to Associação para o Desenvolvimento da Portela (Portela Development Association) for their 25 senior citizens: "We had the facilities, but we lacked the materials. A patient of ours told us about the programme and we decided to register," said Sandra Pereira, director of the association. "What really makes me happy is to walk into the room and see them using the gear on their own. "The equipment enables both group and individual rehabilitation," added Diana Barbosa, creative director at the institution.
INTERVIEW WITH FILIPA PIMENTEL
SUSTAINABLE DEVELOPMENT AND LOCAL IMPACT DIRECTOR OF PINGO DOCE
This project arose from a collective will to make a difference. How did it start?
At Pingo Doce, we believe that neighbourhoods are an extension of our homes, even in large towns and cities. They represent our neighbours, a kind of extended family that we're part of. And at each Pingo Doce, this close customer relationship can be felt: with our neighbours and the people who live in the area. We have a history of over 40 years. All around us, over these four decades, we have seen how the neighbourhoods have developed, the generational changes, the birth of several local institutions and the development of a way of life that stems from community and proximity.
We have been bearing witness to "what's going on there" for 40 years. We have worked with over 300 local institutions for many years, institutions that play a vital role in the community, supporting families and the more vulnerable groups. And these heroes, mostly volunteers and neighbours that devote themselves to worthy causes, know they can count on Pingo Doce. And just as we have borne witness to a history of 40 years, we are also certain that we want to play an active role in the chapters that have yet to be written.
This is how our Bairro Feliz (Happy Neighbourhood) Programme came naturally into being. Through this programme, we want to be even more active in the local community, in the neighbourhoods we operate in, making it clear that our relationship with the neighbourhood doesn't begin and end at the door of our stores. We are part of the neighbourhood and we want to be part of neighbourhood life and contribute to happier neighbourhoods.
"We are part of the neighbourhood and we want to strengthen our social ties with the locals' lives while contributing towards happier communities."
Could you share a surprising story that resulted from this project?
Some of the entries we've had are also happy stories that are interesting to share, whether due to their originality or their impact. This is the case of the Casa do Povo social centre in Santo António das Areias, whose entry consisted of a request for help to buy materials to set up a painting studio for its members. The aim is to promote the art therapy method, which makes it possible to develop creativity and improve physical and mental well-being through painting.
This cause was one of the entries at the Castelo de Vide store and the group of senior citizens involved, along with the team from Casa do Povo, recreated a mini PD store in their facilities, put on a play and had a photo shoot with the members, posting this on social media and organising a campaign calling on people to vote! The truth is that this was the winning cause!
We have neighbours who got together to ask for support to create a "CãoVívio", a fenced-in dog park, taking advantage of some existing public land near the neighbourhood children's playground. We had several entries from groups of neighbours to help a specific situation of a family in their neighbourhood that was going through difficult times or that was vulnerable – and that's something very nice to see. It's the embodiment of working together and helping each other that we like to see in neighbourhoods.
At Pingo Doce, we believe that neighbourhoods are an extension of our homes, even in large towns and cities.
What lasting impact do you expect this initiative to have on the future of communities?
The aim of this programme leaves no doubt as to the importance of its continuity. At a time when the importance of being close and being aware of what's going on around us has been reinforced all over the world because of this devastating pandemic and lockdowns lasting months, keeping us away from our friends and families, Bairro Feliz makes even more sense.
This entire framework has strengthened our spirit of solidarity and our willingness to help the people around us. For all of these reasons and, above all, because we want to continue to support the communities we are part of, we believe that a neighbourhood can only be happy when the people unite behind good causes and with a single goal. And Pingo Doce will very proudly continue to be the driving force behind these connections, on behalf of the wellbeing of the neighbourhood.