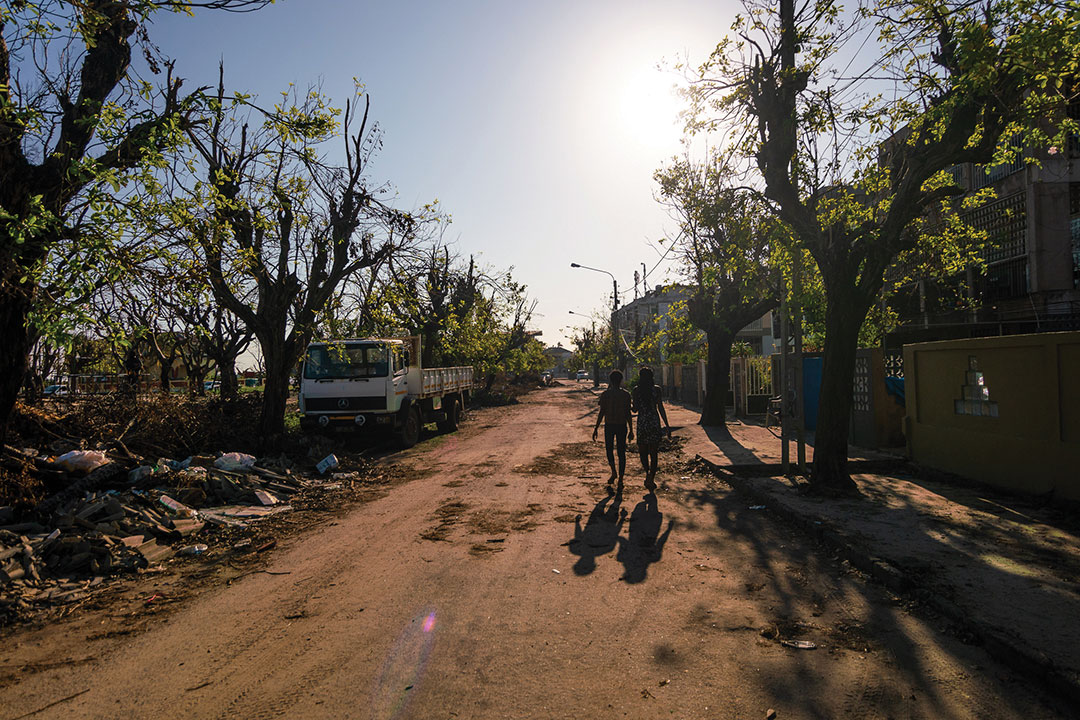 The Devastation of Cyclone Idai
Journalist Cândida Pinto reports her vision of a city that, in spite of the trail of destruction caused by the storm, is willing to rise again.
Trees were ripped from the asphalt and dumped onto the streets of the city of Beira in central Mozambique. Those who were in the city when Cyclone Idai hit recall the deafening roar of the winds, the sudden change of wind direction and roofs flying. Children in fear in the midst of all the chaos. "Daddy, are we going to die?", asked a child while his father was trying to comfort him saying that it would all be over soon. The roof of the house that sheltered them was being ripped off by 200- km winds. Beira was disfigured. A city full of beautiful modern buildings, albeit in need of maintenance for some decades, was now fallen. Information available indicates that 90% of the city was affected by Cyclone Idai.
But Beira, a coastal city along the Indian Ocean, below sea level, wasn't the only area in Idai's path of destruction. In addition to strong winds, floods hit a large part of central Mozambique, as well as Zimbabwe and Malawi. The airport is the main staging area to address the crisis in the wake of the devastation. It is where cargo planes loaded with humanitarian aid are constantly arriving. International organisations and a group of Mozambican authorities have set up a command centre at the airport to coordinate how to get aid to those who need it.
Damage extends across 4 provinces: Sofala, Manica, Tete and Zambezia. The United Nations says that as many as 1,800,000 people may have been affected. There are significant challenges in the first stage of aid, which focuses on search and rescue, as rivers are overflowing. What was once terra firma has been transformed into murky oceans spanning more than 100 kilometres in length and 25 kilometres wide. Aid can only be flown in by helicopter or brought in by boat. Many Mozambicans have taken refuge atop trees or on the terraces of the tallest buildings. In the town of Buzi, one of the areas heaviest hit, river water overran the dock, flooded the street and engulfed houses and palm trees.
Women and children were the first to be evacuated. When we reached the Buzi dock, by boat, the area was full of men. But these are resilient people who, despite still being up to their ankles in water, do not want to leave their home. Those who are at the dock hope primarily that aid reaches Buzi, so that they can have access to food, shelter and drinking water. Their insistence on wanting to stay in such a devastated area is simple: they are part of the vast majority of Mozambicans who built their lives on subsistence farming, and it is how they've learned to survive. Urban life is foreign to them and they fear that when emergency aid is withdrawn, they will be unable to find the resources they need to rebuild their lives in an environment that is unfamiliar to them and they'll end up wandering the streets. That is why they insist on asking for aid to be delivered to the areas where they have always lived.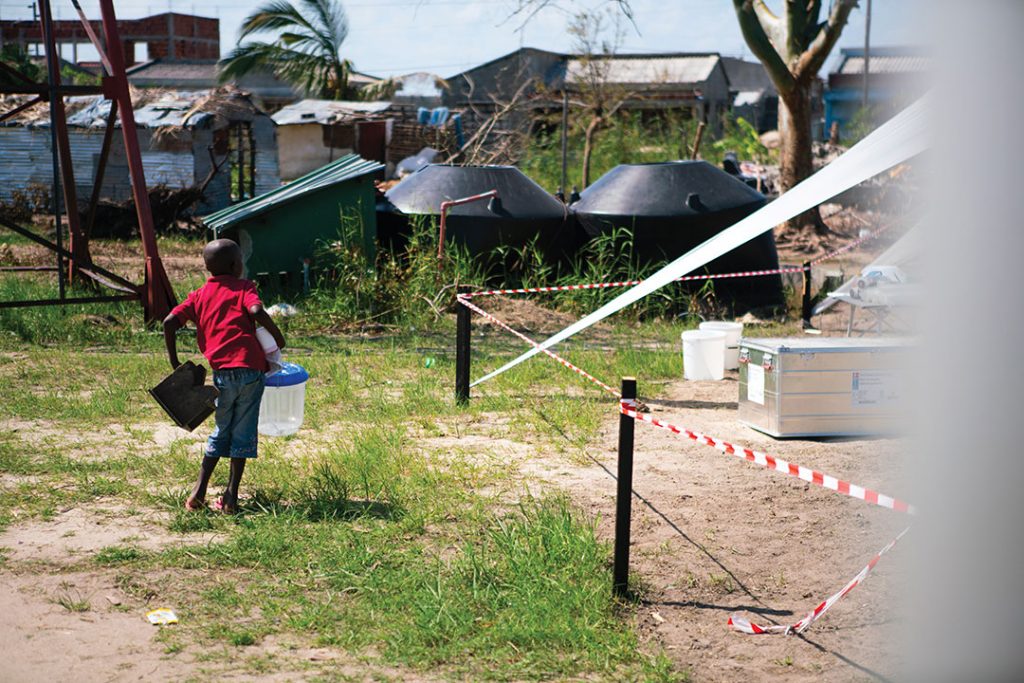 On the day the winds came, the 14th of March of 2019, Simone was born in Buzi. At night, the hospital lost its battle against the strong winds and Simone's mother, Beatriz, grabbed her daughter and ran home. It rained heavily and the house collapsed. They abandoned it and sought refuge at the local school. From there they ran to the terrace of D. Ivone's bed and breakfast. A rescue team eventually evacuated them and they were taken by boat along the river to a shelter in Beira. Beatriz says that Simone cried the whole time it was raining and thought "I didn't think I would be able to save her". But Simone survived it all.
The scale of devastation is clear when one flies over the affected areas. Vast areas of flooded lands where, bit by bit, patches of green can once again be seen and small villages are being rebuilt, most of which are empty. The death toll will be hard to estimate given how difficult it is to get to the various locations and the water currents. In light of the magnitude of the catastrophe, the World Food Programme has appealed to international donors for aid in the amount of US$ 282 million as recovery will take time.
Many areas are unrecognisable and scores of people are missing. Approximately 75 kilometres from Beira, near the N6 national road, which connects the important port of Beira to Zimbabwe, Malawi and Zambia, lies the municipality of Lamego, comprising 32 wards. Survivors grab black plastic bags to use as makeshift shelters. Martinha Vontade and Ania Jairoze recall how the water rose until it reached their mouth and how they saw three canoes full of people tip over and their occupants being swept away, defenceless against the currents. João Braz is the secretary of a ward with 2,360 inhabitants. He says that only 19 of the ward's 421 houses still stand. Not far from there, in Tica, Manuel Domingos sifts through the soggy land where the house he lived in with his family once stood. His wife and children are safe, but he has no money, nothing to rebuild his life with. Among the wreckage, he finds his documents in what is left of a mangled suitcase. In the wake of the cyclone and flooding come cholera and malaria outbreaks. International aid, including from Portugal, is focused on water purification, one of the immediate problems. It is also focused on medical care.
And then there's the children, many of which are very young. They are running around barefoot, between fallen houses and in puddles of stagnant water. Survivors of yet another cyclone, another flood. They are resilient, oblivious to what tomorrow brings. People have promised that humanitarian aid will continue, that it will help Mozambicans rise up from this tragedy. They just want to pick up the pieces. Again.