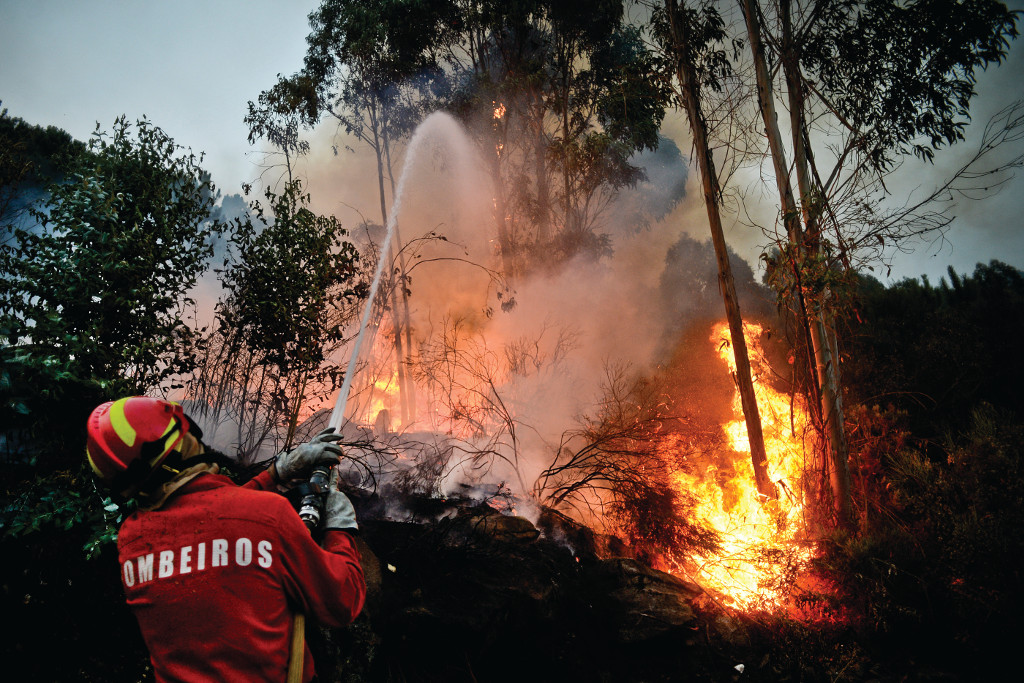 Sustainability, the best way to fight forest fires
Comparing and contrasting Portugal and Poland and each country's vulnerabilities to forest fires, given that Portugal has a high one and Poland has seen a growth.
PORTUGAL
PLAYING WITH FIRE
Together with other Southern countries such as Spain, Italy and Greece, Portugal is one of the European countries worst affected by forest fires and where there is a greater risk of fire occurrence.
The Nature and Forests Conservation Institute's provisional report for 2015 shows a new rise: when compared to 2014 there are more than the double of fires and three times more burnt area.
The majority of fires are caused by human activity or arsonists. According to the Joint Research Center's (JRC) report (an entity of the European Forest Fire Information System that informs the European Commission and European Parliament) among the 4,000 investigated fires in 2014, 1,682 were registered as of unknown cause. From those whose cause was identified, only 1% were of natural origin; 56% were the result of negligent behaviour and 32% were intentional. The remaining 10% are reignitions.
The natural facts are decisive in these numbers. A 2008 study, ordered by the Institute for European Environmental Policy, identified weather conditions as the main cause of risk – hot and dry summers – and also the vegetation characteristics – most of the Portuguese forests and woodlands have a high level of flammability. Furthermore, the population distribution is another risk factor.
The progressive abandonment of agriculture results in lands that, when not occupied and with lack of maintenance work, foster fire spread. On the other hand, there were also a lot of switches from agriculture to livestock farming, and shepherds burn bush for new grazing lands, which sometimes get uncontrolled resulting in fires.
At the same time, the dry and hot summers cause a significant increase of flammability, and it is expected that weather changes foster even more the risk of fire. The plant characteristics in Portugal is another risk factor. The native forests of oak trees – a species with a good resistance to fire – are being replaced by imported pine trees and eucalyptus monocultures which are very flammable species. The pine trees are greatly used for reforestation due to their strong capacity of adaptation and survival but their vulnerability to fires is a clear disadvantage.
Forest Fires in Portugal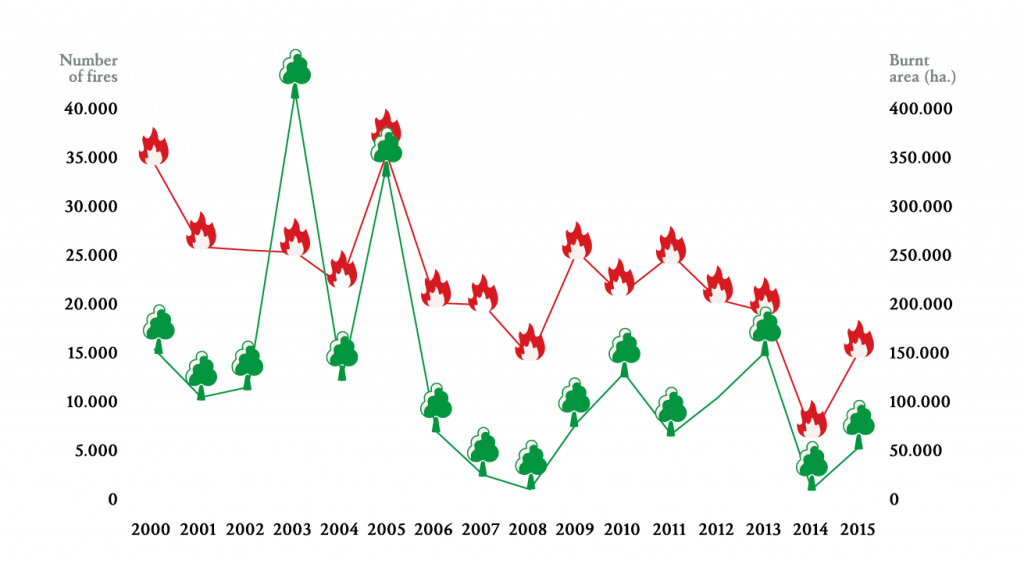 SLIGHT GROWTH
The JRC 2014 report reveals a slight increase in the number of forest fires in Poland when compared to 2013 (4,883 to 5,245). As for the burnt area the numbers more than doubled those registered in 2013, i.e., 2,960 ha (2014) to 1,289 ha (2013).
The small fire forests (burnt area less than 1 ha) represent 93% of 2014 fires, according to the same report. However, the two "very big" fires and 19 of the "big fires" were responsible for 12.2% and 23.8% of the total burnt area, respectively. Therefore, it is understood why the burnt area increased much more than the number of fires.
As a country of Central Europe, Poland is far from the numbers of the countries more affected by forest fires. Since 1990, only in three years the burnt area exceeded 10 thousand ha, ten times less than both in Portugal and Colombia.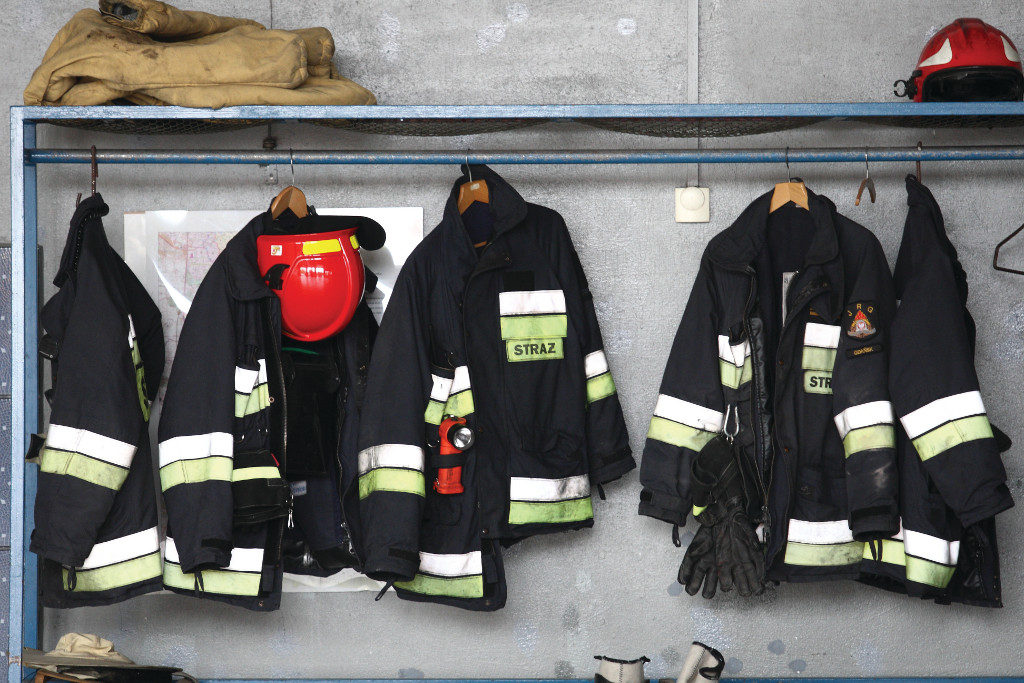 As a country of Central Europe, Poland is far from the numbers of countries like Portugal and Colombia.
The most devastating year was 1992 with more than 40 thousand ha burnt, followed by 2003 with more than 20 thousand ha and in 1996 almost 15 thousand ha burnt as well.
The fires, along with the european trend, are mainly caused by human activity. In 2014, according to data from that same report, 40.25% of fires were due to criminal acts, 29.49% resulted from negligence and 7.11% were originated by accidents. This is, 76.85% resulted from human activity. The remaining 22.12% were due to unidentified causes and only 1.01% resulted from natural factors.
The Polish forest is dominated by coniferous plants specially the scots pine which have high flammability levels. In addition to this risk there are the effects of weather changes. In a study published by Józef Piwnicki of the Forest Research Institute, the conclusion is that there was a slight increase of medium temperatures and a slight decrease of rains.
Piwnicki says in his study that "climate change in Poland, often characterised by the absence of snow cover and warm winters, caused an extension of the period exposed to forest fire danger to include the time which had not been considered earlier to be part of the fire season, i.e. the winter and autumn months."
Forest Fires in Poland