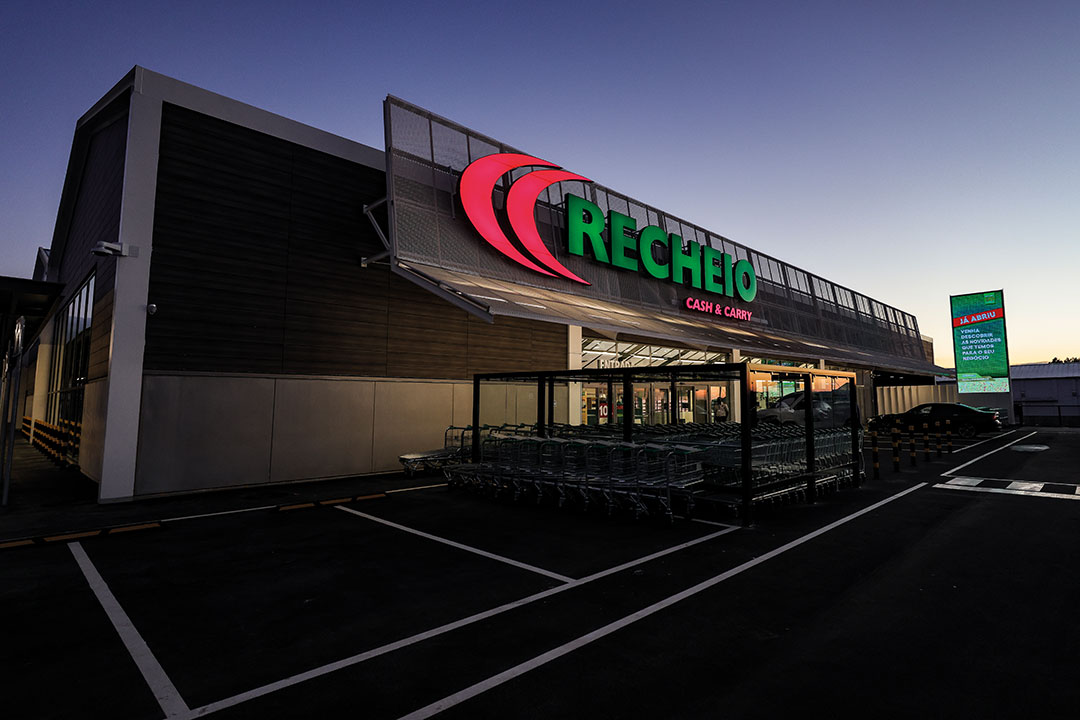 Recheio: five decades of good deals
What's the best way to celebrate Recheio Cash & Carry's 50th anniversary in 2022? Opening two new stores in Portugal: a brand new Recheio in Cascais (Lisbon outskirts) with a pioneering concept that combines sustainability and convenience, and the 500th Amanhecer in Barcelos (northern Portugal).
HOW DOES RECHEIO DEFINE THE VALUE PROPOSITION OFFERED TO ITS CUSTOMERS?
Recheio's value proposition is based on the underlying principle that we are our customers' business partners. That means we're on our customers' side, helping them to develop their businesses sustainably by offering quality products, solutions and services at competitive prices. We're tuned into their needs and evolve with and for them, which is why we have adopted a brand signature that says "Made for you. Made for your business". In terms of what we offer, the mainstay is our investment in a distinctive range of perishables, notably the Angus beef project in partnership with Best Farmer and a broader mix in the meat and fish sectors.
Our private brands are also developed to serve each of our customer segments better and incorporate our sustainability concerns, with a particular focus on ongoing efforts to promote healthy eating and reduce our business's environmental impact. Lastly, there is the new meal solutions area, providing our customers with an opportunity to cope more effectively with the labour shortage in the hotel and catering sector and boost profitability and convenience in their own businesses.
NUNO BEGONHA
CEO OF RECHEIO
IN THE CURRENT CONTEXT OF HIGH FOOD INFLATION, HOW IS RECHEIO WORKING TO MITIGATE THE ADVERSE EFFECT OF PRICE INCREASES ON CONSUMERS' WALLETS?
First, we have worked to raise our profile and improve our service to business customers by providing clear and early warnings of possible disruptions to logistics chains. To mitigate some of the logistical constraints and sharp price rises in our customers' basic shopping basket items, we've added alternative articles to our range, offering greater convenience and value for money, such as spaghetti, tinned fruit, refined olive oil, poultry sausages, sliced cheese, charcuterie and budget frozen cod.
There are around fifty of these products, and they've been crucial to communicating low prices. At the same time, we've implemented a plan of weekly promotions focused on the retail segment, which has been the worst affected this year. These campaigns guarantee more purchasing opportunities at highly competitive prices, helping our retailer customers achieve better profitability.
Our private brands are developed to better serve each of our customer segments and incorporate our sustainability concerns.
An example of this campaign was an additional discount for all our partners in the Amanhecer chain. In the first three weeks of March, Amanhecer customers enjoyed an extra 5% discount on all purchases, which they could use in the last week of the month. In June, we stepped up this support for our Amanhecer partners, changing the promotions cycle from Tuesday to Thursday, with even bigger discounts on the main items on the leaflet. This is the year that we're celebrating fifty years in business.
Given the challenging global situation, we feel an added responsibility not to let our customers down and to stay true to our promise that they'll find top quality and the best discounts at our stores. It's been five decades of building trust and close ties with our customers. In the words of our special anniversary jingle: "50 years of good deals. Moving together, as partners".