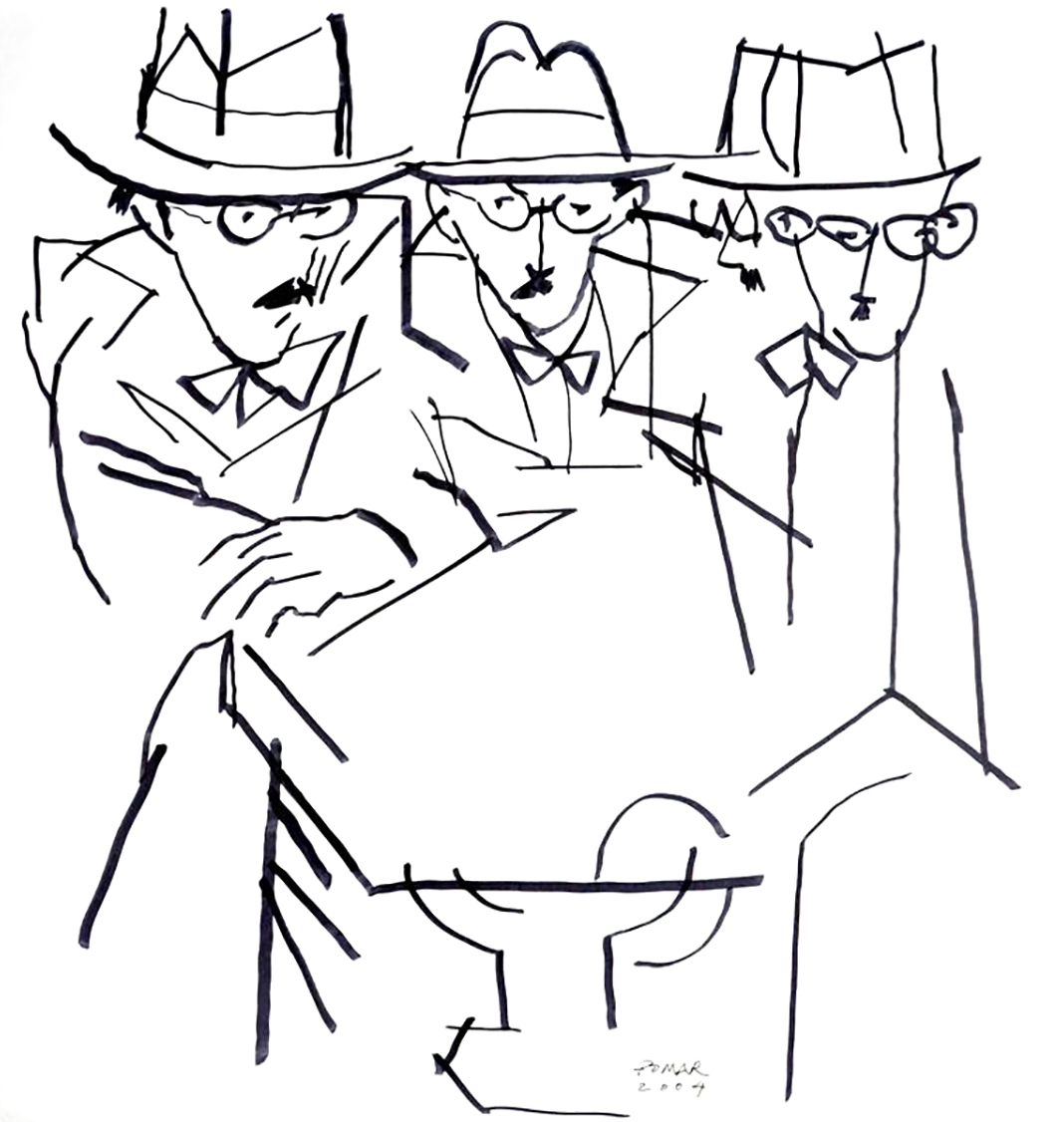 FERNANDO PESSOA
Fernando Pessoa (1888-1935) is today Portugal's main literary connection with the world. His work in verse and prose is as multifaceted as may be imagined, embodying countless interests and representing an authentic collective oeuvre that belongs to the author, to the various authorial figures he invented and to its readers. Pessoa called some of these characters – Alberto Caeiro, Ricardo Reis and Álvaro de Campos – his "heteronyms", reserving for himself the title of "orthonym". Editor and contributor to several literary journals, author of Livro do Desassossego (Book of Disquiet) and, in his daily life, "foreign correspondent in commercial offices", Pessoa left a universal oeuvre in three languages which has continued to be published and studied ever since he wrote, shortly before his death, in Lisbon, "I know not what tomorrow will bring".
ALBERTO CAEIRO
Described as a shepherd loved by the gods, although he speaks little of fields or gods, Alberto Caeiro da Silva was born in 1889 and became, before reaching the age of 25, the teacher of Fernando Pessoa and some of his other best-known selves. He spent almost his entire life – from 1891 to 1915 – on a farm in Ribatejo. If he held that "The only intimate meaning of things/ is that they have no intimate meaning", it was not because he had no belief in the existence of things but because he never understood the metaphysical poets or certain poetic metaphors. His sense of nature, for example, has no place for verses such as Camões' "O manso caminhar destes ribeiros" ("The gentle walk of these streams").
He was the author of a book, "O Guardador de Rebanhos" ("The Keeper of Sheep"), in which the critics – in other words, Fernando Pessoa divided into his many selves – heard the music of Walt Whitman and Cesário Verde poetry, among others, and concerning which he gave interviews; he was also the author of the poems that Álvaro de Campos suggested be collected under the title "Poemas Inconjuntos" ("Inconjunct Poems"), and of the poems in which love blinded him, entitled "O Pastor Amoroso" ("The Amorous Shepherd"). All the fictitious authors who knew Caeiro and his work wrote of him as an evangelist without religion ("To think of God is to disobey God", he wrote). He is indissociable from what others wrote about him, both reconstructing their dialogues and philosophising on his paganism unfettered by faith.
ÁLVARO DE CAMPOS
Described as a naval engineer who studied in Glasgow, although be never completed his course ("I was always a poor student", he will say), Álvaro de Campos was born in 1890 and was orphaned at an early age. He embarked for the Far East at the age of 23 and became an opium addict, like Camilo Pessanha. He belongs, he explains, "to a certain type of Portuguese/ Who once India was discovered/ were left without work". He lived a life of idleness, although it was rumoured he had been Director of Public Works in Bragança, until he was dismissed for doing nothing at all.
He was something of a dandy, a flâneur, he read Blake, Whitman and Nietzsche, among others. One day, on a trip to the Ribatejo, he made the acquaintance of Alberto Caeiro, an epiphanic encounter, as from which Campos became Caeiro's disciple. As a poet, Álvaro de Campos left an unpublished book, entitled "Arco de Triunfo" (Triumphal Arch), and many individual poems, including "Tabacaria" ("The Tobacco Shop"); his prose included several political texts and the "Notes for the Remembrance of my Master Caeiro", five of which were published in the journal Presença in 1931.
RICARDO REIS
Ricardo Reisremained latent in Pessoa's soul until 1914, when he was born and became the author of a series of odes which was expanded up to 1935 when he wrote the poem "Vivem em nós inúmeros" ("Countless live in us"). It is true to say that countless beings lived in Reis: the neoclassical opponent of Portuguese integralism, the author of prefaces to Caeiro's work, the defender of the perfect work of Milton, the essayist interested in sexuality, science and religion, the critic of "Christism", the theoriser of a new pagan ideal, the spectator who watched the world as if it were a game of chess, the exiled monarchist, the semi-Hellenist physician, the poet of the fleeting nature of time and calm acceptance of fate. Born somewhere between Cubism and Dadaism, Reis represents the ancient world within the modern world, its modernity is inscribed in the paradoxical character of his existence: Ricardo Reis belongs and does not belong to his time, and his odes are deliberate anachronisms.