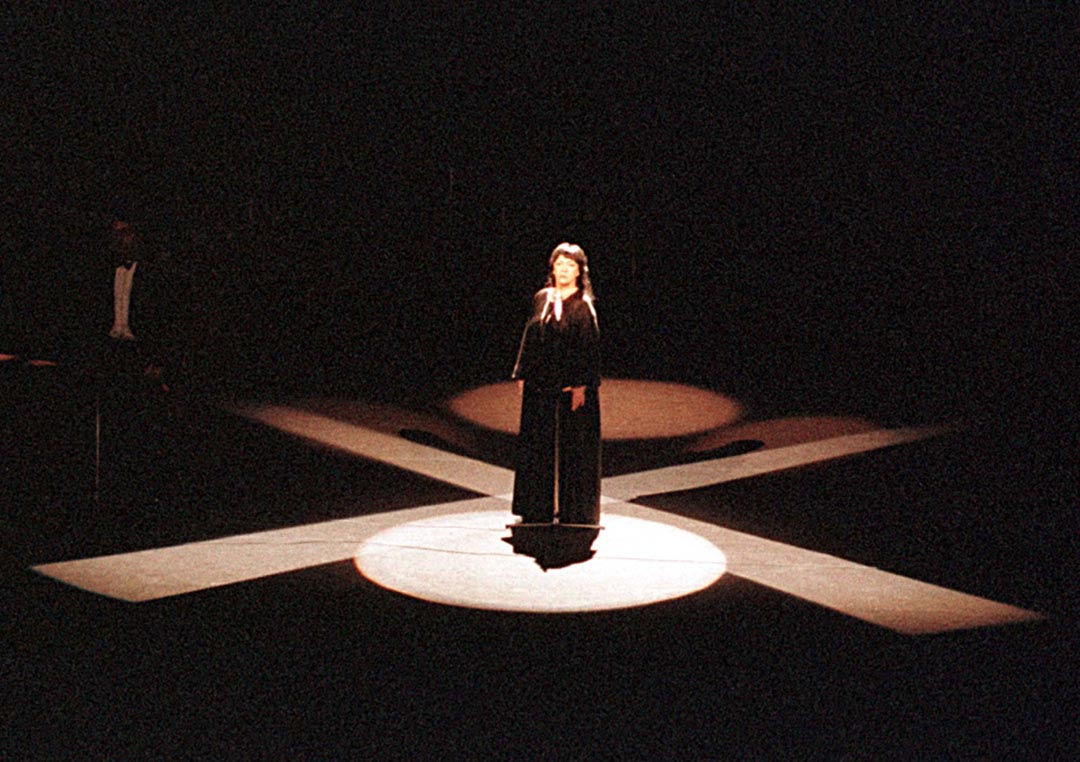 The Black Angel
Called the "Black Angel" of the Polish song, Ewa Demarczyk was one of the most outstanding Polish stage personalities. Her poetry-adapted songs travelled the world's greatest stages and, though she didn't leave too many recordings, her hypnotising hum can still be heard on any good radio station.
"Ewa Demarczyk, who is renowned in her homeland as 'The Black Angel of Polish Song', is one of the few international popular singers with the vocal resources, theatrical command and musical discrimination to transcend, at least partially, the language barrier that makes so many European performers inaccessible to American audiences," wrote The New York Times in January 1987. The critic from the daily newspaper was reporting on Demarczyk's performance at the famous Town Hall, in Manhattan.
A few days prior, the singer had turned 46. She was accompanied by an ensemble of two pianos, two violins, a cello, double bass and drums. The Krakow-based singer's voice reminded the American critic, and many others, of Édith Piaf. "But unlike Paris's legendary little sparrow" – he emphasised – "Ms Demarczyk exercises the dynamic control of a trained art singer". Demarczyk was, as always, dressed in black and, of course, performed in semi-darkness.
Motionless and concentrated, she vacillated between a hypnotising hum and vibrant, harsh declamation. "The emotional likewise ranged from accusatory sarcasm and tender sorrow, with each shading precisely distilled," wrote the NYT critic. That concert review characterises Demarczyk's entire body of work as well: low on quantity, but high on quality.
The Krakow-based singer was known for a hypnotising hum and vibrant, harsh declamation.
Ewa Demarczyk was born in Krakow on 16 January 1941, the same city where she died almost eighty years later, on 14 August 2020. The war was raging when she was born and a total of eighteen people had taken refuge in the Demarczyk's less than one hundred square-metre apartment, a few minutes' walk from Krakow's main square. Besides Demarczyk's parents – a sculptor and a seamstress – the apartment was also home to her aunt, a painter, and uncle, a set designer, as well as her grandparents and several other children of little Ewa's age.
After the war ended in 1945, some of the family moved around Poland, but Demarczyk remained forever tied to this city, at least until it exiled her. In Krakow she attended piano class at secondary music school and it was in Krakow that she first stepped on the stage – the cabaret stage. It was thanks to cabaret that she met Zygmunt Konieczny, who was a few years older and today is one of the most famous Polish composers of stage songs, theatre music and film scores.
He specialised in the interpretation of the works of outstanding poets. It was he who wrote the song "Karuzela z Madonnami" ("Carousel with Madonnas") for Demarczyk, to the words of the famous poet Miron Białoszewski, whose performance first won Demarczyk the hearts of critics and audiences at the newly established festival in the city of Opole.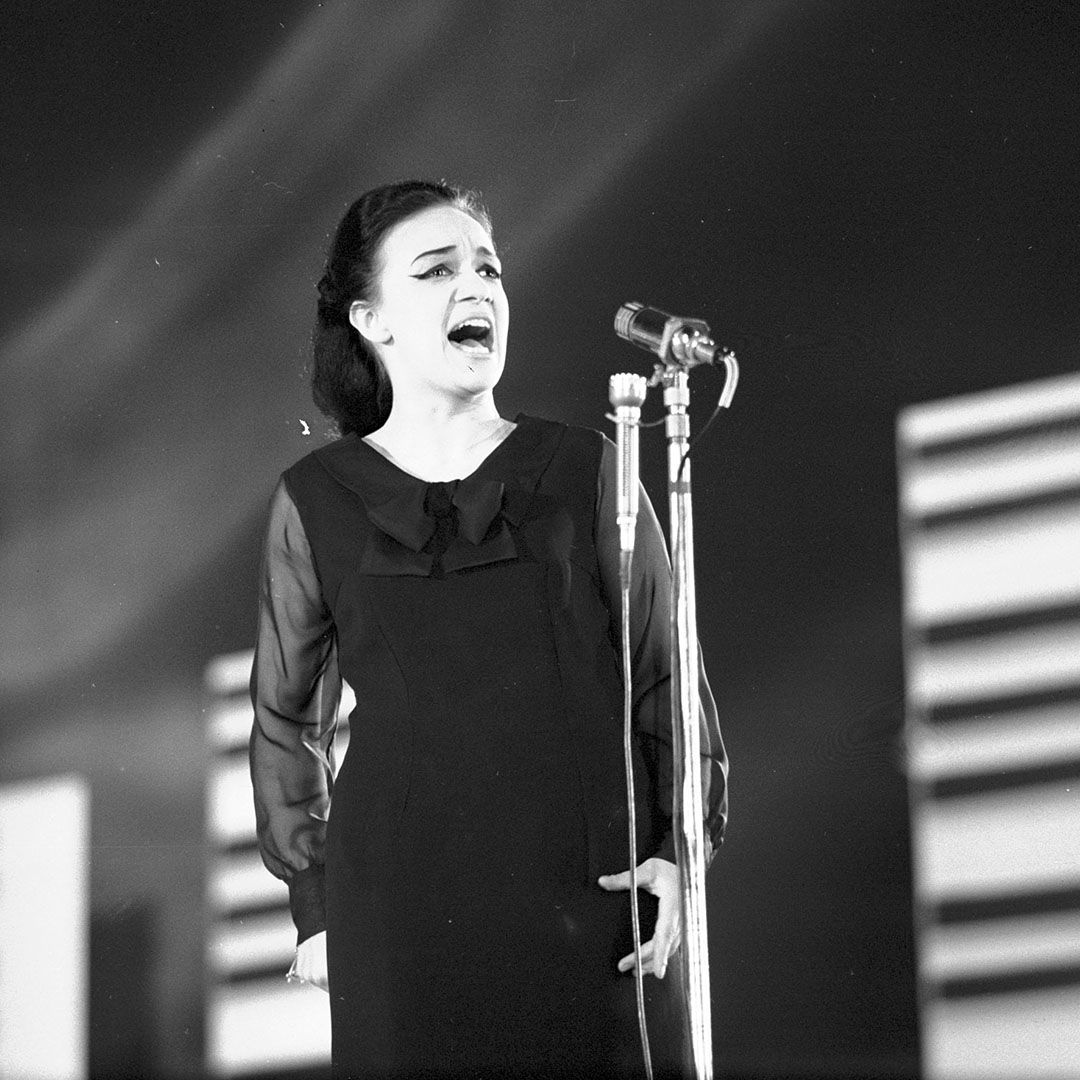 EWA DEMARCZYK
Kraków, Poland
16 January 1941 – 14 August 2020
SINGER
It was he who wrote for her the song "Grande Valse Brillante" (to words by the even more famous poet Julian Tuwim), which she performed with similar success at the competing festival in Sopot. Konieczny also wrote the song "Czarne Anioły" ("Black Angels") for her, which earned her the nickname "the Black Angel of Polish song". And they released an album together, "Ewa Demarczyk śpiewa piosenki Zygmunta Koniecznego" ("Ewa Demarczyk sings Zygmunt Konieczny"), selling over 100,000 copies soon after its debut in 1967.
Today it is still regarded as one of the most important moments in the history of Polish music. Demarczyk's domestic successes resulted in several invitations from abroad. She took the stage at the Olympia in Paris, New York's Carnegie Hall, London's Queen Elizabeth Hall and Tokyo's Theatre Cocoon. She sang in Geneva at a gala celebrating the United Nations' 20th anniversary, and performed in Sweden, Finland, Belgium and even in Mexico and Cuba.
However, her most tremendous success lay just across Poland's eastern border. Her second album, which included the Russian version of some of her already popular songs, was released across the Soviet Union and sold millions of copies. Eventually, Moscow welcomed Demarczyk as a truly international star.
She also completely disappeared from the media. Indeed, she had avoided journalists since the beginning of her career, giving just three television interviews.
There was no third album; only a concert album from 1979, on which Demarczyk sang in Polish, French, Spanish, German and Russian. She never returned to the studio and gave fewer and fewer concerts. During that time she married twice, unhappily. Her first marriage, to a violinist living in Belgium, lasted less than a year. Her second husband, a goldsmith, turned out to be a jewel thief and was arrested. It was also when Demarczyk's mother died – her only true friend – with her husband abusing her grief despicably.
She still visited him in prison for a while, but stopped when she spotted her missing brooch at another woman's house. This was followed by a breakdown and a brief stay in a psychiatric hospital. Then, finally, a happy coincidence: she met this man from the crew that renovated her apartment, Paweł Rynkiewicz. It soon turned out they knew a lot of the same people and had many other things in common.
Something sparked. Soon their relationship and cooperation developed in tandem. Rynkiewicz first became a lighting engineer in the theatre she directed, and later an administrative director. Finally, he became her manager. Their relationship would last almost four decades, until her death. Their theatre was not quite as successful however. Plagued by venue problems and criticised by local politicians for alleged lack of box office success, it had to move out of Krakow to a smaller town nearby, and it closed down in 2000.
A few months earlier, Demarczyk gave – as it turned out – her last performance. At that time in Poland it was difficult to find sponsors for her concert shows, which were unable to break even on their own. Especially because she refused to raise ticket prices, as she believed they were supposed to be cheap enough to be affordable to students. She also completely disappeared from the media. Indeed, she had avoided journalists since the beginning of her career, giving just three television interviews. After Demarczyk passed away, her partner recalled how she shocked French reporters at that first concert at the Olympia.
Demarczyk's original performances, after more than half a century, can still be heard on any good radio station.
The memorable head and renovator of that establishment, Bruno Coquatrix, called a press conference without telling her. "She came to the hall and at the beginning apologised to everyone, explaining that she herself was also surprised by the invitation, because, as you know, she does not give interviews," recalled Paweł Rynkiewicz. "This caused some consternation in the hall, and after a moment of silence, applause broke out. The journalists were delighted; they had not experienced such an attitude before". Coquatrix himself was so impressed with Demarczyk's performance that he offered her a two-year contract, but she declined.
While at the beginning of her career she was compared to Édith Piaf, as she got older people found a resemblance to Greta Garbo, who towards the end of her life could only be tracked down and photographed by the most brazen paparazzi. Demarczyk disappeared completely, but her music did not. On the contrary, the vacuum was quickly filled by performers offering their own renditions of songs from her repertoire; however, the demand for such cover bands was quickly exhausted.
But Demarczyk's original performances, after more than half a century, can still be heard on any good radio station. And more than two million people have watched the black and white recording of her 1964 Sopot performance on YouTube. Recently it was revealed that more than 60 unreleased songs were discovered in her archives – many more than she released in her entire life.