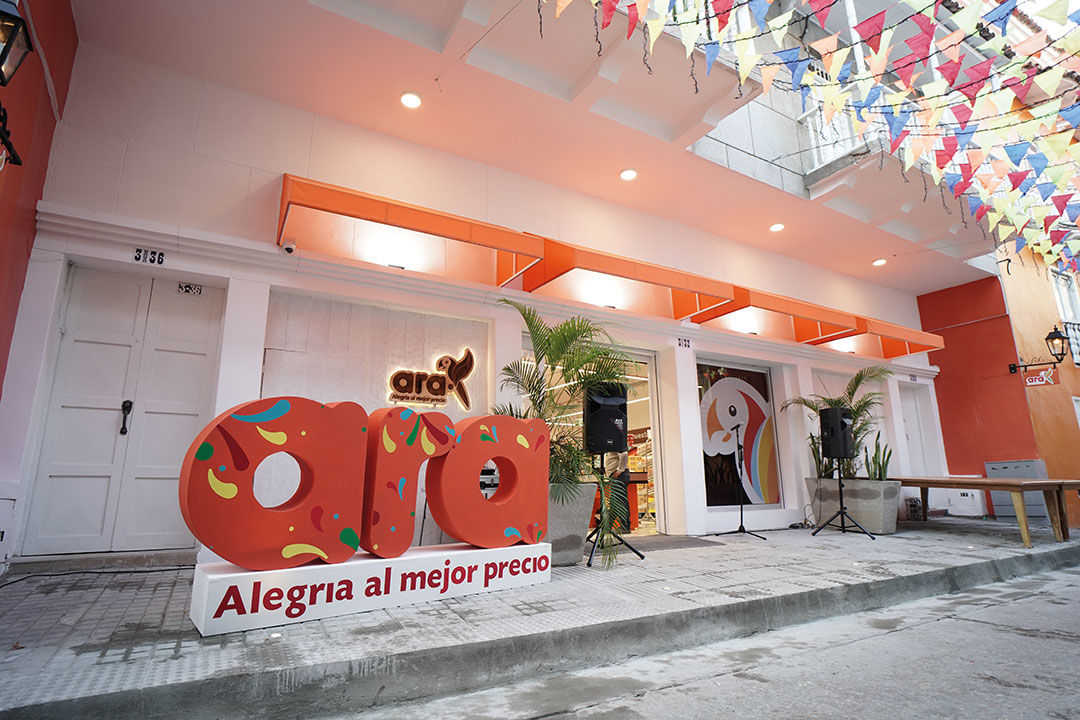 Colombian families find "their best ally" in Ara
Facing difficult urban mobility and high levels of poverty in Colombia, which worsened in 2022, Ara's three main pillars are price, proximity and assortment. Struggling with hard times, Colombian families find their best ally to put food on the table in Ara.
HOW DOES ARA DEFINES THE VALUE PROPOSITION OFFERED TO ITS CUSTOMERS?
Colombia is a country with extremely challenging topography, difficult urban mobility and poverty levels that are still very high, combined with a persistent informality rate, particularly when it comes to the labour market and the business environment. According to the National Administrative Department of Statistics of Colombia, nearly 40% of the population live on less than 2.50 euros a day and 31% live on between 2.50 euros and 5 euros a day.
Knowing that Ara's value proposition is based on three main pillars, it therefore comes as no surprise that the very first one is PRICE. Aiming at democratising quality food in Colombia, Ara practises a very consistent Everyday LOWEST Price positioning. This means creating additional saving opportunities by using some promotions, especially focused on industrial brands.
In fact, Ara doesn't allow any competitor, either from modern or from traditional markets, to have lower selling prices, particularly when it comes to the central products in the basic food basket of Colombian families: rice, eggs, oil, sugar and meat. This competitiveness is also supported by a strict quality policy based on the Jerónimo Martins Group's global standards, with special attention being paid to the selection of ingredients and to food safety practices.
PEDRO LEANDRO
CEO OF ARA
The second pillar is PROXIMITY: Ara chooses its locations within the barrios and is absolutely determined to be the most relevant store in each neighbourhood. All the store's practices and communication codes are inspired by this proximity spirit and positioning, grounded on a strong sense of belonging to the communities surrounding our stores and distribution centres. The third pillar is ASSORTMENT as our stores offer a range of products that covers all the food needs of an average Colombian family.
This includes a special selection of perishables, frozen, refrigerated and, more recently, oven products (chicken, bread, savoury pastries), with high quality at the lowest price, setting ourselves apart both from other discount retailers and the traditional neighbourhood stores. A careful selection of private brands with similar positioning complements our offer. All these dimensions are "framed" by a regional approach, with autonomy being given to the different operating regions, allowing for increased proximity, higher agility and assertiveness in our response to competition challenges and maximum "Colombianness", as decisions are made according to local habits, cultural specificities and consumer expectations.
"Families who are facing very high pressure on their budgets find in Ara the best ally to put food on the table for everyone."
IN THE CURRENT CONTEXT OF HIGH FOOD INFLATION, HOW IS ARA WORKING TO MITIGATE THE ADVERSE EFFECT OF PRICE INCREASES ON CONSUMERS' WALLETS?
In 2022, salaries increased in Colombia by an average of 6.8% and inflation stood at 11.4% in September, with food inflation reaching 26.6%. This means a real loss of purchasing power for Colombian families in general and even more so for the most vulnerable people. Considering that Ara is positioned as a proximity format and that average Colombian families – not having the regular financial capacity that would allow them to stock food products – have to shop for their daily needs every day, we felt that the best way to respond and support them in particularly difficult times was to establish a permanent and consistent Everyday LOWEST Price policy.
This policy is focused on basic food products, maintaining a permanent price gap from our main competitors (other discount retailers, super and hypermarkets, independent operators and traditional stores) and has been in effect for more than 15 months. In the first half of 2022, and according to Kantar, Colombian families consumed on average -9% in volume, compared to the same period of the previous year. At the same time, in the very same period (first half), Ara increased the number of volumes sold by 24% in like-for-like terms, proving to be the main "refuge" for Colombian families struggling with difficulties.
Another impact was the increase in the weight of total sales that basic commodities were already registering in 2022, meaning that families who are facing very high pressure on their budgets find in Ara their best ally for putting food on the table for all the family. As a result of our consistent price leadership in the Colombian food retail market, we have been seeing like-for-like growth in volumes of essential products (excluding the inflation effect) standing above 30% and 40% in categories such as oil, rice, eggs, flour and cereals.