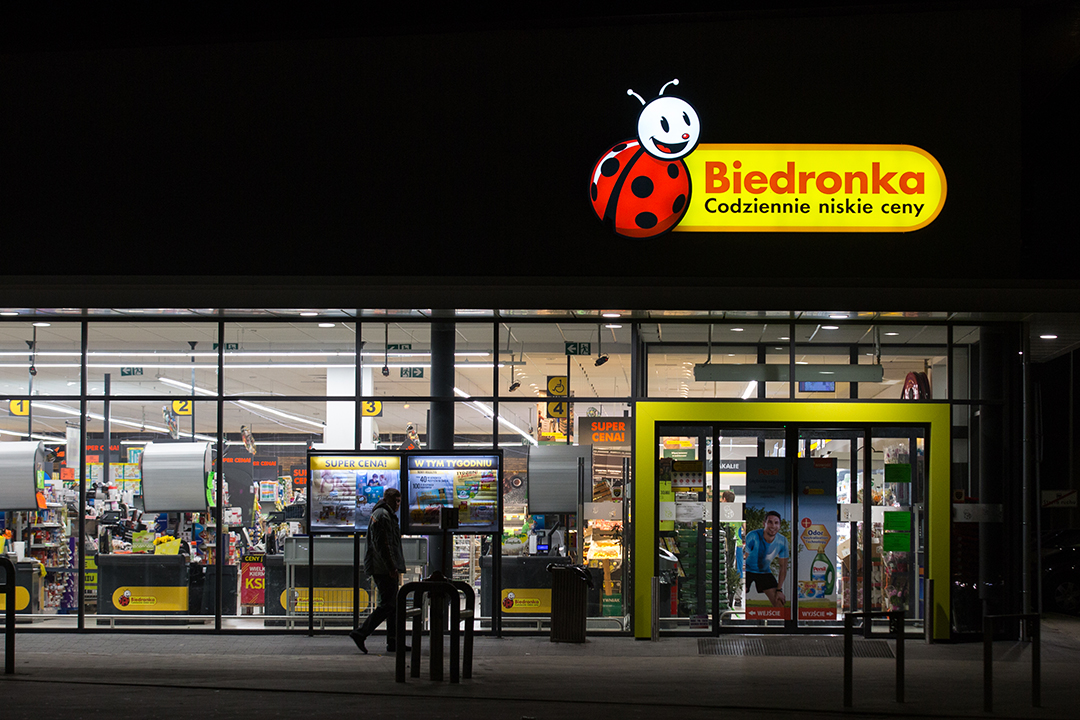 When a Window Closes, a Door Opens
In this difficult time, Biedronka invited small producers struggling to ensure the sustainability of their businesses to put their products on the shelves of the company stores. The campaign targeted those who had so far operated on the regional market.
As soon as the pandemic took over, Biedronka began inviting producers who until then had only sold on a regional level to integrate its nation-wide supply chain, opening a door for a fruitful cooperation. As the largest food retailer in the country, with more than 3,000 food stores, and one of the largest companies in Poland, Biedronka has been cooperating with Polish farmers and industries for 25 years. In 2019 alone, over 93% of the products sold in its stores have come from more than 1,000 local suppliers. But this was the time to run the extra mile. To step up. After all, the effects of Covid-19 on the food world are still being sensed, as many suppliers struggle to ensure the sustainability of their businesses.
For smaller businesses, it might be difficult to reach the required scale that retailers need in order to guarantee operational efficiency and competitive prices. That's why the banner has also made possible for these suppliers to deliver in only one or two Distribution Centres, therefore making sure the product was available at the stores located in a specific region. Each store's product range varies depending on the location, and, in some cases, it can even differ from selected stores of a given province. Up to 50 new local products are progressively finding their place on store shelves.
To boost production following the Covid-19 crisis, Biedronka also announced new shorter payment terms for Polish fruit and vegetable producers whose total turnover did not exceed 100 million zlotys (25 million euros). Between the beneficiaries are mostly family-run companies that count on these sales as one of the most important sources of income.
INTERVIEWING WALDEMAR SZAJKO
VICE-PRESIDENT, DISTRICT DAIRY COOPERATIVE, OSM SIEDLCE
Located about 90 km east of Warsaw, the Dairy Cooperative of Siedlce produces high-quality milk and dairy products. To do so, around 140,000 litres of milk are collected every day from over 500 regional farms. Until now, the company has been focusing its business strategy in the HoReCa channel. After starting to work with Biedronka during the pandemic period, the Cooperative reinvented itself and launched a brand-new cream cheese, available in the Group's food retail stores in Poland.
WHAT WERE YOUR FIRST THOUGHTS ABOUT PARTNERING WITH BIEDRONKA?
When a representative of the Biedronka chain called me at the beginning of the pandemic, I asked myself whether entering into cooperation with such a demanding customer was worthwhile. Initially, I hoped that the coronavirus would not affect our business very much. But today I am positive that it would have affected us severely was it not for the cooperation with Biedronka.
THE PARTNERSHIP IS NOW FULLY RUNNING. IN WHAT EXTENT DID IT AFFECT YOUR BUSINESS PERFORMANCE?
We are currently supplying Biedronka stores with four products, including one on a national scale (milk powder), which is a great achievement for us, but also soft cheese, yoghurt and cottage cheese. Our sales volume has grown. I am sure that without the opportunity to sell our products in Biedronka stores, our revenue in this difficult time would have been reduced by one third or even as much as half.
HOW DO YOU EVALUATE THIS INITIATIVE SO FAR?
After several weeks of cooperation, I can safely say that the campaign's claim – "Time to support small producers" – fully corresponds to its purpose. Even if the Cooperative was able to continue operating, we would certainly struggle to survive. Biedronka gave us the reassurance of being able to work and to keep our production at consistent levels, despite the adverse market conditions caused by the pandemic.
LOOKING AHEAD, HOW DO YOU SEE THE FUTURE OF THIS PARTNERSHIP?
Biedronka is one of our best clients at the moment. Continued cooperation will allow us to maintain our production and employment levels giving us a stable outlook for the future. This requires us to comply with strict quality standards because Biedronka is known for only being interested in products of the highest quality, not only regarding taste and composition, but also in terms of packaging. We are determined to ensure that these standards are met because we know that otherwise our products will not be sold in Biedronka. Of course, we also have other customers, but none of them operates on a scale larger than that of Biedronka.
INTERVIEWING URSZULA KINOWSKA
OWNER OF URSZULA KINOWSKA CONFECTIONERY FACTORY
Kalisz Wafer is a local certified product originated from the tradition of Jewish matza – an unleavened flatbread – very popular in the Polish region of Kalisz. Located in central Poland, this historical and ethnographical area is home to many multicultural and multi-religious traditions as it was historically a melting-pot comprised of people from many different places: Jews, Macedonians, Russians, Ukrainians and Germans. This handmade wafer – now available at Biedronka stores – is a living evidence of a strong cultural cooking heritage.
WHAT HAVE BEEN THE MAIN BENEFITS OF YOUR COOPERATION WITH BIEDRONKA?
First of all, it was the opportunity to continue our business with peace of mind. While we can see that our local usual sales channels are slowly recovering, being able to sell our products in Biedronka stores during the most difficult times made us feel safe. With the support of our partner, we were able to take a calm approach to the pandemic and, adhering to rigorous safety standards, maintain full production. No one had to be laid off or sent on an extended leave. The situation was – and still is – under control.
DURING THIS UNPRECEDENTED TIME, WHAT WERE THE MAJOR DIFFICULTIES YOU EXPERIENCED?
For a business based on artisanal production methods like ours, if we remove one element of this jigsaw puzzle – for example if our main market somehow vanishes – everything starts to fall apart after a short period of time. We are convinced that Biedronka has already saved many small businesses which would not have otherwise survived a long break in production and would have been unable to sell their products.
HOW DO YOU SEE THE FUTURE OF THIS PARTNERSHIP?
Every small and medium-sized manufacturer would like to have such a solid partner. We are grateful for the opportunity and expect to remain as Biedronka's partner for many years to come.